New Year message by the leader of the ruling APC party and President of Sierra Leone Ernest Bai Koroma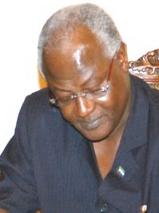 Fellow Sierra Leoneans, the beginning of every year is a time for reflection on the successes and challenges of the previous year. It is also a time for renewing our commitments to continue to tackle the challenges and build upon the successes.

It is also a moment for saying thanks, for showing goodwill, and acknowledging those who are making it possible for our nation to take hold of its destiny and live to the true meaning of its motto – Unity, Freedom and Justice.
Fellow Sierra Leoneans, 2009 was a momentous year for our country. Like many other developing nations, our country had to meet the many challenges posed by the global economic meltdown.

But with the sound economic policies of my government and the resilience of our people we weathered the storm. We completed phase one of Bumbuna Hydro Electric Project; we show cased our country in a consultative conference and a trade and investment forum that attracted investors from all over the world. Organizations as varied as the IMF, the World Bank, Transparency International and the Mo Ibrahim Index have lauded my government's improvement of the governance and economic situation in the country.

Investor confidence in our country is being restored. From oil exploration to iron ore, agriculture and sea transportation, investments are growing. We deployed more agricultural equipments, tractors, and harvesters to enhance agricultural productivity.

We continued our construction of highways and feeder roads in every part of the country. My government put in place robust measures to meet the challenges posed by the few who were engaged in political violence and armed robbery. We are fully engaged in the efforts by ECOWAS to address the conflict in our sister Republic of Guinea.
Fellow citizens, this year, we shall build upon the successes we have made. We will continue the construction of highways and feeder roads; we will continue to prioritize the agricultural sector; we will continue to be very robust in the fight against corruption and crime; we shall continue to more robustly implement our Agenda for Change; we shall not tire. My government is resolved to transform this country.
Fellow citizens; let us remember that our country is only as good as we Sierra Leoneans make it. We Sierra Leoneans have many great values; we are second to none for religious tolerance; our hospitality and openness are lauded by all those who visit our beautiful country; and our zest for happiness is legendary. We also have many amongst us who are hard working, honest and self-sacrificing.

We applaud the efforts of the many market women who tirelessly work to maintain their families; we congratulate the youths who utilized their energies and creativity to transform their lives; we laud the efforts of the farmer who toil on the land to provide food for the community; we salute the common man and woman who finds succor in the contributions they are making towards the sustenance of their family and community.

We also laud the efforts of the honest public servant who toils to serve the public interest. My government shall do all in its power to build upon the good qualities of our people and tackle the negative attitudes that are making it difficult for us to transform this country.
We have come a long way as a nation. Next year, we shall be commemorating the fiftieth anniversary of our country's independence. Since 1961 we have had many twists and turns as nation. We have established universities, spread education, built roads, hospitals and dams. We have changed governments through ballots and through deplorable means.
Sierra Leoneans have also fought wars, engaged in unjust actions against women and youths, and burnt down villages. But we have also conducted successful disarmament programs, rebuilt communities, fought corruption, made great music, and produced world renowned scientists.
We have had both low and high points as a nation. Our duty is to emphasize the high points and renew our determination to exalt this Land of the Free. That is my call to Sierra Leoneans in the year before our 50th Anniversary as an independent nation: let us emphasize our better values; let us make our good actions triumph over our bad attitudes; let us allow the great thoughts of the great men and women of our country to inspire us unto greater achievements.

Let us remember Wallace Johnson and fight for the common man and woman; let us remember Sir Milton Margai and fight for honesty in government, let us remember Davidson Nicol and fight for educational excellence; let us remember Siaka Stevens and strive for unity and infrastructural development; let us celebrate the lives of Madam Yoko and Nancy Steele and stand up for the rights of women; let us recall the achievements of Salia, Rogie and Ebenezer Calendar and make great music.

Remember that a country is only as great as its people make it. God has bequeathed unto us a beautiful country, rich in resources and with a remarkable history. Let us resolve to work harder to reclaim this inheritance, build upon the good we have achieved, and bestow unto our children a greater nation.
I wish you all a happy and prosperous 2010.
God Bless Sierra Leone