THE SATURDAY MARCH 12 1994 ATTACK ON PANGUMA, EASTERN SIERRA LEONE
One Saturday morning word began doing the rounds in newsrooms in Sierra Leone's capital Freetown of yet another attack somewhere in Kenema in the east of the country. Reports of fresh attacks in areas that had been safe were nothing new and reporters were keen to know just where the latest attack had taken place.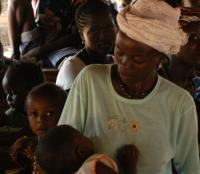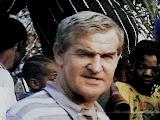 Slowly, it began to filter through. That the Panguma hospital had been attacked and that many had been killed with civilians forced to flee for their lives as those lucky to survive spoke of men dressed in military fatigues attacking Panguma in the morning in full view of villagers who had gone to fetch water from streams for the day's chores.
Some of the water collectors could have recognised the men in uniform and if seen, never lived to tell the tale as the attackers made their way to the missionary-run Panguma hospital.
By the time regular government troops arrived, the attackers had gone leaving in their wake at least a dozen or so Sierra Leoneans dead or wounded as well as missionaries connected with the hospital.
Among the dead missionaries and expatriates connected with the Panguma hospital and mission were:-
Irish priest Fr Felim McAllister, a Holy Ghost Missionary priest from Donabate
Dr Elco Krijn from Holland
His wife Karen van Goudoever
His 4-year old daughter Zita whose body was burnt to ashes
The UN Special Rapporteur on extrajudicial killings stated this in one of its reports on the March 12, 1994 incident
425. During the period under review, the Special Rapporteur transmitted to the Government of Sierra Leone the cases of the alleged killings of Father Felim McCallister, an Irish priest, Dr. Elco Krijn, a Dutch doctor, his wife Karen van Goudoever, their three-year-old daughter Zita and 11 unidentified civilians from Sierra Leone who were allegedly killed during an armed attack near a hospital at Panguma, Kenema District, by men dressed in army uniforms. Reportedly, property belonging to the foreigners was subsequently found in the home of an army lieutenant. It is alleged that a commission of inquiry was set up to investigate the killings and recommended that two army commanders be brought immediately before a court martial. They were reported to be arrested but released shortly afterwards, without being prosecuted. They were reported to have resumed their service in the army of Sierra Leone.
The officer in charge of government troops and who was brought before the commission was one Lieutenant Andrew Forbie together with one Sergeant Jawara.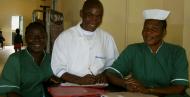 The commission was headed by a certain Catholic legal mind one Solomon Berewa at which statements were made by witnesses regarding the behaviour of troops in the area before and after the attack.
One witness, a teacher, told the commission that Lieutenant Forbie very much wanted to woo away his wife from him using his position and authority - a move he resisted. His wife also refused to budge and move in with Lt Forbie.
Among those killed in that attack was the young lady who was a stone's throw away from where Lt Forbie and his men were based.
One key witness at the inquiry told the commission that he had to risk his life to come to Freetown from Kenema so that the world may know what had been happening in that part of the country.
It was he who revealed that it was common knowledge that soldiers based in Panguma routinely brought in vehicles overloaded with looted items from areas that had been reported to have come under rebel attacks.
He told the commission that Fr McAllister had always openly expressed his displeasure at soldiers engaged in these looting activities and would on occasions photograph and do video pictures of these looted items and soldiers entering Panguma. He described the Irish priest as "fearless and courageous" in pointing out the misdeeds of soldiers who were in the area to protect the people.
On the way back to Kenema after his evidence, this bold witness was killed in an ambush on a clear stretch of road believed to have been under government control.
As for the report itself, although the inquiry was open to the press and held at the Bank of Sierra Leone complex at Kingtom, its findings were never made public and perhaps given the fullness of time, Mr Solomon Berewa former SLPP Presidential candidate who also acted as Attorney-General and Minister of Justice as well as Vice President would one day shed more light on the matter as well as the commission's findings.
It is hoped.
The Irish Parliament debated the issue and has on record its own story on what happened on that fateful day.

So many years on, it is gratifying to note that Panguma Hospital is slowly emerging from the ashes of war.
It is hoped that the government would assist this hospital and others devastated by a war that had so many twists and turns with civilians caught in the middle not knowing who to trust with their lives.