THE AWOKO REPORT OF TUESDAY 9TH FEBRUARY, 2010

Date: Feb  9, 2010

Another setback for Agriculture as… Combined Harvester abandoned to rot in Bombali
By Saidu Bah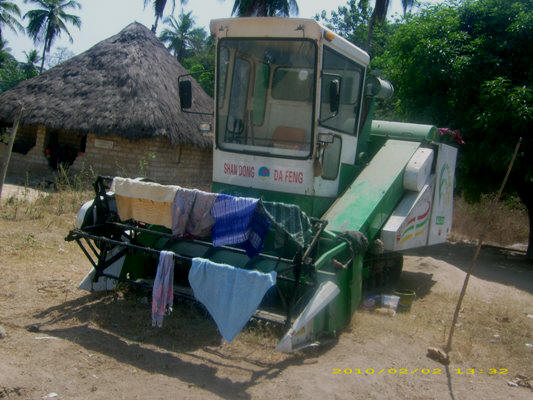 The abandoned Harvester
A combine harvester costing Thousands of Dollars has been discovered abandoned in a remote village within the Bombali District due to negligence allegedly by officers of the Agriculture Ministry.
According to Awoko investigations the combined harvester was provided by the Government of Sierra Leone through their development partners to support farmers reduce post harvest loses in farms and to help increase productivity.
Awoko also learnt that the distribution of the combined harvesters allegedly to APC stalwarts in Bombali District has resulted in the misuse of agricultural implements to the dissatisfaction of many.
It was also noted that the actual farmers who do not have political affiliations in the District had not benefited much from the Government agriculture assistance on food security.
Some farmers accused some of the agriculture officers in the district as ineffective and unproductive as they have failed to practically utilize the agricultural inputs or tools.
This reporter was told in Bombali that the Combined Harvester was hired by APC stalwarts, during the harvesting period and proceeds were allegedly pocketed by agriculture officers in the District. However, since the completion of harvest by local farmers the combined harvester (pictured) has been abandoned in a remote village and some of its parts ripped off.
Villagers are thus misusing the combined harvester to spread their cloth for sunrays, brown dust and heavy objects have partially covered the machine. Most of the parts have corrugated scratches, blades weaken and the terminal battery carted away.
The chairman of farmers at Rothain village Pa Mohamed Kamara said he was "embarrassed by the misuse of the combined harvester by villagers" and accused the Bombali District Director of Agriculture as having also "failed to manage the machine well".
He said "the combined harvester is already damaged due to the negligence of Agriculture officers in the district because they are not monitoring or taking good care of Govt. properties under their control" he queried.
He also said that "President Koroma's vision for food security may be undermined by his own people in Bombali because the real farmers have not yet benefited."
The chairman of the village said that the combined harvester has been abandoned over four months now; efforts to return the machine to Makeni Town have also proved futile because most of the Agriculture officers allegedly do not seem to care.
Several agriculture tools costing millions of Leones have been damaged and misused due to negligence allegedly by authorities who should otherwise be concerned, a subsistence farmer lamented to our reporter.
Agriculture officers in Bombali District contacted on the issue said it is true that the combined harvesters were on hire to farmers but lamented that "sadly we lack the logistics to collect them from the farming villages."