NEW YEAR MESSAGE
from Leader of the main opposition party leader John Benjamin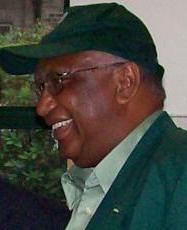 Fellow Sierra Leoneans, members and supporters of the Sierra Leone People's Party (SLPP), on behalf of our National Executive Committee and all officials serving our party in various capacities, let me express our gratitude for your solid support during the year just ended which indeed was a difficult and challenging one.
We are hopeful that as we now begin the year 2010, we shall stay solidly together to surmount the hard challenges of naked nepotism and economic difficulties.
We leave behind us in 2009 the sad and painful memories of the several violent attacks on our party offices, the physical destruction, followed by the banning of our radio station, the raping of our innocent female members and thereafter, the judgment by the Bankole-Thompson Commission that perpetrators of rape cannot be punished in our country since forensic test facility is not available to prove guilt.
We start the year 2010 fully committed to the Peace Communiqué we signed last year with the APC government, witnessed by our International Partners and hoping that henceforth our political activities will be violence-free and good governance will prevail to sustain peace and stability in our country.
Our hope of succeeding as a political party will be gone the moment we remain silent on issues and concerns that touch the lives of our people. Henceforth we assure the people of Sierra Leone that we shall ensure our government becomes transparent and accountable in all that they do.
In 2009, our government focused on attitudinal change for sustainable development. We hope this year will usher in a genuine change of attitude on the part of our President and his team to enable them institute policies that will engender a more cohesive nation so that we can perform our role as the legitimate opposition in building a partnership in progress underpinned by our commitment to "one country one people" as enshrined in the motto of the SLPP.
As architects of the Peace and democracy now prevailing in our country, our party SLPP, will challenge any attempt by the APC government to continue to use their old practice of thuggery and political intimidation in the politics of our country. We will also continue to challenge the continuous political interference by the APC government into the operations of the country's democratic institutions like the IMC, PPRC, NEC, PARLIAMENT and LOCAL COUNCILS.
We noted with appreciation that significant progress was made in the power sector with the support of our Donor partners that resulted in the completion of the 5% of the Bumbuna project that the SLPP government did not complete. This has helped in a big way to bring light to some parts of Freetown. This commendable achievement should be intensified to enable Bumbuna light to reach Bumbuna community itself, Magburaka, Makeni, Lunsar, Masiaka and other communities across the country.
In the year just concluded, government has now strengthened the Anti-Corruption Commission (ACC) to enable it to carry out its functions in a timely and consistent manner rather than wait to be directed by State House press releases.
In 2010 we would like to see a truly Independent ACC at work addressing public concerns on issues like NASSIT ferries, Tax waiver for Harmony Trading Company (now defunct), the Haja Zainab Hawa Bangura's Indian Rice saga etc without been directed from State House.
We shall continue to advocate fearlessly on issues that border on corruption, democracy, human rights and good governance in our country without malice, in the interest of every citizen so that the workplan contained in the APC political manifesto does not disappear into thin air.
Let 2010 be the year when our country will start the journey to move from post- conflict, away from Pre-conflict, on to the path of genuine peace, stability and economic development.
We note with concern the open interference by the APC government in the conduct of the current Paramount Chieftaincy elections. Such Political manipulation interferes with the citizen's right to freely choose the paramount chief of their choice and could lead to social instability.
Our party notes with concern the bad implementation of the Goods and Services Tax (GST) at the beginning of this year which seems to have occasioned a blatant escalation of all prices including those of food items. Our party hopes the Government would ensure the proper and effective implementation of the GST without inflicting unnecessary burden on our people.
We all yearn for a government that cuts across tribe, region and religion and we pray that we stop blaming the past and look forward to a new beginning that will make us proud as a nation of "one country one people".
We wish to thank our members and well wishers who have been steadfast in their support to our party. We especially want to thank our International Development Partners, for their support to our party and to our country.
May 2010 be a year of prosperity, economic development, continued peace in our lives and in the life of our nation.
Happy New Year to you all!
One Country, One People!
John Benjamin
National Chairman