Information minister Ibrahim Ben Kargbo actually believes that he is Sierra Leone's equivalent of Hitler's Propaganda minister Paul Joseph Goebbels as he tries all he can to lie his way into the hearts of an unbelieving and sceptical population who know him well for his many lies.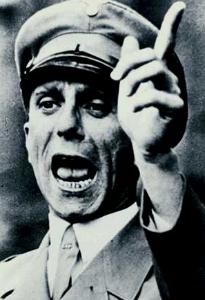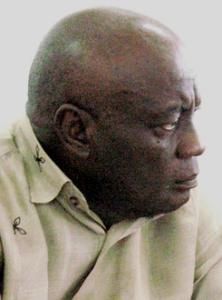 Dr Paul Joseph Goebbels also worked as a journalist, was a bank clerk and authored a number of novels and plays - never mind the fact that these publications were rejected by publishers.
Using his skills at manipulating the minds of people he would want to convince about the goodness of having the Nazi party as the supreme and progressive blessing no one can unbless (paraphrasing one of the catch phrases of Ernest Koroma's internet flying toilets outlets) Dr Goebbels used all his skills (he is reported to speak 18 European languages fluently) to "re-brand" the greatest murderer in modern-day Europe and the world Adolf Hitler. Ibrahim Ben Kargbo has ensured that he gets rewarded by nearly all governments, both recognised and not so recognised that have been thrust upon the people of Sierra Leone.
Under the late Joseph Saidu Momoh, SLAJ nominated him as the man to articulate the needs of the media - and he got rewarded as a member of Parliament.
When Tejan Kabbah became President he was not only encouraged to add the Alhaji "title" to his name as someone who had performed the Hajj, but convinced the hapless President that he was a man who could be trusted with the handling of human rights issues and was made Human Rights Commissioner as was another pro-Goebbels propagandist, one Babatunde Blyden.
President Kabbah must have had a rather dreamless period and an insight into his human rights commissioner when I B Kargbo threw in his lot with the human-rights-abusing AFRC/RUF coaliton of evil otherwise known as the beasts.
He became one of their chief propagandists praising the killers, murderers and rapists as the best thing that could have happened to Sierra Leone.
In Ibrahim Ben Kargbo, Ernest Bai Koroma actually believes he has found his own Goebbels, his own Julius Streicher, the chief tormentor of the Jews using his newspaper Die Sturmer.
I B Kargbo's attempt to wrest the Foreign Ministry from Zainab Hawa Bangura must have gone awry as Zainab did not get the sack but was sent to the very important Health ministry where she has now been side-lined by the many internet flying toilets of "news" portals set up by the APC (AFRC Mk2 Propaganda Unit).
None dare report about the lady's activities even though she was praised to high heavens for every piece of mundane activity as pebbles turned to gold nuggets wherever she trod.
Not anymore it seems as I B Kargbo works relentlessly towards achieving his main goals - first as Foreign minister and then perhaps, a running mate to the smoke and mirrors President Ernest Bai Koroma?