Tuesday May 11, 2010

- David Cameron is new UK Prime Minister - So finally after some five days, the United Kingdom has a new Prime Minister. Mr David Cameron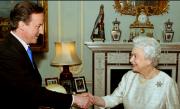 has been given he OK by Her Majesty to form the new government after 13 year of Labour rule, first under Tony Blair and most recently, Gordon Brown. Details of the deal struck with the Liberal Democrats still to be made public. Labour's manifesto remains intact that would make the party the new Leader of the Opposition headed by Harriett Harman the Deputy and now Acting Labour leader. At the gates of 10 Downing Street, David Cameron paid tribute to outgoing Prime Minister Gordon Brown and revealed that his party would rule Britain as a "full coalition" between the two parties. Observers wait to see how the Liberal Democrats and their entrenched values would make things work between the two. Welcome Mr Prime Minister. Welcome Mr David Cameron.
---
How not to do it - Sky journalist Adam Boulton loses the plot
As the political parties try to work out a deal that should see David Cameron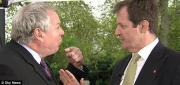 of the Conservative party or Labour's Gordon Brown becoming the UK Prime Minister after the General Elections of May 6, 2010 emotional temperatures appear to be rising in some unexpected quarters. Sky's Adam Boulton, a normally well-reasoned and professional journalist appears to have allowed/let slip the dogs of emotion as he created a very confrontational situation on LIVE TV with the former Communications Director of former Prime Minister Tony Blair, Alastair Campbell. Adam's experience failed to come to the fore to warn him that whatever may be his own personal view of the elections, results and the deals now been worked out between the three main political parties, he should have, as a matter of principle kept his cool and not bring himself into what clearly appears to be a professional ridicule.
---
May 10, 2010

- When winning becomes a not so wholesome dish - the quagmire of UK politics.
Had all gone well for the Conservative party in the UK, this day should have seen Prime Minister David Cameron an occupant of 10 Downing Street. In fact he should have been there since Friday 7th after the General Elections of May 6th, the results of which showed that his party had the most seats and hence the new Prime Minister of the United Kingdom. Seventy two hours later, the fact that David Cameron is still not occupying 10 Downing Street, the official residence of the British Prime Minister shows that all is not well and that the victory of the Conservatives could well be of a Pyrrhic nature. An insight into UK politics and why the Labour party is sitting pretty despite coming second in the number of seats won and on the surface appeared to have been kicked out of power.
---
May 7, 2010
-
(Ssshhhh - Don't mention it too loudly) - Ernest Bai Koroma's much talked about fight against corruption and zero tolerance gets a reality check as anti-corruption czar quits.

Sierra Leone's anti-corruption chief, Abdul Tejan-Cole has finally waved goodbye to the Anti Corruption Commission after less than two years in the post igniting a number of questions relating to his departure. Watchers of the "zero tolerance" mantra from the Ernest Bai Koroma administration have not expressed that much of a surprise...well perhaps the only surprise being that it took the anti-corruption czar this long to make up his mind and leave a system under which he was coming under increasing pressure. Inside sources say the pressure ranged from government-generated impediments that have been coming thick and fast as desperate measures were manufactured at every turn to shield the President and his cronies from the clutches of the ACC to threats to Abdul Tejan-Cole's personal safety. More on this later, but first take a good look at the Anti Corruption Act of 2008 and analyse if a corrupt-prone government like that of Ernest Bai Koroma would feel comfortable implementing the provisions of this document. Was State House in the cross hairs of the ACC?
---
The Politics of Intolerance - taking a dangerous concept even further. What's in a song?
It is amazing,

almost unbelievable that a country that is still trying to come to terms with her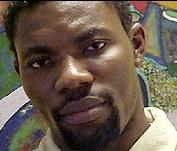 recent past can have individuals picking up on any item that allows for the propagation of intolerance and outright hostility, the sum of which led the country to bleed for eleven years. It is inconceivable that sons and daughters of Sierra Leone, a country that can boast of a change of government in Africa without the whole-scale bloodshed and murder so typical in "ancient Africa", can without batting an eyelid, focus on a social commentary that should be seen as a wake-up call for those in power in a state called Sierra Leone. For indeed it is the deliberate acts of government not to heed the warnings of the past that could be blamed for many an ill in Sierra Leone where corruption has taken a dimension that beggars comprehension. So what was all that brouhaha about musician Emmerson's song "Yesterday Betteh Pass Tiday"?
---
May 3 - World Press Freedom Day - A reminder to the Nazis (AFRC Mark 2) propaganda machine

First the good news from the mother country.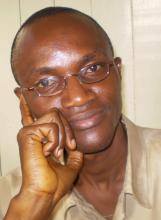 The Ernest Bai Koroma set-up (oops government) must be congratulated for daring to do what former President Ahmad Tejan Kabbah's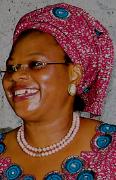 government promised repeatedly but never had the intention of doing - getting rid of government control over the national broadcaster, the former SLBS, now known as the Sierra Leone Broadcasting Corporation, the SLBC. Well done!!!!. And the bad news. It would seem that a certain group of hired "hands" believing that "re-branding Sierra Leone" is the use of half truths, lies and even more lies as well as hurling garbage at and threatening any and all who dare to state that Ernest Bai Koroma is not living up to his promises is the best way to "re-brand" Sierra Leone. In the process, they have now been found out for what they truly are. "Re-branding" a country is not child's play and this should go hand in hand with what obtains on the ground. Stevens could have muzzled media freedom in the 70's and 80's using violence and all manner of intimidating tactics. It could have worked, but this is the 21st century. We have these links for "the re-branders" to illustrate their folly and hope this will make them come to their senses.
The Daily Independent of Nigeria's Goddie Ofose has this article on All Africa.com which we have copied for ease of reference here.
Dora Akunyili was Nigeria's no-nonsense and outspoken drugs czar before she became the country's Information minister. She wanted to re-brand Nigeria using the slogan - "Good People, great country". Journalist Osasu Obayiuwana interviewed this great lady. Kindly read this very interesting revelation on re-branding a country.
When you see the name Serbia, images of atrocities crop up in the mind...so what can you do to show that present day Serbia is quite a different picture. Kindly read through this article....there's something in it for the neo-Nazi propaganda machine.
And finally a word from Sierra Leone's very own Umaru Fofanah on World Press Freedom Day.
Footnote: The Sierra Herald is pleased to note that the wife of the President is no longer "Her Excellency" and that the wife of the Vice President is no longer "The Second Lady"....there should be a limit to praise singing!!!!!
---
Boxing - Who can stop this man? Who can humble this "mouthy" motor-mouth?
The challenge rages on as Mayweather wows his supporters again and again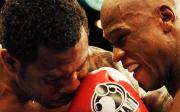 Floyd Mayweather has done it again. Last evening in Los Angeles, the man who reminds many boxing fans of what the sport, in classical execution should be all about, wowed his fans as he made mincemeat of another US hopeful Shane Mosley. And talking about motor mouthing and boasts should take fans down memory lane with Mohammed Ali centre stage browbeating and verbally taking down his opponents from that Louisville Lips of his...a feat he very often concretises in the ring as opponents realise much to their chagrin, that there's something real behind those boasts. Commenting on the fight, the New York Times noted - "Mayweather again needed few, if any, words. His fists spoke loudly, clearly and emphatically as he affirmed his favored status with a lopsided and unanimous decision."
---
Good news from the mother country

- help for our maternal and child health programme -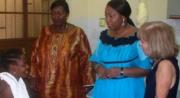 With a fanfare, trumpets sounding beyond the shores of the mother-country and all the ingredients needed to show just how great President Ernest Bai Koroma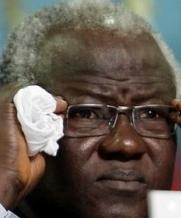 is, Sierra Leone should now be in a better position to alleviate the plight of health delivery for her maternal and child health nightmare. With the help of the international community, the government (AFRC Mk 2) of Ernest Bai Koroma is quoted while launching the much-needed programme -

"For many years now, many pregnant women, breast feeding mothers and children under five have been suffering and dying because they simply could not pay the fees for the consultations, drugs and other services in our hospitals...from this Independence Day, every pregnant woman, breastfeeding mother and child under five years of age will be entitled to

free

health

care in every Government

health

facility in the country. From pre-natal check-ups to surgical services, drugs, vaccinations and inpatient hospital care, no pregnant woman, breast feeding mother or child under five would have to pay a single Leone." One woman who has been involved in this programme is

Ann Cloag

, a name first brought to the attention of the Sierra Herald by this article in the

AWOKO

news outlet.
---
April 29 - What a date, what a reminder but don't mention it!!!!

- 18 years ago today something happened that shook the very foundation of the political landscape of Sierra Leone.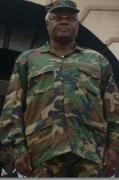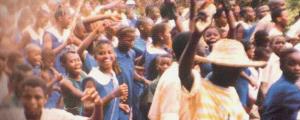 A day the APC terror of 24 years will never forget for this was the day the APC was overthrown by the same men and women in uniform who could only be recruited into the national army after vetting by the party faithful and associates. With the army politicised, emasculated and left to its devices senior army officers were left to metamorphose into rice traders and guns for hire. Have lessons being learnt? No way. The army is again slowly being rinsed in party robes with deployment at APC party functions and playing of "Victory" song. The ISU, later to become the SSD and now some other thing, the party paramilitary remains intact with sworn allegiance to their masters rather than the nation. All the professionalism initiated by Keith Biddle has been thrown to the dogs as the country heads once more to the awful horror we would rather forget. Known criminals and human rights abusers with the right connections can now wear police and military uniforms.
---
April 27, 2010 - The scourge of impunity

- Tackling sexual violence must include prevention and ending impunity – UN official.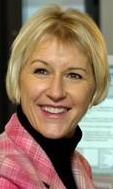 UN Special Representative on Sexual Violence in Conflict Margot Wallstrom has told the Security Council that the world body must put in place measures that would see an end to impunity relating to sexual violence. Describing the Democratic Republic of Congo, the DRC as "the rape capital of the world" Margot Wallstrom noted "If women continue to suffer sexual violence, it is not because the law is inadequate to protect them, but because it is inadequately enforced." This grim and stark message should be viewed with all seriousness and be on the top shelve of countries that have succeeded in ending wars but where rape continues to be used as a weapon of intimidation. This becomes even more urgent in countries like Sierra Leone, neighbouring Liberia and Guinea where the stadium violations against women were so graphically captured and sent around the world. Using rape even in times of "no-war" could be traced to the foot soldiers during those conflicts who were left unscathed by the long arm of the law as the chief perpetrators were bundled before the Special Court in Sierra Leone say. Until the foot soldiers are made to account be they from the militias (Kamajors, Kapras, Donsos etc), the AFRC, the RUF and the Sierra Leone army, rape and the threat of it would always remain. The Ernest Bai Koroma set-up must pay more than lip service in arresting sexual violence in Sierra Leone. One recent report stated that out of 927 sexual abuses cases reported, there were no convictions.

UN INTEGRATED PEACE BUILDING OFFICE IN SIERRA LEONE REPORT OF MARCH 15, 2010
---
April 27 - Another Independence Day anniversary

- The Sierra Herald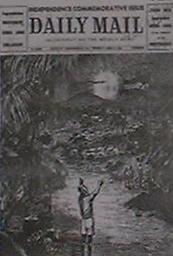 adds its voice to all those who wish the mother country well more so those sons and daughters who despite the odds are doing their utmost to make life worth living for compatriots within the borders of Sierra Leone. Much has been written, said and echoed about what needs to be done to make the country live up to its ideals. Opposition leaders would criticise as much as they can offering all the solutions...until they become the government, the new slave masters....selective amnesia then sets in rapidly with nepotism and the acquisition of wealth by whatever means taking centre stage. Last year, this was what we stated and we believe it still is relevant today. The picture on the right is of the Daily Mail newspaper of April 27, 1961 heralding a new day in the history of Sierra Leone. Independence Day

FORMER PRESIDENT KABBAH'S LAST INDEPENDENCE DAY SPEECH AS HEAD OF STATE IN 2007
---
"Information and Communication Technologies (ICT) in Africa: Challenges and Prospects for Development"

- the African Union summit theme. Ernest Bai Koroma turns government information machinery on its head.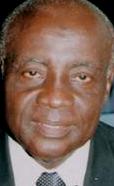 According to good governance practice and the work of the various ministries of government, the Ministry of Information and Broadcasting (now known as Information and Communications) is the arm of government that is responsible for all and every matter related to information and PR matters of governments in Sierra Leone be they headed by Ernest Bai Koroma, Siaka Stevens, the Governor under British rule or Ahmad Tejan Kabbah. It is the constitutional duty of the Information ministry to appoint, where necessary trained and approved personnel to become information attaches to the country's various missions abroad. It is the Information ministry that decides on personnel whose names are later submitted to the Ministry of Foreign Affairs for the necessary documentation and training in the protocols of diplomacy. However under Ernest Bai Koroma's watch, it would seem caution has been thrown to the wind making the Civil Service and the Establishment Secretary's office redundant. Sierra Leone is no longer a one-party state and things have to be done as laid down in the books that would give equal opportunities to all Sierra Leoneans.
---