LIBYA - UPDATES ON KEY EVENTS
March 18, 2011

- At last a protection of sort for

the cockroaches of Libya

as UN authorises no-fly zone over Libyan air space.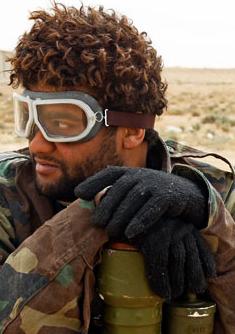 It was not an easy diplomatic victory. It took the skills of envoys from France, the United Kingdom, Lebanon and the United States to get it through. There had been doubts that the UN Security Council resolution would be bogged down by a veto from such members like Russia and China, but in the event buttressed by the Arab League's call for such a no-fly zone to be established, the resolution was passed. According to the BBC ten UN Security Council members backed the resolution while five abstained thus ensuring that the minimum of nine votes needed for such a move were satisfied. UK Prime Minister David Cameron will later today brief the Cabinet as well as the House of Commons on what this will mean for British forces in another overseas assignment. Foreign Minister William Hague said it was a "positive response to the call by the Arab League" for measures to protect Libyan civilians. The opposition forces have been rejoicing while the pro-Khaddafi forces in Tripoli have been swearing and condemning the move. The people referred to as cockroaches by their own head of state will now heave a sigh of relief with some insisting that this should have been done ages ago. This no-fly zone was what was needed in Sierra Leone during the days of the AFRC/RUF coaliton of evil, otherwise known as the beasts when that helicopter gunship piloted by a Sierra Leonean bombed and strafed areas occupied by civilians perceived to be in opposition to the junta. Thousands were killed immediately in such attacks while many more were left with horrific injuries.
Update: 12.45 gmt - The Libyan Foreign Minister has just ended a press conference in which he stated that Libya has ordered an immediate ceasefire and an end to hostilities as well as the protection of all civilians within the borders of the country. This as UK and French pilots are believed to be already on their way to enforce the no-fly zone.
Update: Saturday March 19, 2011 - Coalition forces attack tanks, military vehicles and other ground and military facilities in Libya. First reports say more than a hundred and ten Tomahawk cruise missiles hit more than twenty targets fired from UK and US naval forces. Operation Odyssey Dawn is launched.
---
March 21, 2011

- Libya admits using "willing human shields". This adds to the war crimes list of the Khaddafi regime.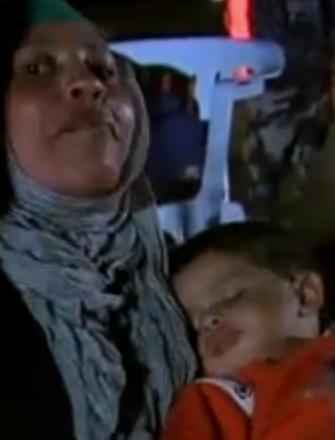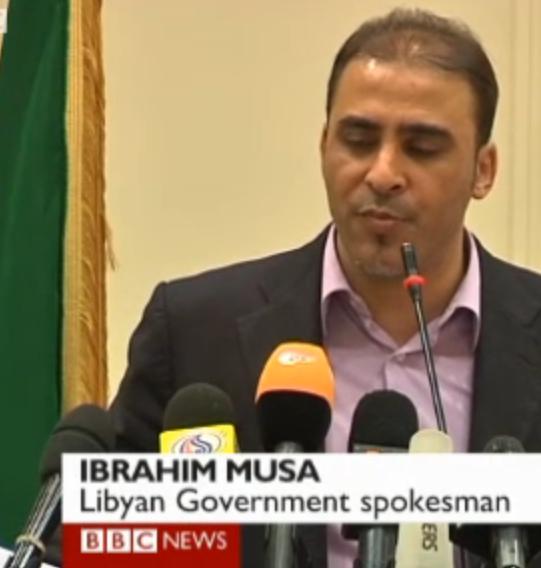 Libya has admitted that it has been using what the government spokesman Moussa Ibrahim called "willing human shields" giving the impression that the civilians located/relocated to possible coalition forces target areas went to these places of their own accord. This is in breach of the Code of War making the regime and the chief operatives candidates for the International Criminal Court, the ICC, for war crimes and other crimes under the ICC books. Pictures of mothers, youths and young children including babies carried in the arms of mothers should provide ample evidence that war crimes are being committed as it is the duty of the Libyan government headed by Khaddafi to protect the lives of civilians. Deliberately putting them in harm's way in this manner shows just how desperate and irresponsible that regime has become. Civilians in Sierra Leone were used in a similar manner by the AFRC/RUF coalition of evil otherwise known as the beasts where civilians were forced out to shout "We want Peace" even as armed men within their numbers launched missile attacks against ECOMOG positions. Those who carried out such war crimes are now a part of Ernest Bai Koroma's bodyguards led by the chief human rights abuser, rapist and murderer Idrissa Kamara also known as Leatherboot.
---
Friday August 7, 2009

- UN Secretary General Ban Ki Moon calls for tougher action against perpetrators of sexual violence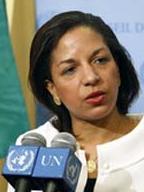 UN Secretary General Ban Ki Moon has told an open session of the United Nations Security Council on "Peace, Security and Women" that the world body needs to take tougher action against perpetrators of sexual violence. He told the Security Council that "...parties to armed conflict continue to use sexual violence with efficient brutality,.....like a grenade or a gun, sexual violence is part of their arsenal to pursue military, political, social and economic aims" adding "In Burundi, Liberia and Sierra Leone, the fighting may have ended but sexual violence persists on a very serious scale"
U.S. Ambassador Susan Rice told the Council that efforts must be stepped up "to ensure that rapists and other perpetrators of sexual violence are identified and punished" and said the United States will support domestic, international, or hybrid bodies that investigate and prosecute these crimes...Efforts to combat sexual violence must be placed squarely on the political agenda as well when countries are searching for lasting stability and peace". Today's meeting is part of the world body's effort to concretise measures contained in UN Security Council Resolution 1820 of 2008 aimed at ending rape and other forms of sexual violence in conflict and post conflict zones.
---
Thursday March 3, 2011

- Aftermath of the events in Libya. Director of top UK educational institution, the LSE, resigns over fund linked to Khaddafi. How much did Khaddafi give to Tejan Kabbah and Ernest Bai Koroma?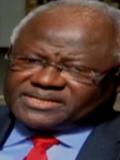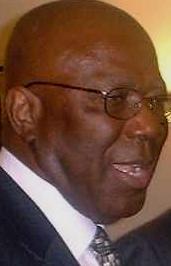 Sir Howard Davies has quit as Director of the London School of Economics a top school of thought in all things worth studying more especially as they relate to geopolitical events. The Director is reported as saying that he had to quit upon reflection that the receipt of some three hundred thousand pounds (£300,000.00) from a Khaddafi-linked foundation was out of order. This was not the only link between Sir Howard and the Libyan regime. According to the BBC the former Director said he regretted visiting Libya to advise Colonel Khaddafi about financial reforms. "I have concluded that it would be right for me to step down even though I know that this will cause difficulty for the institution I have come to love," he said. Here is an example of how principled people behave even as our Speaker of the Sierra Leone Parliament keeps burying his wretched head in sand of denial over making Khaddafi an MP in the House of Legislature. The question that must be exercising the minds of Sierra Leoneans now must be - How much money did former President Ahmad Tejan Kabbah and present President Ernest Bai Koroma receive from Khaddafi as the Libyan leader tried to give his image a face-lift? This, even though all in Sierra Leone who have been following the war machinery in the country knew the role of Libya in our troubles and the slaughter, rape and mutilation of hundreds of thousands. Sierra Leone does not need a Wikileaks expose to reveal these amounts and the assorted gifts. Now is the time for the two men, Tejan Kabbah and Ernest Bai Koroma to come clean. We await developments.
---
Monday February 28, 2011

- The story so far - Sierra Leone disowns one of its own citizens and MP. Colonel Khaddafi trapped, besieged, abandoned and now spurned by former friends like President Koroma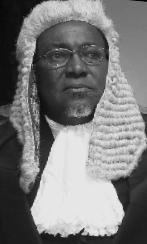 As betrayals go this must be on top of the pile...could even rival if not beat that of Brutus as he sinks the final blow into the dying and unbelieving Caesar causing that arrogant man of Ancient Rome who would be king to say the oft-quoted question - "Et tu, Brute?". Indeed Khaddafi, embattled and now hated by his own people for what he had done to them, more so in the recent past and groping for friends who would stand up for him would be saying to himself - Et tu, Justice Abel Stronge; Et tu, Ernest Bai Koroma; Et tu to all those who drank deep from the bloody wells of gifts lavished on them by a man who would be Kings of Kings and President of Africa. Even as Speaker Abel Stronge exposes himself to ridicule stating that Colonel Khaddafi was never made an MP, one would be tempted to ask the befuddled Speaker of the House why a Parliament in recess over Yuletide was convened on New Year's Day 2009 to receive the Libyan leader. One of the country's top newspapers AWOKO has the story of how the debate was ignited in Parliament including Speaker Abel Stronge's ill-advised and humiliating performance of a denial. Oh that we had men (and women) of stature and principles. The great Eddie Turay Sierra Leone's High Commissioner to the UK - are you listening?
---
WANTED - A STATEMENT ON THE MASS MURDERS OF CIVILIANS FROM THE SIERRA LEONE PRESIDENT AND PARLIAMENT
A friend in need is a friend indeed or words to the effect that call on true friends to help each other in times of crisis. Now since Colonel Khaddafi of Libya is also a citizen and an MP of Sierra Leone, it behoves the Presidency and Parliament to go to the aid of a fellow citizen Colonel Khaddafi. Why the deafening silence?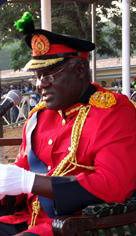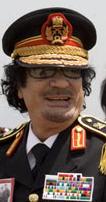 Why are the internet flying toilets of President Koroma's propaganda machinery keeping quiet? Why, why, why? Please say something about your embattled citizen.
After all, Colonel Khaddafi should not only be counted as a friend and citizen when he doles out gifts...it is at times like these that beneficiaries should stand up for him!!!!
And while thinking of what to say as Libyan aircraft and heavy weapons including anti-aircraft guns are trained on unarmed protesters, it is gratifying to note that Libyan diplomats at the United Nations are now calling on the UN Security Council to intervene in Libya with one of the diplomats putting the International Criminal Court, the ICC on notice that Colonel Khaddafi must be arrested and tried for war crimes, crimes against humanity and mass murder.
---
Monday February 21, 2011

-

WANTED

- ONE MUSTACHIOED AND BEARDED TERRORIST: CRIME - WAR AGAINST THE PEOPLE AND MASS MURDER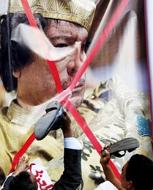 Just last evening Khaddafi's son Sayf al-Islam 38, was on national television telling the people that those who fired on unarmed civilians were troops untrained in riot control and today the defection of two Libyan pilots ordered to attack protesters and who have now landed their fighter jets in Malta clearly nails the lie in this rather lame excuse for the murder of innocent citizens. The whereabouts of Colonel Khaddafi may be the subject of speculation for now, but what is not in dispute is that this man who wanted to be the all-conquering ruler and President of Africa has now succeeded in making himself a candidate for the International Criminal Court, the ICC in the Hague. He, together with his sons and close buddies who have ordered the murders of their own citizens must be made to answer for the blood of the innocent in Libya. News that a number of Libyan diplomats resigning their posts in protest at the brutal and murderous crackdown on protesters is a welcome sign that must be seized upon by all nations concerned about human rights and democracy. This is the time when the nearest US fleet should be heading for Libyan waters to effect a no-fly zone making sure that all the planes taking part in those massacres are shot down.
---
Sunday February 20, 2011

- Murder in Libya as Khaddafi's hired killers fire area and other heavy weapons against protesting citizens. European Union under pressure to act. Reactions needed from President Ernest Bai Koroma as well.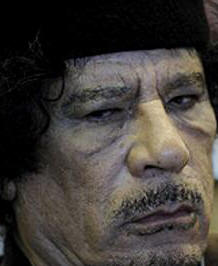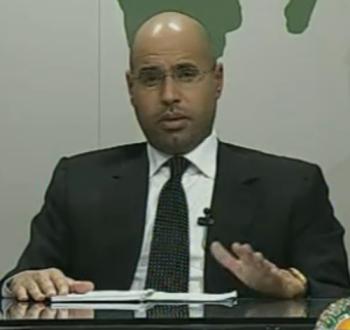 It has been murder most foul...a massacre of civilians protesting against the repressive rule of Libyan leader Colonel Khaddafi with some reports suggesting that hospitals are being overwhelmed and mortuaries over-filled as the death toll rises. Some reports say mortar rounds were fired into the protesters even as heavy machine guns opened up with large calibre shells devastating flesh and bones of those hit. And worryingly, the protesters have been talking of seeing hired gunmen from sun-Saharan Africa being deployed as killer squadrons with specific instructions to murder and maim Libyan citizens in their own country. Speculations are now rife as to what countries have been supplying the killers...and given the close ties Ernest Bai Koroma has with the Colonel (he made him a Sierra Leonean citizen as well as an MP of our Parliament) the Sierra Herald would want a statement from President Koroma on what a Sierra Leonean citizen and MP is reported to be doing to Libyans in their own God-given country. The BBC has been following what's going on in the country despite a clamp down on journalists with internet and other connections to the outside world interrupted. Another update from Freetown - The Sierra Herald has been informed that though a statement from President Koroma could be in place, given the manner in which Colonel Khaddafi was made a citizen and an MP of Sierra Leone without any word of dissent from the opposition, it is imperative that Sierra Leone's Parliament make a statement now on one of its citizens using such brute force to quell protests in Libya. It was the shameless and self-serving Parliamentarians who took upon themselves, Speaker Stronge included, to make that knave of a Khaddafi a citizen of our beloved country.
Update: Monday February 21, 2011 - 0630 gmt. Protests reach the capital Tripoli. Colonel Khaddafi's son Sayf al-Islam goes on TV to say those murders were committed by army units not trained in riot control. Blames everybody within and outside the country except his father and his clique. Claims Libya is on brink of civil war and is ready to die for the country. Echoes of the Johnny Paul AFRC as reports say helicopter gun ships were used against civilians. Khaddafi holed up in an unknown location...desertions from the army...the regime becomes more isolated. Pundits say the end of Khaddafi is not a question of how, but when as protests gain momentum.
---
Sunday January 16, 2011

- Tunisia - people power triumphs once again as agents of deposed President form killing squads to target those suspected to be behind the mass protests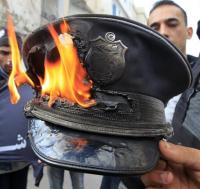 Tunisian President Zine El Abidine Ben Ali actually believed he had succeeded in emasculating all opposition within the country he had ruled for over twenty years. His security forces were well equipped, well-fed and in a number of cases were given free license to take whatever action against his perceived opponents. Many were forced to flee his police state where, like in Siaka Stevens's Sierra Leone "careless talk" became a crime punishable by any measure warped brains could conjure up. And so when the people could stomach it no longer and rose as one to voice their opposition in street protests, it was the security forces who opened fire on their own people using guns, bullets and other repressive paraphernalia bought with the people's money, with the people's sweat. Faced with the massive popular revolt Ben Ali made concession after concession, promise after promise. The protesters were unimpressed. He saw the signs and fled with tail firmly stuck between wretched legs. There's a limit to the patience and endurance of the people. Indeed.
---