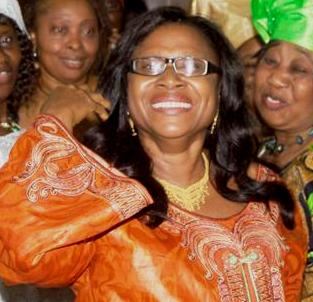 DR KHADI SESAY - A WOMAN OF SUBSTANCE
AND A FITTING TRIBUTE TO THE EFFORT OF OUR WOMEN
IN PEACE-BUILDING AND NATIONHOOD
Statement of Intent

Central to my experience as a key strategic thinker, policy development expert and consensus builder has been my leading participation in the democracy, peace and security processes of Sierra Leone. These experiences and high level access I have had, position me well with the know-how, team skills and competencies to successfully support and lead the development process in Sierra Leone.
PROFESSIONAL EXPERIENCE AND ACHIEVEMENTS

2008 – present - Founder, Managing Director: Leone Consulting & Advisory Services - Providing expert advice and strategy development on issues of trade, economic development and investment in Sierra Leone to incoming international agencies, development partners, investors, non governmental organisations, and the Government of Sierra Leone.
2002 - 2007 Minister of Trade and Industry, Government of Sierra Leone - Served as principal advisor to the Government of Sierra Leone on all matters of trade and investment in the first post conflict government. Major achievements contributing to stable environment for economic development were:
Visa acquired under the US African Growth and Opportunity Act for duty and quota free export of Sierra Leone products to the US.
Removal of the administrative barriers to Investment which improved Sierra Leone's standing in the World Bank Doing Business report.
Established strategic stocks of petroleum products and harmonisation of prices for petroleum products across the country.
Developed Sierra Leone's First Investment Code
Initiated a UNIDO Integrated Small and Medium Scale Enterprises Programme (2003)
Established (with Henan Guoji, a Chinese Company), an Industrial and Trade Zone at the old National Workshop Complex, Cline Town where more than 10 industries are located
Organised Sierra Leone's First International Investors Conference that attracted over 400 foreign investors
Established a new Sierra Leone Investment and Export Promotion Agency (SLIEPA)
Simplified and streamlined Business Registration processes through the new General Law Act 2007 and The Business Registration Act 2007 that raised Sierra Leone's standing in the World Bank Doing Business Report.
Initiated a successful/ginger cultivation and Export Programme (working with the ITC) – Sierra Leone ginger Exports recommenced as a result.
Commenced a private Sector Development Strategy to develop and implement a comprehensive private sector Development Plan for Sierra Leone (Funded by DFID).
Commenced work on reforming Sierra Leone's existing Intellectual Property Rights Laws with a view to making them user – friendly, responsive to the Country's development needs and compliant with its international obligations.
In the capacity as Minister of Trade and Industry, I was responsible for the following,
Developing a framework for government to integrate economic development with poverty alleviation goals and industrial development for SME development in Sierra Leone including a Private Sector Development Strategy to develop and implement a comprehensive private sector Development Plan for Sierra Leone
Establishing a coherent regulatory framework for trade development through the development of a national policy and strategy for small and medium enterprise development in Sierra Leone. This included establishing the Integrated Framework (IF) for Trade Related Technical Assistance, successfully conducted Sierra Leone's Diagnostic Trade Integration Study, and initiated a strategic effort for removal of administrative barriers to investment in Sierra Leone supported by FIAS, DFID, MIGA and ITC.
Supervised and coordinated a variety of international and bilateral organizations and technical assistance in a framework of supporting improvement in Sierra Leone's investment environment namely ITC, WTO, UNIDO and UNCTAD and co-leading the process for the development of a 5 year World Bank Rural and Private Sector Development Project to improve domestic supplies and export of specified agricultural commodities.
1999 – 2002 Minister of Development and Economic Planning, Government of Sierra Leone - As Minister, my major achievements were co-chairing of the Post-war National Recovery Committee, creating the first interim poverty reduction strategy paper and establishing the long term vision for development in Sierra Leone (Vision 2025), developing a national NGO Policy and setting up a nation wide Micro-credit programme .
Specifically, my responsibilities included:
Focal and supervising Minister for ECOWAS,
Commonwealth Secretariat, all UN agencies, National Authorising Officer for the EU. Also worked closely with the World Bank, the IMF, ADB, ECA and UNIDO;
Coordinated all international aid/grants and was responsible for GOSL Development Budget and Programmes. Established an Aid Coordination Programme with a Donor Assistance Matrix Development Database;
Supervised the development of The Interim Poverty Reduction Strategy Paper for Sierra Leone, and initiated the development of the country's Full Poverty Reduction Strategy Paper;
Developed an NGO Policy for Sierra Leone to coordinate NGO activities linking the sector to the development programme;
Co-led the development and supervision of Sierra Leone's Post-war National Recovery Programme. Secured long term funding for roads improvement in Sierra Leone.
1994 – 1999 Chairperson, National Commission for Democracy and Human Rights
The National Commission for Democracy and Human Rights was established in 1994 as one of two Democratic transitional institutions to lead the country from the military regime to democratic rule. As the founding chairperson, I prepared the process that established a consensus view of all Sierra Leoneans as to their vision for peace that informed the GOSL negotiating group at the Lomé peace talks and eventually a successful peace accord.
Specifically, my responsibilities included:
Participated in the Sierra Leone Lomé Peace negotiations as member of the Sierra Leone Government's Negotiating Team and served as Chairman of the Socio-Economic and Human Rights Committee of the Peace Negotiations.
Organized the national consultative conference on the peace process that led to the publication of The Road to Peace that captured the consensus views of all Sierra Leoneans on the peace process and I coordinated a network of civil society groups that participated in the Lomé Peace Negotiations
Established a policy framework that integrated civic education, democracy and human rights education into the electoral process, school curriculum and texts and also integrated it into civil society network's work.
Initiated communication strategy for dissemination and promotion of citizens' constitutional rights in local languages using a variety of media tools.
Organized nation-wide Civic Education programme for the first post- war National Elections in Sierra Leone
Established a legal aid unit to support children and women victims and took several cases to court establishing precedence on human rights violations against ordinary citizens.
Co-wrote "The Sierra Leone National Pledge", now recognized as a national symbol of Sierra Leone, comparable to the National Anthem.
1974 - 1994 Senior Lecturer and Head of the English Department, Fourah Bay College, University of Sierra Leone
Taught English Language, English Literature, African Literature and Applied Linguistics for 20 years; wrote and published several academic papers.
PERSONAL DATA
Marital Status: Widow with three children
Place of Birth: Rotifunk, Bumpe Chiefdom, Moyamba District
Home Town: Rhombe, Lokomasama Chiefdom, Port Loko District
Profession: University Lecturer and Development Consultant
Education & Training
1 Doctor of Philosophy (PhD) in Applied Linguistics, Institute of Education, University of London (1982)
2 Master of Arts (MA) Degree in African Literature, University of Sheffield, England (1974)
3 Bachelor of Arts (BA Honours) Degree in English Language and Literature, Fourah Bay College, University of Sierra Leone.
4 St Edwards Secondary School, KingTom ( GCE A'Levels)
5 Magburaka Secondary School for Girls, (GCE O'Levels)
6 EUB Primary School, Rotifunk
EXPERIENCE RECORD SUMMARY
1 Managing Director, Leone Consulting Services, Freetown. (2007 to present) and SLPP Deputy National chairman and leader (2009-2010 )
2 Minister of Trade and Industry (2002-2007)
3 Minister of Development and Economic Planning (1999-2002)
4 Chairman, National Commission for Democracy & Human Rights (1994-1999)
5 Senior Lecturer and Head of the Department of English, Fourah Bay College, University of Sierra Leone, (1974-1994)
6 Warden of Female Students, Fourah Bay College
PRIZES / AWARDS
Won the Sierra Leone Women of Excellence Award for FEMALE PERSONALITY OF THE YEAR 2003.
Won AWOL BEST MINISTER OF THE YEAR Award 2002