Friday November 11, 2011

- A good boy done bad? Highly respected and well-educated Canadian Sierra Leonean is forced to resign as head of Canada's top intelligence oversight body. Dr Arthur Porter resigns over failed deal for Sierra Leone and connections with a wheeler dealer for whom he wrote a letter of "praise".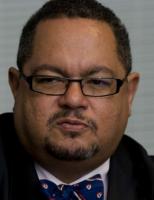 It was the head of the Sierra Leone Association of Journalists, Umaru Fofana who confided in a colleague a while back that he was confident that Sierra Leone's smoke and mirrors President Ernest Bai Koroma is determined and poised to sign into law the Freedom of Information (FOI) Bill and that he had no doubt that the President meant what he had promised. This Bill, had it become an Act and hence law, would have enabled journalists and other members of the public to hold to account many of the functionaries who purportedly work in the interests of a country still trying to heal the wounds of war and to rise again after its ravages.
We are just wondering if he still believes in him for in what can only be described as scandalous, the man, who only a year ago was appointed by Canada's Prime Minister Stephen Harper to head the Canadian Security Intelligence Review Committee (CSIRC) has been forced to resign after press reports revealed that he was involved in a two hundred thousand dollar ($200,000) deal that should have seen Russian investors ploughing money into the country of his birth Sierra Leone. He is reported to have wired this amount to a man who has been described as "a shady business wheeler and dealer" one Ben Menashe with the deal falling through.
In a statement announcing that he had accepted Dr Porter's resignation on Thursday, the Canadian Prime Minister Stephen Harper thanked him for his "service on the Security Intelligence Review Committee and to his country" - the country in that statement meaning Canada a country he had served with distinction in the medical profession. He is at present Head of the McGill Medical Centre where he is overseeing a major overhauling and rehabilitation project that runs into billions of dollars and supervising over a thousand and two hundred staff.
However, it would seem that he had got his hands in too many pies and has been criticised by some sections of the media for what they saw as a lack of devotion to his work as head of such a prestigious project. How his resignation will impact on his work at the hospital remains to be seen, but this is not good news for the magician at State House in Freetown.
Dr Arthur Porter, the son of one of Sierra Leone's illustrious educationists, Dr Arthur Porter is reported to have been appointed "ambassador plenipotentiary of the Republic of Sierra Leone", an appointment that was kept from the eyes of the public and thus raising questions over how many such appointments the President could have made that the Sierra Leone public has been kept in the dark about. Dr Porter appears to have many interests among them, it is reported, mining interests in Sierra Leone.
It all started when one Canadian newspaper, the National Post became interested in the activities of Dr Porter, a distinguished oncologist who is well respected in the medical profession and who by any standard stands tall, very tall when it comes to academia. It would appear that what got the newspaper curiously interested in Dr Porter's many business dealings and associates was one he made with one Ben Menashe to secure a 120-million US dollar grant from Russia for what the newspaper reported as "infrastructure development in Sierra Leone" managed by Dr Porter's own mining company, Africa Infrastructure Group. "
"Dr. Porter has mining stakes in Sierra Leone, a country battered by years of war and corruption, and was named by the president of the country to the position of Ambassador Plenipotentiary — a rare title defined as someone with full powers of a head of state. Questions arose, then, as to whether Mr. Porter, was in a conflict of interest, whether by working with an international lobbyist on private business dealings outside Canada or by virtue of his plenipotentiary title with a foreign government.
"(The latter) is a complete conflict of interest and it raises the spectre of the potential for foreign influence in Canadian affairs — sensitive Canadian affairs," Wesley Wark, a specialist in the history of intelligence services and national security policy at the University of Toronto, said shortly before Mr. Harper's announcement. "The simple fact that someone is on the one hand serving in a very sensitive Canadian position, and on the other hand holds an appointment — however honorific — for a foreign government, is just not on. Dr. Porter, who was appointed to the committee in 2008 and then promoted to chair last September, told the National Post earlier this week he was not aware of Mr. Ben-Menashe's background, which includes multimillion-dollar deals with Zimbabwean strongman Robert Mugabe. Mr. Ben-Menashe was also arrested in the United States in 1989 and charged with illegally attempting to sell three military transport airplanes to Iran. He went to trial and was acquitted in 1990. Reached by phone, Mr. Ben-Menashe said only, "It's a good day for Canada."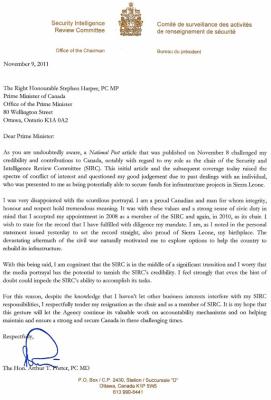 Peter St. John, a security and terrorism expert at the University of Manitoba who helped establish the spy review board back in 1984, said committee board members have to "stay squeaky clean" given the sensitive nature of the job. According to the committee, members have "access to all information held by CSIS, no matter how highly classified that information may be," with the exception of federal Cabinet secrets. "This is a very responsible position that deals with Canada's intelligence," Prof. St. John said. "You have access to an extraordinary amount of information at high levels of secrecy. You have to be very discrete, and you have to have your hands clean, all the time."
CBS, the Canadian Broadcasting body has noted - "Porter has been the subject of Postmedia reports this week chronicling a failed business deal he arranged for a company he owns in his native Sierra Leone. The reports also noted that Porter bills himself as "Ambassador Plenipotentiary, Republic of Sierra Leone," and questioned recent absences from his job as CEO of the McGill University Health Centre. In a letter to Harper dated Nov. 9, which was released to the media Thursday, Porter said articles in the National Post "raised the spectre of conflict of interest and questioned my good judgement." Porter called the Post's portrayal of him "scurrilous" but said he worried it could tarnish SIRC during a period of "significant transition," and had to resign. Porter called himself as "a proud Canadian" in his letter, and also defended his failed business deal in Sierra Leone as motivated by his desire "to explore options to help the country to rebuild its infrastructure" after its civil war.
Another Canadian news outlet, the Montreal-based "The Gazette" deals with the "missing bureaucrat issue" as it is reported that given the many interests of Dr Porter, whether he would have time to devote to his work at the McGill project. The paper stated that - "Quebec's Health and Social Services Act couldn't be clearer on this point: "The executive director shall, under pain of forfeiture of office, devote himself exclusively to the work of the institution and the duties of his office," stipulates article 199 of the law.That applies to every executive director of every hospital in the province, including Dr. Arthur Porter, chief executive officer of the McGill University Health Centre.
As head of the MUHC, Porter is in charge of 12,000 employees, six hospitals, a budget of nearly $1 billion and a $2.3-billion redevelopment plan that includes the construction of the future Montreal Children's Hospital, an adult hospital and a research centre. Yet during this critical period in the MUHC's history, Porter has been increasingly absent from its day-to-day operations, several well-placed sources have told The Gazette. This shift has occurred as Porter has taken on lucrative duties outside the MUHC, the sources said. Porter's moonlighting has raised questions this week after the National Post reported about his activities as chairman of Canada's Security and Intelligence Review Committee (SIRC). The article revealed that Porter wired $200,000 in personal funds last year to an international lobbyist based in Montreal for an infrastructure agreement in Sierra Leone that ultimately fell through. The article also reported that Porter used the letterhead of the Privy Council of Canada, of which he is a member, in writing a letter of reference on behalf of the lobbyist, Ari Ben-Menashe, after he had run into trouble with the Bank of Montreal.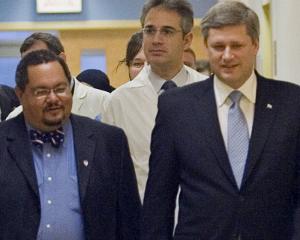 What is now exercising the minds of many concerned Sierra Leoneans is - just how many such "diplomatic appointments" have been manufactured by a government in Sierra Leone that is desperate to have any type of "investment in the country for show-casing as a success ladder? Who are the recipients of such appointments, why were they issued on behalf of the country and why are they not made public?
Another question would be - does the government know how many such privileges are being abused - especially in the use of letterheard purporting to bear the gravity of the the hand of Sierra Leone's President?
We therefore call on the government to publish all those it had conferred such titles on, why they were so honoured and what benefits they bring to the country.
The country, Sierra Leone and not to the coffers of the ruling party.
We would also urge that the government comes out with a list of "investors" who are at present believed to be milling all over State House with a view to carve out lucrative deals that would eventually leave country and people all the worse off for such ventures.
We await a statement from State House on the matter.