January 9, 2012

- A glimpse into the financial mismanagement of a thieving, uncaring and anti-people set-up that passes for a government in Sierra Leone as President Ernest Bai Koroma and his cabal take the country to the cleaners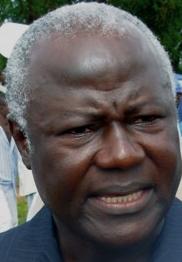 The 2010 Audit report on the "management" of Sierra Leone's finances is now in the public domain and curiously, but not surprisingly, the many internet outlets singing the praise of god ernest bai koroma have not commented on this all-important report, have not even mentioned the existence of such an analytical and crucial report.
No surprise as the internet outlets dedicated to the worship of the President as well as some newspapers in Sierra Leone are now beneficiaries of this massive thieving of the peoples' money.
This report clearly shows that despite his oft-repeated cry of "no sacred cows in the fight against corruption", President Ernest Bai Koroma does indeed keep a herd of sacred cows that includes his relations (brothers and sisters included), close associates and favoured members of his political party, the ruling All Peoples's Congress party, the APC.
It has now been revealed that despite promises to correct anomalies and pay back monies stolen from government coffers, after revelations in audit reports, there appears to be no commitment to do so and instead there appears to be a tacit encouragement from the President that such thieving practices should and must continue unabated.
As the 2010 audit report noted -
"We found significant numbers of receipt books were not accounted for or available for examination. There were unidentified cash balances held in transit accounts and not transferred to the CRF at year end in a timely manner.....No breakdown on donor revenue was made available for audit and we encountered a lack of supporting documentation in a worrisome number of instances...Also, for 99% of bank balances we were unable to obtain direct confirmation of balances held in commercial banks...Many of our recommendations from previous years have not been implemented and this continues to be of considerable concern."
Fancy this - it is about rice and the politicised army. We warned against this as we did not want a situation where military personnel become rice traders as before under previous extremely corrupt governments.
5.2.3. Unpresented Documents - In spite of several requests, procurement documents in respect of contracts for a Housing Project and the supply of rice, totalling Le 500,000,000 and Le 5,433,280,000 respectively, were not submitted for inspection.

5.2.6. Short supply of rice - A company was contracted to supply Le 1,638,000,000 worth of rice to the Ministry. It was however noted that only Le1,040,000,000.00 worth of rice was supplied, leaving a balance of Le 598,000,000.

Official's Response - The Director General stated in his reply that the Contractor, Harmony Trading Company, had paid directly to Ministry of Defence, the sum of Le247,865,000 and the balance Le350,135,000 worth of rice was supplied. The documents were available for audit inspection, he mentioned.

All lies, damned lies. Those documents were never presented to the Auditor General's office.
And if that is worrying, how about this where even though government funds, the people's money is being stolen right, left and centre no area is spared the thieving paws of Ernest Bai Koroma's operatives.
Here's this - a clear sign that Ernest Bai Koroma and his gang will take Sierra Leone to the cleaners using each and every opportunity that presents itself.
"5.8.6. Fuel Distribution
An examination of the Fuel Distribution List and Fuel Ledger disclosed that although there were thirteen (13) assigned Government vehicles, five (5) Poll vehicles and two (2) dispatch bikes, the Ministry provided fuel for thirty (30) private vehicles. It was therefore recommended that the VC should ensure that the issuance of fuel was only to the government assigned vehicles in the Ministry and that the poll vehicles were to be used by other officers for official purposes only."
That many of the recommendations of past audit reports have not been implemented should be a source of concern to all Sierra Leoneans, friends of Sierra Leone and indeed the donor community. It shows that under this government thieving is now a part of government operations, approved and and given the blessings of the President himself. Just as Sierra Leoneans witnessed in the days of Siaka Stevens and Joseph Saidu Momoh, there's now competition between the thieves as to who reaps and rapes the most from the country's coffers.
Deception and lies, more lies and corruption at every level appear to be at the centre of the activities of a government bent on sucking the financial life-blood of the country, not caring about the lives of ordinary Sierra Leoneans and with its operatives all too willing to lie through what passes for teeth in defending the indefensible as are to be seen in this recent report - a theme that runs all through government accounts.
"Out of a total of Le 127,985 Million presented as Cash and Bank Balance with Commercial Banks in the 2010 Public Accounts, only approximately Le 93 Million (less than 0.1%) of this total was confirmed by the Commercial Banks concerned. Although providing such external confirmation is not within the direct control of Government, the unavailability of this audit evidence constituted a significant limitation on the scope of my audit of the Public Accounts. Consequently, I was unable to ascertain whether the Cash and Bank Balance with Commercial Banks, disclosed in the 2010 Public Accounts, was free from material misstatement."
The Audit Report on the thieving going on in our missions abroad and the recommendations made to recover stolen funds remain unaddressed which would mean that the double payments when President Koroma visited the UN as exposed in that report is again to be expected during his recent visit to the 2011 UN General Assembly.
We therefore urge the international community, the donor community to take a good look at how their tax payers money is being stolen and wasted by Corruption Incorporated headed by President Ernest Bai Koroma and for them to take the necessary measures that would see the government properly accounting for the peoples' money.
It was this same scenario of rampant corruption, lack of accountability and the protection of the corrupt that plunged Sierra Leone into its troubles - the result of which has left scars on many facets of life in the country.
This is not the time to wait until things get out of hand.
It is time to act and that time is now before Sierra Leone gets plunged into another round of unpleasant events that all had vowed should never again happen to us.
These are crimes against the people and the perpetrators must be punished including their godfather President Ernest Bai Koroma with a plea to financial institutions and law-enforcement agencies abroad to help us trace all the stolen funds that we suspect could be finding their way in all countries where the President has set up so-called "Press Attaches" safe houses.
The international community of donors made up of countries who tax payers fund such aid to Sierra Leone must take note of this massive thieving that is going on in the country and should make it a duty to hold President Ernest bai Koroma's government to account for all the resources ploughed in to get Sierra Leone on her feet again.
We believe if half of the stolen funds unearthed in the audit of the government's accounts of 2009 and 2010 as well as those discovered in the audit of missions abroad are recovered, Sierra Leone would well be on the road to recovery and not tottering on economic collapse or having to mortgage the nation to the whims and caprices of mining and other exploitative and environment-destroying companies playing on the greed and corruption of the President and his cronies.