Sunday November 13, 2011

- Today is Remembrance Sunday in the United Kingdom - a day set aside to honour those who gave all, including their lives that others alive then and those yet to enter this beautiful world of ours may live. It is the ultimate show of care for humanity by men and women who would rather pay the supreme price than see mankind live in perpetual slavery and under the jackboots of repressive regimes including those of the RUF/AFRC coalition of evil in Sierra Leone.

The Sierra Herald joins people all over the world in celebrating the lives of the millions of men and women still alive today and the many many more who have gone to the great beyond in their fight against tyranny, injustice and the repression of God's own children whatever their religious inclination or nationality of origin.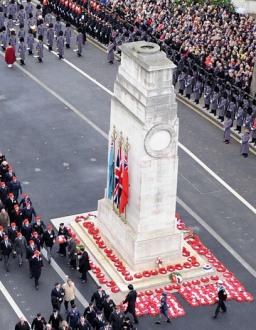 Remembrance Sunday is a time to recall that the freedom which the free world, including Sierra Leone, enjoys today was won and continues to be won by the blood, sweat and tears of those who are willing to stand up to the might of repressive war machines starting from the World Wars to other campaigns still ongoing aimed at making life worth living for the helpless and hopeless crushed by oppressive forces.
On a day like today, Sierra Leoneans should join the phalanx of the proud, the freedom fighters of yore who stood up to the war machines of the Kaiser (World War I) and Hitler (World War II) with sons and daughters of the soil taking part in such bitter campaigns as were experienced in Cameroon, Burma and other spheres of conflict.
Stories abound of the bravery of Sierra Leoneans shipped off to wars by colonials who saw in them useful materials, either as carriers of logistics, soldiers or a combination of both as they took on the might of a cruel and unforgiving Japanese army in the jungles of Burma, the Germans in Cameroon, then a German occupied territory during the First World War and like the late Johnny Smythe serving as a navigator with the Royal Air Force during the Second World War.
"On one occasion we were flying back over England when a German fighter began to dog us. I saw it first and yelled to the rear gunner, 'Frank, open up!' It was quite scary because we were flying so low that, had the plane been actually shot down, we wouldn't have had time to bail out! The noise caused by the two aircraft brought our anti-aircraft fire from the ground, which fended off the German fighter, and we were able to land safely. Another lucky escape!"
There are many, many unnamed and unrecognised Sierra Leonean soldiers and contributors whose names have never made it to the record or history books and we doff our hats to these unknown soldiers from Sierra Leone praying that their sacrifice was not in vain and that our children would continue to be told of the contribution of our service men and woman as well as those civilians who helped in the fight against tyranny. It is also a time for Sierra Leoneans and friends of our one and only land that we love to remember and honour all those true and loyal soldiers who fell, those who remain with the scars, uncared for and unrecognised, in the battle against the forces of evil unleashed by Corporal Foday Sankoh of the Revolutionary United Front, the RUF, and in one combination of evil or the other against elements of the military who turned their guns against the civilians they are uniformed by and paid for to protect, preserve and respect.
---
Saturday October 8, 2011

- LIES, MORE LIES AND DAMNED LIES - The politics of exclusion, intolerance and hate. Sierra Leone's version of Julius Streicher is exposed as materials are expunged from his website. Why has the Ernest Bai Koroma praise-singing "reverend" expunged materials published to show just how diabolical, evil and unpatriotic the SLPP and all critics of the government are over the Bo incident?

You will recall that when President Ernest Bai Koroma ordered an investigation into the incident in Bo in which the flag bearer of the main opposition SLPP, Rtd Brigadier Julius Maada was attacked by certain elements on his "Thank You" tour, we urged respect for the President and asked those who claim to be journalists to kindly refrain from publishing any material that would cast blame on anyone. We urged that "journalists" and journalists wait until the report was out with a view to ensuring that aspersions are not cast on any person or sector. We also urged that given the myriad of problems facing our beloved country, Sierra Leone, that we concentrate on other issues affecting the ordinary Sierra Leonean. Our appeal was ignored by our very own version of the Nazi editor of the anti-Seminitic Julius Streicher who went on to publish numerous articles purporting to know who carried out the attack and what actually happened in Bo on that day, 9th September 2011.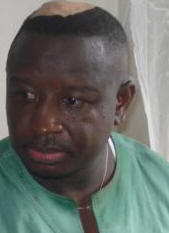 And now - we have noticed that a number of these articles have been expunged - indicating that this Nazi editor must have been sent a copy of the report and is now very afraid that once more the Sierra Leone and international communities will see just what he is - the greatest propagator of the seeds of hatred and intolerance in modern-day Sierra Leone. Remember these articles after the March 2009 attack in Freetown on the offices of the main opposition SLPP?
Well kindly click the links below. They are links to stories with the headlines as shown. This will also help you, our dear reader, make up your good minds about what happens when articles get expunged from servers so that you can further help expose the lying and hate-filled praise singer who has made it his duty, for a few dollars more, to antagonise all those he deems to be critical of the President and his ruling APC party. We are not impressed, nor would we be overwhelmed by the lies, distortions and fabrications as we are a truly independent news outlet that does not depend on State House for sustenance. We do not sing praises where wrong-doing and falsehood has become a part of the modus operandi of a government that insists it is there for the people but which in reality is a self-serving cabal of liars, thieves and deceivers.
These are the headlines. We need an explanation for their removal. Over to you State House as the impression we have is that your officials always give the okay for these articles to be published. In simple terms, these fabrications are authorised by State House in Freetown as part of a desperate campaign geared towards 2012.
Reports : SLPP rally in Bo was unlawful and unauthorized and was recipe for chaos orchestrated by Maada Bio, John Benjamin and Abbass Bundu
Journalist says the chaos in Bo was well-planned by the SLPP
Where is the blood ? The biggest hoax since 'Janet Bundle' ?
Exclusive : How Maada Bio got hurt in Bo
EXCLUSIVE : More ringleaders of the Bo disturbances named, as SLPP forms clandestine organization to drive out all APC supporters
---
Thursday October 27, 2011

- Flag bearer of the main opposition party, SLPP, Rtd Brigadier Julius Maada Bio claims that under the watch of President Ernest Bai Koroma, democracy is in recession citing violent attacks against his party.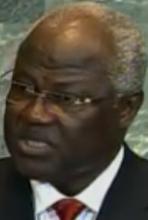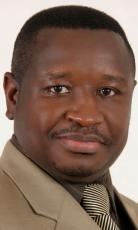 The flag bearer of the main opposition party, the Sierra Leone Peoples Party, SLPP, Rtd Brigadier Julius Maada Bio has accused the government of President Ernest Bai Koroma of putting "democracy in recession" after accusing State House of doing nothing to bring a halt to violence against his party since losing the 2007 elections. The flag bearer recounted a number of violent incidents that his party, the SLPP, had suffered under the watch of the leader of the ruling APC party since his party lost the elections in 2007.
He told the BBC's Network Africa programme that he felt sorry for the country given what he saw as the increasing levels of violence which saw his party infrastructure and supporters coming under violence - from the attack on the party headquarters in Freetown amid allegations of rape to other violent acts against his party in other parts of the country.
Responding to these criticisms, the smoke and mirrors occupier of State House told the programme that he and his government opposed all forms of violence. "People know I am not a violent man", adding that his government and himself condemn violence in all its forms. He also cited an instance where his own party (APC) supporters were attacked by supporters of the opposition SLPP, suggesting that in that incident, the vehicle used in the act of violence was associated with the SLPP flag bearer.
The question that State House now has to answer is - if President Ernest Bai Koroma is insisting that he is not a violent man and that he and his government condemn all acts of violence - why did he not come out with a statement condemning violence against the SLPP as soon as it was announced that he had won the 2007 elections - an act which the then Police head Brima Acha Kamara attributed to SLPP supporters "paying themselves" for what they had done for the SLPP and were not paid. Why did President Koroma fail to come out with a pronouncement condemning the violence that was visited upon the headquarters of the opposition in Freetown in which allegations of rape and other extreme and degrading violence was perpetrated against women found at the SLPP party offices? Why did the police instead charge 22 SLPP supporters to court after that violence - a matter which was withdrawn from court after it became clear the government was making a mockery of justice in Sierra Leone? Main question - Do you believe that democracy is on a recession in Sierra Leone as claimed by Rtd Brigadier Julius Maada Bio? What do you say?
---
Saturday October 15, 2011

- Report on our overseas missions tabled in Parliament some three months ago...a Parliament made up of ruling APC party members as well as the main opposition SLPP. What's going on? Surely not another cover-up as the donor community awaits a decision on the way forward in the process of accountability, transparency and good governance.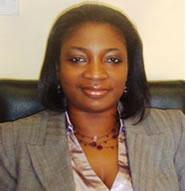 We can now reveal, thanks to a Press Release on the website of the Audit Service of Sierra Leone that the Auditor General's Report "On The Activities of Overseas Missions and High Commissions" covering the period 1st January 2003 to 31st December 2010 was tabled in Parliament on July 18, 2011. It is good to note that, according to our Constitution the Audit Service of Sierra Leone with a motto - Guardian of Sierra Leone's Economic Security - reports directly to Parliament, and not to "the Pa" at State House. Reading through this report will tell you why it is the right thing to do as it would seem that State House appears to have had its hands caught in the till. And indeed it is worth noting what the "Mission Statement" of the auditing body now headed by Mrs Lara Taylor-Pearce is -
"To continue to be a respected, agile, merit-based and ethically transparent institution dedicated to assuring the productive stewardship of the investments of taxpayers and other stake-holders, and safe-guarding of the citizen's interest in the public sector."
We would also want to remind you of the provisions of the Constitution that creates and mandates the Audit Service of Sierra Leone to look at how tax payers money (Sierra Leoneans as well as citizens in the donor countries) is managed by those thus entrusted. Here's what the former head of the body, Mrs Anna Caesar published in the forward to the 2009 General Report
"I am required by Section 119(2) of the 1991 Constitution to audit the Public Accounts of Sierra Leone and all public offices, including the Courts, the accounts of the central and local government administrations, of the Universities and public institutions of like nature, any statutory corporation, company or other body or organization established by an Act of Parliament or statutory instrument and submit my report thereon to Parliament. The Government Budgeting and Accountability Act 2005 which replaces the Public Budgeting and Accounting Act 1992, spell out clearly the responsibilities of the Auditor General: Section 63 Subsection 1(a-e) and 2 state as follows:
In his examination of the annual accounts, the Auditor General shall ascertain whether in his opinion:-
a. the accounts have been properly kept
b. all public moneys have been fully accounted for and the rules and procedures applicable are sufficient to secure an effective check on the assessment, collection and proper allocation of the revenue.
c. moneys have been expended for the purpose for which they were appropriated and the expenditures have been made as authorized and that departments or budgetary agencies have adhered to the law relating to procurement;
d. essential records are maintained and the rules and procedures applied are sufficient to safeguard and control public property, and
e. financial business has been conducted with due regard to economy in relation to the results achieved.
f. The Auditor- General shall specify the appropriate vote controller, the amount due from any person on whom he has made a surcharge and the reasons for the surcharge and shall report the circumstances of the case to the Minister."
Details of this report clearly shows that Economic and Financial Crimes Against the State could have been committed and we would urge the Anti Corruption Commission to look into this matter with a view to bringing all those found wanting to book. We again insist that those put in positions of trust and betrayed such confidence and trust must be made to account for their stewardship in the management of monies provided by the tax payer and the donor and international communities. The President himself had always stated that in tackling corruption, there would be no sacred cows and Parliament's action on this report would be a reflection on the country's march to good governance, accountability and transparency in the affairs of the country.
---
Friday November 11, 2011

- A good boy done bad? Highly respected and well-educated Canadian Sierra Leonean is forced to resign as head of Canada's top intelligence oversight body. Dr Arthur Porter resigns over failed deal for Sierra Leone and connections with a wheeler dealer for whom he wrote a letter of "praise".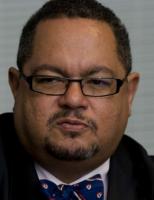 It was the head of the Sierra Leone Association of Journalists, Umaru Fofana who confided in a colleague a while back that he was confident that Sierra Leone's smoke and mirrors President Ernest Bai Koroma is determined and poised to sign into law the Freedom of Information (FOI) Bill and that he has no doubt that the President meant what he had promised.
This Bill, had it become an Act and hence law, would have enabled journalists and other members of the public to hold to account many of the functionaries who purportedly work in the interests of a country still trying to heal the wounds of war and to rise again after its ravages. We are just wondering if he still believes in him for in what can only be described as scandalous, the man, who only a year ago was appointed by Canada's Prime Minister Stephen Harper to head the Canadian Security Intelligence Review Committee (CSIRC) has been forced to resign after press reports revealed that he was involved in a two hundred thousand US dollar ($200,000) deal that should have seen Russian investors ploughing money into the country of his birth Sierra Leone. He is reported to have wired this amount to a man who has been described as "a shady business wheeler and dealer" one Ben Menashe with the deal falling through.
In a statement announcing that he had accepted Dr Porter's resignation on Thursday, the Canadian Prime Minister Stephen Harper thanked him for his "service on the Security Intelligence Review Committee and to his country" - the country in that statement meaning Canada a country he had served with distinction in the medical profession. He is at present Head of the McGill Medical Centre where he is overseeing a major overhauling and rehabilitation project that runs into billions of dollars and supervising over a thousand and two hundred staff. However, it would seem that he had got his hands in too many pies and has been criticised by some sections of the media as not devoting the required time for his work as head of such a prestigious project. How his resignation will impact on his work at the hospital remains to be seen, but this is not good news for the magician at State House in Freetown.
Dr Arthur Porter, the son of one of Sierra Leone's illustrious educationists, Dr Arthur Porter is reported to have been appointed "ambassador plenipotentiary of the Republic of Sierra Leone", an appointment that was kept from the eyes of the public and thus raising questions over how many such appointments the President could have made that the Sierra Leone public has been kept in the dark about. Dr Porter appears to have many interests among them, it is reported, mining interests in Sierra Leone.
---
Thursday November 10, 2011

- Lest we forget too soon - for on this day three years ago in 2008, Africa and indeed the world lost one of the greatest of Africa's treasures - the one and only Miriam Makeba, Mama Africa, if you please and we say let us all remember her contribution not only on the musical scene but on the canvas of Africa's political struggle for freedom.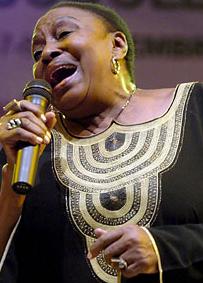 Three year ago today, a great daughter of Africa took the road to the great beyond to be at peace at last with her Maker. Yes - the one and only Mama Africa, the one and only Miriam Makeba died after suffering a heart attack soon after a performance in Italy. She was 76.
Who would forget songs like "Pata Pata" or the haunting "Cameroon" or the unforgettable "Kilimanjaro"? And if you think she was a stranger to Sierra Leone, think again and let your children and their children know that the good lady was in Freetown and that she did perform there to great applause. What happened after in terms of paying her agreed fees, again ask the folks who were around and who read the newspaper accounts of a fiery Stokeley Carmichael who went in search of the Sierra Leonean show arranger who is alleged to have gone into hiding after failing to keep to his side of the agreement.
Mama Africa actively campaigned against the South African apartheid regime then in force in her country and when she was out of the country, her citizenship was revoked putting the authorities then in a position where they could prevent her from entering the country - her own country!!
On this day, we call on all to remember one of Africa's greatest - Miriam Makeba - MAMA AFRICA
---
Thursday November 10, 2011

- Rude boy of South African politics given a slap down as ruling ANC suspends him. Youth League Leader Julius Malema will today start a five-year suspension from the ANC after a disciplinary hearing found him guilty of bringing the organisation into disrepute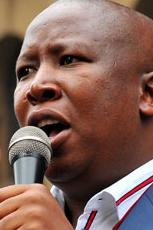 .

The Mail and Guardian online news outlet says the 30-year-old has a fortnight to appeal against today's decision during which time he will still be on full pay. It added
The youth league leader was found guilty of undermining party leadership and sowing division in party ranks for his criticism of ANC (and South Africa) president Jacob Zuma, as well as bringing the party into disrepute by recklessly denouncing the Botswanan government, in conflict with ANC policies. He was found not guilty on separate charges of inciting hatred and racism.
The BBC's Milton Nkosi sees this suspension as a boost to President Zuma's re-election bid adding "What the ruling party has done with this ruling is to draw a line in the sand. Africa's oldest liberation movement is desperate to demonstrate that it's not in a tail-wagging-the-dog situation in its relationship with its youth wing. This is in many ways Jacob Zuma's victory in this long and bruising fight. But the question remains - will Malema's suspension save President Zuma from his detractors within the broader structures of the ANC? They want to see him vacate the top job come next year when the party holds its leadership election. The party celebrates its 100th anniversary in January 2012 and our correspondent says ANC officials are determined to show that the organisation will not be dictated to by a young, unruly leader". The UK-based Guardian newspaper gave this picture of today's events and what it means for the ruling ANC party -
"Malema, 30, has said he joined the ANC when he was nine years old. He has become a polarising figure in South African politics with his call for the nationalisation of mines, demand to retake land from white "criminals" and singing of the apartheid-era protest lyric, "Shoot the Boer." The suspension of Malema should help pave the way for Zuma to secure a second term as ANC leader – and hence the country's president – at a party conference in a year. But the unexpectedly harsh sentence imposed on Malema, a significant power broker in the ANC, could provoke an anti-Zuma backlash. It is also a blow to struggle stalwart Winnie Madikizela-Mandela, who testified on Malema's behalf at the disciplinary hearing.
---
Tuesday November 8, 2011

- Rogue pastors, satanic priests, witchcraft and child abuse - London conference opens today aimed at criminalising the actions of rogue and satanic priests who use their positions of trust by a gullible public to inflict untold suffering and abuse on children accused of practising the black art of witchcraft

A two-day conference to address the abuse of children, especially those from or born to African parents opens today in the UK capital, London. Organised by Africans Unite Against Child Abuse (UK), the organisation also known as AFRUCA will deliberate on the core of the evil phenomenon - that is - Witchcraft Branding, Spirit Possession and Safeguarding African Children with a view to making the lives of children less miserable as well as ensuring that they live their lives as children brought up in love, respect, trust and harmony. Giving a background to the meeting, the organisers say that -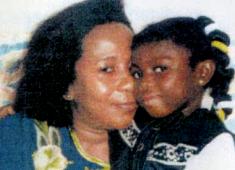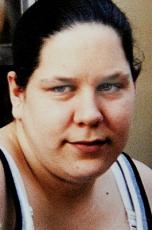 Increasing numbers of African children are suffering the consequences of being branded as witches or as possessed by evil spirits. This is particularly so in many parts of Africa and is equally a reality here in the UK. Accusations of witchcraft within a community can lead to a litany of abuses: physical, emotional, and sexual and neglect resulting in maltreatment, torture and in some instances, death. In some African countries, it has led to children being rejected by their families, forcing children as young as 5 years onto the streets where they are further exposed to other forms of abuse and exploitation. These children resort to a range of survival mechanisms including drug abuse and theft. In the UK, there have been many recorded cases of children abused and harmed by their families in the belief that they are witches. At least two cases of children killed as a direct result of witchcraft branding are known to have occurred in the country. The need to understand the context within which this form of abuse occurs, identify the drivers of witchcraft branding and examine strategies to increase protection for vulnerable children has become necessary in order to protect children from continuous harm. This unique and timely conference will attract participants from across Europe, Asia and Africa where different themes will be explored through Papers, Workshops, Presentations and Posters.
And if you really believed that only African children get subjected to extreme forms of abuse that eventually lead to death, read about the Baby-P case by clicking on the image on the left.
The conference will explore the issue of the branding children as witches in all its dimensions looking at different factors underlying the phenomenon, its impact, different policies and strategies to tackle this growing problem. A focus will be put on the importance of religious beliefs given the role the faith organisations can play in enforcing the recommendations that will come out of the conference. A member of the organising committee of the organisation told the BBC's Network Africa programme this morning that they hope they will be able to convince UK law to hold responsible key actors like "priest", "pastors" and other characters who while pretending that they are exorcising demons and evil spirits allegedly controlling the poor child would subject them to all manner of abuse including sexual exploitation. The Sierra Herald brought you, some time back, the case of Victoria Climbie, the eight year old who was taken from her parents in Ivory Coast from her parents by an aunt who promised to make life good for the girl. Marie-Therese Kouao is the name of the aunt and from her initial abode in France came over to the United Kingdom to co-habit with her bus driver boyfriend Carl Manning. It is reported that between 26 April and 7 July, Marie-Therese visited social workers 14 times in her pursuit of housing support so that she could stay in England. Victoria was with her on seven visits. Thus was the poor girl used to secure accommodation in the London Borough of Ealing and it is reported also that staff at the housing section of the borough wanted Kouao to return to France, arguing that she had no rights to benefits. There were many failings from the social services, through the police to the health services who saw just how emaciated and poorly the girl was but never intervened to save her life. To cut a long story short, the girl was eventually murdered after a terrible ordeal as she was branded a witch by her aunt and boy friend both of whom are now serving life sentences for murder. Were lessons learnt? No way. The "priest" who started the road to murder through massive ill-treatment of the poor child by branding her a witch was not prosecuted and remains free. This conference hopes to bring such rogue and satanic "priests" to heel to save further cruelty to African children.
---