Sunday February 12, 2012

- On faiths, religion and the "power" of the devil in corruption and the 2nd term desperadoes. What can make a "poor and honest" church mouse feel like roaring like a lion of falsehood? - Corruption and the benefits derived thereof!!!!

It is another Sunday, a day when members of the Christian faith should visit real places of Christian worship and to exchange views on how best to show even unto unbelievers that Christianity is a clean, very clean and tolerant religion which respects the integrity of God's creation - man, the generic man.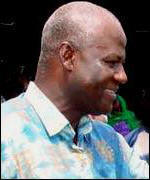 We raised this before and we would do so again. We had in the past challenged the high priest at the altar of profanities and falsehood of his god ernest bai koroma that he appears to have forgotten his cut an paste sermons as he gets too preoccupied with spewing falsehood all around in order to protect his god and master, the smoke and mirrors character at State House who thinks nothing of doing all things illegal, all things ungodly to get his much treasured "second term".
And so we would again urge him to do a sermon on the theme - "Gluttony is a sin" - in the hope that he will realise that greed is a deadly sin that gets duly rewarded when least expected.
Remember how he boasted that he never visits online forum from where he get his "news" and that he does not use false names? Well an encounter with the administrator of one of those forums bears testimony to this lying charlatan.
We had in the past warned him, the magician at State House that is - that the true God is not mocked and that there will always be a price to be paid. Ernest Bai Koroma has twice tried to play on the Sierra Leonean's fear of God and holding on to religious faiths in times of want and other forms of crises by declaring his so-called Week of Prayer - something which is never, ever honoured by his close associates - for they know that their master always speaks with a forked tongue.
And so it is with great concern that we alerted all Sierra Leoneans and friends of the country to a ceremony, a ritual which was performed at State House and reported by his "new media adviser", of President Ernest Bai Koroma getting married to 100 women all dressed in white - and ending with assurances that he, the smoke and mirrors man will get his "second term" in office. This clearly showed that the whole ritual was aimed at using all means ungodly to retain power, come the November polls.
We raised concern about the fate, the destiny of that six year old girl. We asked child rights groups to monitor and protect that girl for we know and the old hands of the APC know what it means when the "murray-man", "alpha-man", marabout or whatever you may want to call these messengers of the devil ask for a virgin in their rituals.
That six year old, we fear is the sacrificial virgin and again we would urge children's rights activists to ensure that that particular girl used in that State House ritual is not harmed.
That she remains alive and well.
"At State House about midday, January 25, 2012, there was a unique ceremony laden with symbolism that captured the essence and joy of being 'Sierra Leone an', and would be highly promotional of one of the most globally marketable character of our Sierra Leonean-ness – our religious tolerance: over one hundred women clad in pure white long flowing dresses and white headscarves from the Brookfield Central Mosque and the Old Railway Line Mosque in Freetown went through a symbolic 'marriage' to a fervent Christian, H.E. Ernest Bai Koroma, President of the Republic of Sierra Leone. A calabash and mat, tied with white cloth – traditional symbols of marriage within nearly all the indigenous tribes in Sierra Leone – and a six year old girl (the 'little bride'), also clad from head to toe in Islamic white clothes, were handed over to President Koroma by the APC Women's Congress Leader to 'seal' the 'marriage' between President Koroma, a serious Christian, and the Islamic women, who pleaded with President Koroma to worship in their mosque. President Koroma promised to worship in their mosque in his speech accepting the 100 'brides'. The still dashingly handsome President at 58 years of age said with a smile: "Leh God put blessing pan di marrade" (Let God bless this marriage between me and the 100 women). There were chants of "Allahakbah" from the women!!"
How can a President belonging to the Wesleyan Church get immersed in a ritual involving a so-called six year old "little bride" is beyond comprehension...it can only mean one thing - getting his second term using all the dark forces at his command. One commentator on such satanic rituals has told us that in such ceremonies, only those with "the right eyes" would be able to see the evil spirits that are conjured from the pits of hell for use by those who believe in such demon practices. All other "naked" eyes will not see the demons and the settings conjured up by those rituals.
We do not want to go into one case involving one APC minister during the Siaka Stevens government - but journalists at the time would recall just how names of places like Sendugu, Sanda Magbolontor etc etc found their way into the pages of their note books. How do you satisfy a satanic priest's wish that you harvest the body part of someone who has never set eyes on the sun?
We dare not go further for now.