Tuesday April 17, 2012

- James Ibori, former Nigerian State governor is sent to jail by London court. He will be a guest of Her Majesty's Prison service for 13 years after he pleaded guilty to 10 charges relating to money laundering and other thieving and corruption charges. The story of corruption, state plunder and shameless looting of state resources using political patronage to escape justice being played out also in Sierra Leone. We hope Ernest Koroma and his looting, thieving and dishonest band are watching and listening.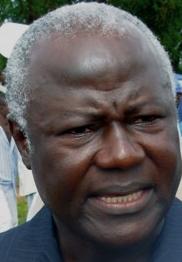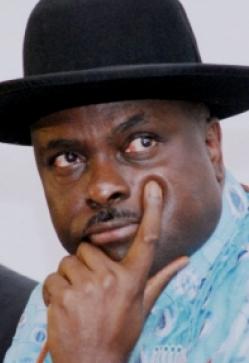 James Ibori, former governor of oil-endowed Delta State in Nigeria has been sentenced to thirteen years in jail by a UK court after he pleaded guilty to ten counts of conspiracy to defraud and money laundering. Southwark Crown Court in south London which passed the sentence was told that this thief, James Ibori stole from the people of Delta State "unquantified" amount - meaning that this rogue stole so much money from the people that the true scale of his massive looting of state coffers yet have to be determined as he used various channels of deception to hide from view and public knowledge the vast amounts he stole from the people he was supposed to have raised from their level of poverty.
The BBC news website wrote and also produced this revealing video on James Ibori
Sasha Wass, QC, prosecuting, told the court Ibori "deliberately and systematically" defrauded the people he was elected to represent. The court heard he came to the UK in the 1980s and worked as a cashier at a Wickes DIY store in Ruislip, north west London. He was convicted in 1991 of stealing from the store but then returned to Nigeria and began his climb up the People's Democratic Party (PDP) network. When he ran for governor he lied about his date of birth to hide his criminal conviction in the UK - which would have prevented him standing for office.

Ibori, whose address was given as Primrose Hill, north London, claims to be 53 but police in London say he is 49. Sentencing him, Judge Anthony Pitts told Ibori: "You lived modestly in London in the 1990s and no-one I think hearing at that time would imagine the multi millionaire high profile governor that you became some eight or nine years later...you turned yourself in short order into a multi-millionaire through corruption and theft in your powerful position as Delta state governor."

Ibori bought:

A house in Hampstead, north London, for £2.2m
A property in Shaftesbury, Dorset, for £311,000
A £3.2m mansion in Sandton, near Johannesburg, South Africa
A fleet of armoured Range Rovers valued at £600,000
A £120,000 Bentley
A Mercedes Maybach for 407,000 euros that was shipped direct to his mansion in South Africa

After the hearing Sue Patten, head of the Crown Prosecution Service central fraud group, said it would bid to confiscate the assets Ibori had acquired his riches "at the expense of the some of the poorest people in the world".
Britain's Department for International Development, the arm of the UK government that pours resources into development efforts of partner states like Nigeria and Sierra Leone issued a Press Statement after the sentencing warning that the country would not be a refuge for those raiding their country's resources and hiding the proceeds from such thieving in the UK by investing in financial institutions as well as acquiring property.
International Development Secretary Andrew Mitchell said: "James Ibori's sentence sends a strong and important message to those who seek to use Britain as a refuge for their crimes. "Corruption is a cancer in developing countries and the Coalition Government has a zero tolerance approach to it. "We are committed to rooting out corruption where ever it is undermining development, and will help bring its perpetrators like Ibori to justice and return stolen funds to help the world's poorest."

Corruption deters investment and private sector growth, preventing poor people from working and trading themselves out of poverty. The money Ibori and his co-conspirators stole during his eight years as governor should also have been spent to the benefit of Nigerians by funding vital services. It could have provided books, uniforms and education for 400,000 girls or hand pumps to provide clean water for 450,000 households.
While we applaud the stance of the UK authorities in the prosecution of James Ibori as well as plans to confiscate all his illegally-acquired assets in the United Kingdom, we would also urge the law enforcement agencies to watch the going's on in Sierra Leone where key officials are believed to be beefing up known bank accounts as well as opening a number of shadowy ones. We would also urge the UK and other Western countries to keep their anti-corruption radar on so-called investment companies operating in the mining and other sectors in Sierra Leone where unwholesome deals that benefit government and rogue mining company officials while the poor and unconnected get degraded and confined to a life of near-servitude has become the rule rather than the exception.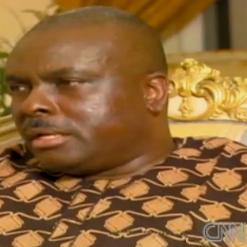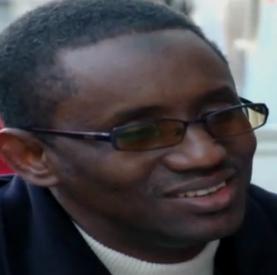 The question that could well be exercising the minds of many could well be - how could James Ibori have acquired such illegal wealth while in a position of trust without anyone noticing and raising the alarm?
One answer could be found in reports that he was protected by the "powers that be" in Nigeria and this could well involve all arms of governance - from the Presidency to the Judiciary that could have allowed more than a hundred corruption allegations against him dropped in Nigeria when that country's anti-graft body tried to rope him in. The then head of that body has told the BBC that when he put the heat on James Ibori, the thief attempted to bribe him - fifteen million dollars in cash - carried in bags for him to accept so he can forget about investigations into his massive looting of state resources.
If James Ibori, the thieving and unrepentant rogue actually believes that readily admitting to those ten charges would give him the lighter sentence he received in London and would put him in a better position to enjoy the proceeds of his criminal enterprise, then he has to think again.
Nigeria's anti-graft body, the EFCC has welcomed the sentencing after James Ibori pleaded to the 10 counts in a bid to get off the hook with a lighter sentence. The EFCC is not happy that when the body slammed some 170 counts of corruption against him in Nigeria, the thieving former Delta State governor was in joyous mood when a court in Nigeria ruled that all 170m charges had no merit. A real cause for concern that has prompted legal minds to request a review of laws relating to such an exercise. Here's a part of what the EFCC stated after the James Ibori sentencing
"....The Commission welcomes the conviction which is the icing on a tortuous investigative and legal odyssey for all actors involved in the Ibori saga. It is reassuring that today's sentencing of Ibori was based on the foundation of the case built by the EFCC in 2007 which unfortunately was thrown out by the Federal High court, Asaba for lack of merit. ...The fact that a case which supposedly lacked merit in Nigeria could fetch a 13 year jail term in the UK after a landmark guilt plea, brings to fore the need for a reassessment of the nation's justice delivery process. We must strengthen our judicial institutions if we are to make any headway in the anti- graft efforts.

More interesting to the Commission in the Ibori conviction, is the opportunity for the repatriation of the array of properties and assets amassed overseas by the convict. Once again, his fate has proven that there is no safe haven abroad for politically exposed persons who looted state funds entrusted in their care. The Commission expects Ibori to serve his term in the UK and return to Nigeria to face other criminal charges pending in courts, arising from his eight year rule of Delta State . The EFCC wishes to restate the fact that the offences for which Ibori was jailed in London is only a fraction of the array of criminal infractions committed by the former governor. The Commission remains committed in its determination to bring Ibori and other alleged corrupt politically exposed persons and corporate titans to book in Nigeria , no matter how long it takes."
In Sierra Leone there are enough provisions in the 2008 Anti Corruption Act to nail many government and party operatives but that the anti-graft body appears quite reluctant to touch people close to President Ernest Bai Koroma and key members of the ruling party.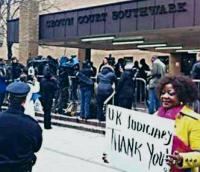 It is worth considering this analysis as well as what happened outside the court where those in favour of prosecuting James Ibori and those supporting him - yes - he had supporters who benefitted from his thieving - by the BBC's Angus Crawford.
Police officers stood, their arms crossed, in front of the courtroom door. Admission was for press and family only. Crowds of supporters and critics pushed and shoved and tutted about not being able to get into the hearing. But the court authorities were taking no chances after events on Monday when people surged into the hearing knocking the prosecutor off her feet. Protesters outside chanted slogans celebrating Ibori's sentence. Supporters glared at them. Despite admitting stealing tens of millions of pounds from state coffers meant to help some of the poorest people in Nigeria, he still has some important friends.

But two much bigger questions hover over the whole trial. First, when a man who has an official salary of £4,000 a year buys a house in Hampstead worth £2.2m, why did no-one smell a rat? Second, why did some of the best known banks in the world not ask questions about where the cash he deposited with them came from?
Those questions need to be on the top of the agenda of ACC Chief the one and only Joseph Fitzgerald Kamara who has quite an uphill task wading through a politically-encrusted minefield of rampant corruption with roots firmly embedded at State House in Freetown.
He promised to file an appeal to the courts after his case against one Allieu Sesay collapsed and was thrown out of court.
We still have to hear the next move and when that matter would be brought to court and as we have noticed in the James Ibori case, justice has a way of catching up with the crooks, villains and common thieves parading in the state corridors of influence
---