Rebranding Nigeria: Good people, great country.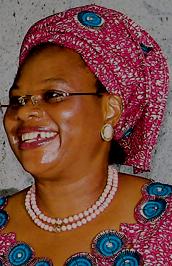 Q: You built an excellent reputation for yourself as the head of Nigeria's food and drugs control body, so many people expected you to, naturally, become minister for health. But you are currently the minister for information and communications. How did you react to what was obviously a surprise appointment?

A: To tell you the truth, when the appointment was announced, I literally broke down, because I did not expect it. But a few minutes afterwards, I got myself together and reminded myself that nothing happens without God's approval. For weeks and months, I had prayed to God that he should not let me go where he would not be. And I also told him that if I am not able to do better in any new assignment than I did at NAFDAC [the food and drugs control body], I should not go there. So, after praying for so long and ending up where I am now, I am convinced that it is God's will that I am in this position and I have to make the best out of it.

In my first interaction with the media after the appointment, I was asked why I was in this post, as they said Nigerians were angry about my appointment, and how was I going to manage the image of Nigeria. I just spoke straight from the heart and said we just have to make Nigeria a good product, as you cannot sell a bad product.

As you have rightly implied, Nigerians trust me so much and I do not want to play with that trust. I have vowed that [as minister for information] I will never tell any lies to Nigerians, who have always believed that this ministry has always been one for propaganda. I promise that this is an era when this ministry will give them accurate, credible information ... We need to bridge the gap between the government and the governed.

I will also fight corruption in all its forms, which is why I told my staff that any of them who had taken free mobile phones and free digital satellite dishes and decoders from companies selling them had to return them before the end of February. This was to enable us to have the moral standing to carry out our oversight functions. The areas I have to oversee in my ministry are huge. In telecoms, we have had a boom over the last seven years but the quality of service has not been the best. The cost of services being provided is really on the high side. Considering the fact that we have a huge population, one expects that phone calls should be cheaper. An immediate task [for us] has been how to get the telecoms companies to reduce their tariffs and improve their quality of service, especially lessening the rate of dropped calls [calls that do not go through or are interrupted], number portability, and other issues relating to the quality of service.

As the chief image-maker of Nigeria, I am not just responsible for the image of the government but that of the ordinary Nigerian outside this country. Our image outside this country is pathetic. Every Nigerian is literally seen as a fraudster or a criminal until you prove otherwise. And even in this country, we do not even believe in ourselves. We have been so battered [psychologically] that many of us believe we are no good.

But I am determined that something can be done about it [repairing Nigeria's image]. For too long, foreigners have been telling our story. We need to tell our own story; we need some form of rebranding. We have had the "Heart of Africa" campaign, but it did not work.

Q: Why did it not work? Millions of dollars were spent on that campaign.

A: Well, if it did work, there would be no reason for us to deviate from it, as government is a continuum. But you see, even the slogan, the "Heart of Africa", is contentious. Malawi has been using this slogan long before us. Secondly, the 2004 launch of the "Heart of Africa" project was done outside this country. So the campaign is disconnected from the ordinary Nigerian. And when the public does not connect with a government programme, it will not work well. So I was convinced, after talking to my staff and knowledgeable people, that we need to rebrand.

I know everything is not perfect with Nigeria. I know we have problems with energy, roads and other things. But is there any country that does not have problems? If we wait to fix all these things before working on a positive image for Nigeria, we might as well wait till eternity [before embarking on a rebranding campaign]. Look at Angola. They have come out of war and have successfully launched the "Angola, I believe" campaign. Perception is everything.

We cannot rebrand successfully unless we have a slogan from the Nigerian people, not copied from another African country. So we had a competition in which Nigerians were asked to submit slogans and logos of their choice and at the end of it, we picked the best one: "Good people, great country."

We launched the campaign in mid-February and the president unveiled the new logo and slogan on 17 March, during which he honoured the composer of the national anthem and the author of the national pledge.

For us, it is important that we continue to take this campaign to the grassroots, so that we remain on the same page with Nigerians. As long as we do that, they will fly with what we do. I know this, because of what I did when I was with NAFDAC. Once they believe in a campaign, they will take it over.

Q: There are a lot of people who think you are on a mission to nowhere. Isn't the best way to rebrand Nigeria to ensure that the country's basic infrastructure and system in general work? If that happens, non-Nigerians who see these evident changes will be your best ambassadors ...

A: I have heard this before. As we are providing these facilities, nothing prevents us from showing the good things we have done already. That's what rebranding is all about. We are not all criminals, there are good things happening in this country. We have good places for foreigners to see. Everything is not negative, down and out. Angola has come out of war and they did not wait for everything to be okay before rebranding. I have been to South Africa and right from the airport, you have to hold your bag close to your chest, because of the level of criminality. But they have rebranded and they are proud of their country. We are still going to strive as a government to deliver the goods to our people and at the same time complement this by projecting ourselves in a better way to the outside world. What people think of Nigeria and what we actually are, are two different things. Six foreign ambassadors in Nigeria have told me that what they have seen of Nigeria and the perception they had before coming, are completely different.

This campaign will also help our people regain confidence. What I promise is that there will be transparency and accountability in this rebranding campaign. Starting from June/July, we will publish full accounts of what is spent on this rebranding campaign. I understand why Nigerians are sceptical about these campaigns, but we just have to keep moving.

Q: I must ask you about the perception ordinary Nigerians have of President Yar'Adua. Many feel he does not speak often, is rarely seen in public and is not responding quickly to the yearnings of the people. There is a feeling of dissatisfaction in the air. Do you feel the president is misunderstood?

A: I think the president has already addressed this issue. At the beginning of the year, he talked to us as a country and said he is going to fast-track government activities. This means he appreciates that the pace of work is slow. He has consistently told us in cabinet of the need to fast-track government activities, so the people can feel the presence of government [in their lives]. He has also told us of the need to fight corruption and follow the rule of law and due process.

This president has his own style. He may not be someone that likes to talk every day but it is important to note that he has given ministers the required authority to drive the process of government. That is as important as him coming out to talk every day. This is what I believe. As a minister, I have a free hand to do what is necessary to move things forward. It is not critical for him to be talking every day. If it is his style to talk every day, there is nothing wrong with it. But if he has empowered his ministers to do their jobs, that is good enough.

Q: There is no doubt that the lack of sufficient and regular electricity in Nigeria is a huge problem. And the telecoms companies insist their high tariffs are a direct result of having to generate their own power. What is your response to this? A: Have you also heard that the kind of money that they make in Nigeria in one year, they may not make in a developed country in 10 years? Despite all these challenges, they are making a kill in Nigeria. They are making so much money that they have no reason to complain at all. I am not saying that it is okay for them not to have electricity or to spend so much on security, what I am saying is that they are making huge returns on their investment.

As a government, we are working very hard to improve the country's infrastructure and the level of security, especially in the Niger Delta. I will not go into specifics regarding energy, because I need to be briefed by the minister for energy regarding their activities. But I can promise that very soon, we shall come out with information as to what they have done and what will be done to tackle the issue of energy.

In fact, we need to do a better job of communicating to Nigerians what the government is doing to improve the lives of the people. There has been a vacuum in this regard. As a minister, it is my responsibility to bridge this gap.

Q: You know ordinary Nigerians have never had any trust in their governments. They feel those in government never tell them the truth, do not care about their plight but are mostly concerned about their (ministers') own interests and that of the elite. How are you going to convince them that this government is any different?

A: The Nigerian people trust me and maybe that is why I am in this position. The president has placed me here to change that perception. Nigerians believe in what I tell them and I have also said I will never lie to them. I will not betray that trust that they have in me.

You are right, the people have had little or no trust in their governments. The distrust is very deep and has been caused by long years of military dictatorship when the people were deceived over and over again. They have reached a point where even when the government tells them the truth, they do not want to hear it. 1 am appealing to the Nigerian people that we are in a new era and they should start believing in government again. This is the only country we have, and we must salvage it together.

If the [Nigerian] people believe in me, they must also believe in the government that I am serving. I will never lie to the people and it is on that basis that we are going to establish trust between the government and the people. For the next two years that I will be in this position, information will be made public in a responsible and truthful manner.

Q: Democracy in Nigeria cannot grow without electoral reform. It has taken nearly two years for the president to be confirmed in his post and some governors had been in office for nearly two years before their elections were overturned and the rightful winners sworn into office. With Nigerians demanding transparently credible elections, can you guarantee that the reforms recommended by the panel headed by the former chief justice, Mohammed Uwais, will be implemented in full?

A: Let me say that it took a lot of courage for the president to admit, on the day of his inauguration, that the election that brought him to office was flawed. It is not easy for an African leader to do what he did. It shows transparency, humility and godliness.

The committee headed by Justice Uwais has submitted its report, which is a good one, and the government subsequently set up a committee to come out with a white paper, which is the normal practice everywhere in the world. We are still deliberating on a final position, but in the end we will come up with a result that will satisfy the Nigerian people.

By the way, we have adopted a majority of the recommendations in the report, amended a few of them and introduced some things. The final result will help us to have more credible elections and reduce post-election tension in the country. However, everything we [the cabinet] do is subject to what the National Assembly will do.

Q: As a minister, you have now become a politician, as opposed to your previous job, which was in your area of professional competence. You are in a totally different terrain ...

A: You know what? People hardly realise that my previous job was a political post, because I handled my job in a professional manner and it was in the area of my core competence. I have been in politics since the early 1990s, being appointed to one position or another. But I believe, as a manager, if you have the fundamentals of management, you can be successful wherever you are sent to. What is important is not just my field of study but commitment and believing in this country. The trust Nigerians have in me makes me the right person for this post. I know that it is the trust that Nigerians have in me that has made them give the government a chance on this rebranding project. They know I will never deceive them on purpose.

Q: An assassination attempt was made on you because of your fight against fake drugs. Your children refused to publicly acknowledge you as their mother, to protect themselves from kidnappers. Your family has gone through hell. Has serving Nigeria been worth it? A: You know, sometimes I do not even want to remember what I went through. But suffice it to say that it is a miracle that I am alive to tell the story. I was always praying that they would not kill me. But they shot at me, the bullet shattered my scarf and burned my scalp. It was like a hot water burn. It was too close and it is unbelievable that I survived it. Even after that shooting, my family wanted me to leave the job. But I was convinced that it would be more dangerous for me out of that job.

I could only leave that job if I could leave the country the same night. Staying in that job, I had security from the government. If I tendered my resignation, as I kept telling my family, it meant I had to leave the country that night. These criminals are still very bitter towards me because I ruined their businesses and felt that it was me, rather than the system, that was their problem.

But what is most painful about the shooting is that since 26 December 2003, when it happened, the case is still in court today. Despite all the evidence presented before the court, the matter has not been concluded. My children were scared about what could happen to me. In fact, my son who was at Igbinedion High School (in Benin City) was almost kidnapped by two hefty men, but was quick enough to tell them that he was not my son but my nephew. I felt really pained when I heard that.

My husband used to hide a lot of things from me, in order to reduce stress. It was when I wanted to go to Benin City to see my son, that he [the son] sent a message that I should not come because he had convinced people that I was not his mother. He was my only child in the country but after that attempted kidnapping, he went to join his other siblings in the USA, as I had won the American Visa lottery in 1996.

My second daughter also participated in the "Idols" singing competition and when she was asked if she was my daughter, she simply said that I was a relative! When I asked her why she did that, she said: "Ah mummy, to acknowledge you publicly is too dangerous. It is better for me not to associate with you publicly."

My last child is 21 years old, so they are all adults. But I miss them, as I see them only once a year. It is my husband I feel for the most. But as he is a medical doctor and loves his job, he manages not to feel too lonely. He visits once in a while. I have no regrets though for serving my country, especially in the war against fake drugs, which was very personal for me. My favourite sister died as a result of being given fake insulin.

Q: What's the difference between working with the former president, Obasanjo, and the incumbent Musa Yar'Adua?

A: They have completely different personalities. President Yar'Adua is a very quiet but very effective person. But I am working in completely different capacities, so it is difficult to compare. I am now working directly under him, whilet I only worked indirectly under President Obasanjo, as I had ministerial supervision.

Q: What would you regard as "mission accomplished" in this job?

A: If we are able to carry out this rebranding campaign to a point that it becomes a movement for all Nigerians, then I will say that I have succeeded. If I am able to get the telecom operators to deliver better and affordable services, then I will say I have succeeded. If I am able to get our Nigerian Television Authority to improve, even if it's not up to the level of the CNN but something close to it, and also improve the state of our radio stations and post offices, as well as our national archives, then I should be able to say I have succeeded.

Q: When you are not working, how do you relax?

A: One thing I find difficult to do is to tell lies, because they are difficult to keep pace with. I don't have any form of relaxation, unfortunately. That's why my staff are very angry with me and insist I must get enough rest. I only listen to the nine o'clock network news. I have to admit that it is getting very bad. Because of the level of stress I have been under for so long, it has been very difficult to rest.

Q: Don't you think it is time to acquire some new habits?

A: I don't know ... Maybe when I retire. Pray for me ... [she bursts into loud laughter] ...

Q: You will return to being a private citizen one day. What are your post-government plans?

A: My family has an NGO called the Paul & Grace Foundation. I would like to make it bigger. The NGO provides food, medical treatment and clothes for the poor. I want to serve the poor because as a little girl, my parents sent me to our village and I lived with poor people. I have experienced poverty but I know what it is like to live in plenty, because my father was a very rich man. I empathise with the poor, I want to retire early so I can work for the poor. I would not want to remain in government after I am 65 years old.

Q: What would you want to say to the international community that they have never heard before from a Nigerian information minister?

A: I am appealing to the international community to please give us a chance. Do not paint Nigerians with the same brush. We are not all criminals. There are many good people in this country that would never agree to be compromised, even at gunpoint. Yes, we have some miscreants but they should remember that they are in the minority. We are working hard to fight corruption, as evidenced by the two anti-corruption bodies [the ICPC and the EFCC]. We are bent on giving Nigeria a better image than it has today.