Sunday August 5, 2012 - United States Secretary of State Clinton wraps up 7-nation tour of Africa starting off with Senegal, praises that country's political leaders for upholding the tenets of democracy and tells Africa's leaders in no uncertain terms "to accept accountability, to treat their people with dignity, to respect their rights, to deliver economic opportunity and services for all...leaders who hold onto power at all costs, who suppress dissent to enrich themselves, their families, and their supporters at the expense of their own people, who define democracy as one election, one time are on the wrong side of history." Is President Koroma and his nation-wrecking thieving cabal listening?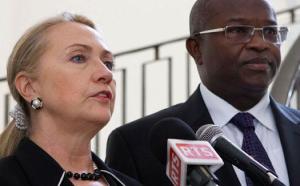 United States Secretary of State Hillary Rodham Clinton wraps up her tour of seven African nations with a visit to Ghana where she will be among the many who will be paying their last respects to the memory and mortal remains of Ghana's former President Professor John Atta Mills at final funeral ceremonies on August 10, 2012. During a somewhat whistle-stop and flying visit to some of the countries, Mrs Clinton never spared a moment to hammer home the United States government's concern about human rights and democracy as well as demanding accountability to the people, of Africa's leaders. In this vein she warned African leaders to be more transparent and accountable to their people in the running of the affairs of state.
Allow us to take you back to that visit in Senegal, her first stop where she was welcomed by the government of President Macky Sall who in a hard-fought contest with incumbent President Wade was chosen by the people as their leader despite Mr Wade's last ditch attempts at frustrating the voice of the electorate. In the end the former democracy campaigner who wanted to turn ugly, President Wade conceded defeat and in that move raised his profile once again as someone who knew what democracy was all about but in the heat of things forgot all about what he himself had fought for in ensuring that the peoples' will will always prevail never mind the sometimes torturous routes that gets created by certain elements who would want to do any thing to remain in power.
And so it was not surprising that on her first stop on this tour, Senegal was chosen as a start to hammer home the US message to sub-Saharan African leaders emphasising her country's policy commitments as outlined in President Barack Obama's Presidential Policy Directive. This Directive, it must be recalled is - to strengthen democratic institutions, spur economic growth, advance peace and security as well as promote opportunity and development for all citizens.
Sustainable development hinges on political leaders making good choices to fight corruption and to create jobs, to prioritize investments in health and education, to put in place fair tax systems, transparent budgeting, and other responsible measures...but ultimately, in a democracy such as Senegal's, the decisions should lie with the people, with people exercising their rights of citizenship to get the kind of services that you know you need for yourselves and your families. We welcome President Sall's focus on transparency and accountability in government and on independence for the judiciary.

It is time – it is past time – for all leaders to accept accountability, to treat their people with dignity, to respect their rights, to deliver economic opportunity and services for all. As I told the African Union in Addis Ababa last summer, leaders who hold onto power at all costs, who suppress dissent to enrich themselves, their families, and their supporters at the expense of their own people, who define democracy as one election, one time are on the wrong side of history. (Applause.) We are seeing that in North Africa, and we are seeing everywhere, where people finally say, "Enough. We're fed up." (Applause.)
And here's something that should be heeded by the smoke and mirrors President occupying State House in Sierra Leone, his Gestapo Chief of Police Francis Munu and his newly-appointed anti-people head of the army who threatened to raze Freetown to the ground during AFRC/RUF days S O Williams. It has to do with the role of the security forces in a democracy.
We saw soldiers and police upholding democratic principles by steering clear of politics. We saw long lines of citizens waiting to vote. We saw civil society activists monitor more than 11,000 polling stations, texting vote counts and reports of irregularities to an independent center in Dakar. We saw perhaps the most sophisticated monitoring program ever deployed in Africa or anywhere else. (Applause.) And in the end, we saw a peaceful transfer of power. We saw democracy reaffirmed. We saw Senegal's traditions preserved. And we joined with the rest of the world in praise and respect for the Senegalese people. (Applause.)
President Koroma should read and listen very carefully as he has continued to shamelessly politicise the security forces starting off just after his election victory with the APC armed wing, the OSD of the Police openly celebrating when he was declared winner of the 2007 polls and it is not lost on us that he has now firmly placed David Sesay an APC police operative from the time the ISU, now OSD as head of police operations in the south of the country. And to put the icing on this shameful and political act, the army - an institution that was being transformed into a professional outfit took upon itself to play the APC party song/tune at a meeting of the party presided over by Ernest Bai Koroma. He was there, never raised any questions and felt good about it - that the army was once again singing from his score sheet.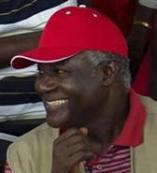 And if anyone doubts whether democracy can flourish in African soil, let them come to Senegal. (Applause.) Americans admire Senegal as one of the only countries in West Africa never to have had a military coup. (Applause.) And we stood firmly behind the people of Senegal as you defended your democracy and your constitution in the recent presidential elections. (Applause.) It was a compelling example for Africa and the world. We saw a handful of musicians and young activists sparking a mass movement with a simple slogan: "We're fed up." (Applause.) We saw diverse civil society organizations rallying together, registering and educating voters. We saw students marching in the streets proclaiming, "My voting card is my weapon." (Applause.)
And this is how Hillary Rodham Clinton sees Senegal and that country's attempt at raising the profile of women as well as the participation of all in the political map of the country - not the type of illegal nomination fees that Dr Christiana Thorpe has whipped the voting populace with as she hiked fees to filter out and deprive Sierra Leoneans of their right to participate in the political process of their own God-given country.
And on a personal note, I have to add – I was particularly impressed that Senegalese voters elected women to 65 of the 150 seats in the new National Assembly. (Applause.) You probably know this, but that gives Senegal one of the highest percentage of women in directly-elected legislative bodies in the world. (Applause.) And of course, it makes perfect sense because democracies must be open to and include all of their people, men and women, not just to vote, but to have the chance to participate and to lead. And Senegalese women took a leadership role during the voting, including the Women's Platform for Peaceful Elections, a network of more than 60 organizations.
President Obama's Policy Directive is based on four main pillars, one of them - Strengthen Democratic Institutions which is prefaced with President Obama's call when he addressed the Ghanaian Parliament in 2009 that "Africa doesn't need strong men, it needs strong institutions" -
Promote Accountable, Transparent, and Responsive Governance. The United States will expand efforts to support and empower key reformers and institutions of government at all levels to promote the rule of law, strengthen checks on executive power, and incorporate responsive governance practices. We will also seek to expand African membership in the Open Government Partnership and the Extractive Industries Transparency Initiative, which promote sound governance, transparency, and accountability.

Promote and Protect Human Rights, Civil Society, and Independent Media. The United States will amplify and support voices calling for respect for human rights, rule of law, accountability and transitional justice mechanisms, and independent media. Further, we will continue to focus on empowering women and marginalized populations, and opposing discrimination based on disability, gender, or sexual orientation.

Ensure a Sustained Focus on the Credibility of Democratic Processes. The United States will take a strong and consistent stand against actions that undermine democratic institutions or the legitimacy of democratic processes. We will evaluate elections against the highest possible standards of fairness and impartiality. The United States will seek to expand adherence to the principle of civilian control of the military, and will support strong measures against individuals or groups that threaten legitimately elected governments.

Promote Strong Democratic Norms. The United States will support efforts by regional and international bodies to enforce the consistent application of democratic practices, particularly the African Union's African Charter on Democracy, Elections, and Governance and other multilateral standards. We will support basic and civic education to ensure future generations are active, informed, and committed to the rights and responsibilities of democratic citizenship.
We do hope that the guarantors of our hard-won peace and hard-won democracy are taking a close look at events unfolding in Sierra Leone where incumbent President Ernest Bai Koroma has been busy devising every illegal and subterranean move not only to frustrate and intimidate the opposition but using all means possible including the Judiciary and Parliament to push through his brand of democracy - getting Parliament to rush through a Bill that would ensure that more small arms get circulated within Sierra Leone.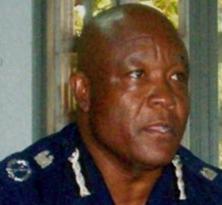 We warned back then and we have been proved right. Those Norinco 18 pistols that came with the weapons from China ordered for the police are for APC operatives. It is the same scenario being played out again as it was during the Stevens and Momoh days of the Awful Horror. East European pistols were freely distributed to members of the APC Youth League who were taught the basics of murder and mayhem at the main police training school, PTS then at Hastings. We know the APC in and out and we know just what they are capable of doing and so can predict their every move to stay in power. For them, as Siaka Stevens once stated, only a fool can allow power to slip through his fingers.
And so for the APC, losing an election and handing power over peacefully to the opposition is an aberration, a sin that must never be allowed to be committed. Do not be too surprised should you see Burkinabe regulars operating in Sierra Leone in the colours of the Sierra Leone military and police.
And this would not the first time that Sierra Leone would be seeing Burkinabe troops operating against the people in their own country. Kindly ask one Captain Valentine Strasser about how many of them were killed in battles against Sierra Leone government forces when they invaded Sierra Leone territory under the combined operations of Foday Sankoh's RUF and Charles Taylor's NPFL.
---