March 8, 2011

- Oh Zainab...poor Zainab Bangura...shunned by even the "dreg-men" of the clan of AFRC-supporting opportunists she helped propel as "diplomats".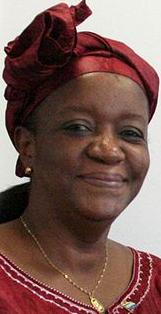 Her name no longer adorns the pages of the AFRC MK2 internet flying toilets. Her name has now become a pariah symbol on their pages, yet it was this same woman they were willing to praise to high heavens, reporting on her every movement, on her every flight as she enjoyed the perks of being the country's chief of diplomats.
Even though other press houses kept pointing to the failures of Zainab Bangura as Foreign Minister in the running of the ministry as well as her handling of gifts and scholarships and those so rewarded because of their APC affiliation, all the AFRC Mk2 outlets were on the lookout to disguise the real nature of things that were going on at the ministry.
When the India rice deal was exposed, they quickly rushed to deny things even though it was apparent to Sierra Leoneans on the ground that Zainab Bangura had got the President's brother involved, getting away with a million US dollars in dues. No, not one criticised Zainab Hawa Bangura until Information minister Ibrahim Ben Kargbo got it into his head that he can best articulate the lies of his government and lobbied for Zainab's post.
Zainab Hawa Bangura is now Health and Sanitation Minister and even if she succeeds in getting rid of all the malaria-causing mosquitoes in Sierra Leone, she would be ignored by the media scrum oops sorry scum of AFRC Mk2.
And the Sierra Herald had to take a second look after seeing this important development story on the AWOKO pages - this is a story that could have hit the headlines...but no, not this time because it concerns Zainab Hawa Bangura erstwhile political head of the ministry of foreign affairs and now head of a mere ministry of health - and this despite Pujehun allegedly an opposition stronghold and secondly this is one big leap in President Koroma's much-trumpeted concern for maternal health care in Sierra Leone.