MESSAGE TO THE NATION BY HIS EXCELLENCY
THE PRESIDENT ALHAJI DR AHMAD TEJAN KABBAH
ON THE OCCASION OF THE
FORTY-SIXTH INDEPENDENCE ANNIVERSARY
27th APRIL 2007
________________________________________________
Fellow Sierra Leoneans,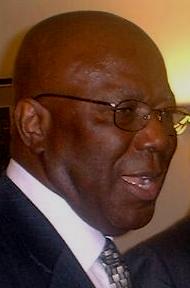 I bring you warm greetings and congratulations on this 46th Anniversary of the Independence of our beloved country. Each Independence Anniversary is unique in its own way depending on the challenges and opportunities faced by our nation at any given time and in this case the progress we have made towards making our country a better place to live in.
It is gratifying that we could all celebrate today in peace with the fervent hope that we shall never be troubled again by the suffering and destruction that was visited upon our country during the 11 years of rebel carnage.
We have come a long way from those days of infamy and Sierra Leoneans should be proud that we were able to overcome our difficulties and to remain united as one nation even in the face of adversity.
Today, our people feel free to go anywhere at any time of the day or night and everywhere in the country unmolested, something that cannot be said of many other countries in the world, including the developed world. Since the end of military rule in 1996, we have successfully conducted two Presidential and Parliamentary Elections and held local elections for 19 Local Government Councils as well as several Paramount Chieftaincy elections.
Our decentralized local government system has brought back the government closer to the people and improved the delivery of services to our local people after thirty-two years suspension of accountable Local Government Authorities by previous governments.
A more effective justice system to ensure the rule of law and respect for Human Rights, is being built through judicial reforms, the work of the Law Reform Commission and the Human Rights Commission. A more proactive stance by the Anti-Corruption Commission and increased vigilance from the general public is gradually moving us towards our goal of eliminating corruption and building a more transparent and accountable society.
A much strengthened National Electoral Commission has demonstrated a strong capacity to conduct free, fair and transparent elections.
The Youth Employment Scheme has kicked off and will ultimately provide over 100,000 jobs for the youths. Many of these same youths are already gainfully employed in many areas including helping with the clean up of the Capital City of Freetown and other Provincial Towns.
In spite of some initial difficulties, including deliberate acts of vandalism, refusal to pay bills and illegal connections, the signs are now clear that we shall soon be able to provide reliable electricity for our Capital City and some rural areas.
None of these developments would have been possible without the creation and nurturing of a peaceful environment that is conducive to national reconstruction and sustainable development. For post-conflict developing countries such as ours, peace and security are the prerequisites for economic and social recovery. No one can imagine, for instance, what the state of the country would have been today if we were still at war?
Let us therefore take the opportunity to pay homage to those men, women and children who contributed most in bringing back peace to our beloved country and continue to work tirelessly to sustain our development. As a matter of fact, we are dedicating part of this year's Independence Awards to some of our compatriots, including those who lost their lives, in recognition of their invaluable contribution to the peace process and the restoration of democracy to our beloved nation.
Alas! there are still some of our compatriots who will not be interested in doing anything for the nation, unless there was something to be gained personally. Even where there is some good that should be coming to the state, such people will always try to reshape the outcome for their own personal benefit.
I am pleased however to note that our efforts to change this attitude and promote patriotism and a level of national cohesion appears to be paying dividend. It is encouraging to observe that those aspiring for political office are all conducting their campaigns in a peaceful and civilized manner. I would encourage them to continue that in the interest of our nation. I have always regarded politics as a peaceful and friendly contest. If we could hold General Elections barely four months after the war had been declared officially ended, in an atmosphere that has been acclaimed as free, fair and non-violent, there is no reason why our forth-coming elections could not be just as free, fair and non-violent. This is my plea to all contestants.
Let us show the world that we have come a long way on the road to sustainable democracy and have now left behind us that history of electoral fraud, violence and intimidation.
At this point, I should like to take the opportunity to appeal to all Sierra Leoneans, no matter what their political affiliation, to cultivate and disseminate a positive image of our country. This will lift up our spirits, invite foreign investors to come and join our development process so that we shall be free from constantly asking and receiving handouts from others. This is of extreme importance, since sustainable development can never be guaranteed by the charity of others.
Admittedly we still face a number of challenges. I shall address some of these in greater detail and offer my vision for the future of our country in my valedictory address to the nation in due course. But before then let me tell you that from what I know, I have high hopes for the future of our country. Let's face it, for a period of about eleven years before 2002, we experienced the twin tragedies of going to bed hungry and having bullets flying all around us. I am gratified that within this short period of about five years, we have been able to provide a safe and secure environment for our society and now poised to achieving the goal of food security. On this independence anniversary therefore, we should be thankful that Sierra Leone is no longer on the verge of a so-called failed state. It has already demonstrated its capacity to regain its exemplary position as a symbol of stability, freedom and democracy in West Africa. Let us pray that this continues.
The Universal Declaration of Human Rights, that great Magna Carta of modern society, assures us that everyone has a right to a nationality. Today, whatever our political differences, whatever our economic and social status, let us celebrate the fact that each one of us has a nationality, that we are citizens of a country that we can call our own and about which we can be justly proud.
Dear Compatriots, I am encouraged by the new and increasing sense of nationalism and patriotism among Sierra Leoneans in the Diaspora, or people of Sierra Leonean heritage who are abroad. Surfing the Internet these days, one is amazed to find the number of sites flying the green, white and blue colours of the flag of Sierra Leone. Some even inadvertently take the liberty, I must say, of displaying the Coat of Arms or Public Seal, on their privately-owned sites. There is evidently a new inclination, indeed a compulsion to affirm with pride that, "I am a Sierra Leonean".
This enthusiasm, this renewal of faith in their motherland was demonstrated in the proactive campaign for dual citizenship. Perhaps on the premise that 'once a Sierra Leonean, always a Sierra Leonean', many in the Diaspora wanted to "regain" their Sierra Leonean citizenship automatically. Inherent in that approach was an assurance that as long as there is peace in Sierra Leone there is hope. With the recent enactment of the Amendment to the Citizenship Act of 1973, the Government has responded favourably to the clarion call, mainly from the Sierra Leonean Diaspora, for dual citizenship. It is considered one of the most far-reaching pieces of legislation in the life of the current Parliament.
Dear Compatriots, it is not enough to say "I am a Sierra Leonean." It is not even enough to carry a Sierra Leonean passport or to carry two passports, one of which is Sierra Leonean, and affirm one's dual citizenship.
The right of citizenship and dual citizenship of Sierra Leone, carries both constitutional and moral responsibilities. These include a responsibility to make positive and useful contributions to the advancement, progress and well-being of the community and the nation at large. Therefore, on the occasion of this the forty-sixth anniversary of our independence, I would like to make a special appeal to our brothers and sisters of the Sierra Leonean Diaspora, particularly those who are acquiring dual citizenship, to increase the level of their assistance to the peace-building and sustainable development efforts of their motherland. We need foreign investment.
There is no doubt about that. We also need local or indigenous private investment. We fully recognize that as well. In addition we desperately need more of what could be described as "Sierra Leone Diaspora Investment." Our slogan: 'Sierra Leone is open for business' applies not only to foreigners but also to citizens and those with dual citizenship.
There is another area where our compatriots in the diaspora can be of help. This concerns the inculcation of the habit of paying taxes and utility bills as well as the demonstration of respect for public property. In the United States and other parts of the developed world, one is in serious trouble if one does not pay one's taxes or if one dodges paying one's utility bills. More importantly, the United States and those other countries are able to provide services and facilities because of the willingness of their citizens to pay their taxes. We should not be surprised therefore that when the electricity finally flows, it will be paid for through pre-paid meters like the mobile phone.
This independence anniversary provides us another opportunity to pay tribute to all our uniformed security and safety personnel; to all those service men and women as well as civilians who have sacrificed their lives to defend the sovereignty and independence of our country; and to those who still endure the physical and emotional pain of the eleven year struggle to ensure the survival of this nation. I refer in particular to the Wounded-In-Action (WIA), the amputees, the orphans, widows and others. We are also grateful to our other compatriots for the services that they conscientiously render to their communities and the nation as a whole - doctors, nurses and other health caregivers, teachers, farmers, fishermen, drivers, messengers, market men and women, to name a few.
Dear Compatriots, I cannot end this Independence Anniversary Message without sharing with you some ideas and thoughts which I had previously brought to your attention and which have been very close to my heart during my tenure as Head of State of our beloved country. This has to do with the need for core national values to guide our nation and to direct the actions of every Sierra Leonean irrespective of his status in life.
I am still convinced that it is about time we begin to ask ourselves such questions as, who is a Sierra Leonean? What do we mean when we say, "let us do things the Sierra Leonean way?" What is the true Sierra Leonean spirit? How do we as a nation want others, especially non-Sierra Leoneans, to see us? If there were a concept or school of thought called "Sierra Leoneanism", what would be the main tenets of such a concept?
I have given much thought to these and other questions which point to the need for us to clearly identify our shared core values and strong moral beliefs based on our common destiny, as one sovereign independent nation. As I have said in the past, we as Sierra Leoneans should not be identified merely by our national costumes, by our physical features or by our agricultural, mineral and marine resources. We should also be identified by our distinctive ideals, by what we stand for, by what we detest, by what we resent and by what we collectively embrace in the interest of our country.
A nation without values is like a house without a foundation. Accordingly, I propose to offer once more, the following Seven National Values for the Land that we love, our Sierra Leone:
"Resourcefulness
"Excellence
"Tolerance
"Good Neighbourliness
"Generosity
"Honesty
"Self-esteem
I still call on all Sierra Leoneans to build on the above national values and to abhor the wanton destruction of life and property in the name of bringing about change. They should be industrious, discourage mediocrity, learn to demand the best and give of their best. They should believe that their peace, personal security and safety cannot always be guaranteed without the assistance and good will of those next door and the wider community of nations.
Sierra Leoneans should be compassionate and be committed to sharing their talents and other resources with those in need.
They should believe in fair play in the office, on the farm, in the school, in the sporting field and especially in politics. Politics as we should know is an offer to serve the interest of the people and not self-interest.
Above all, Sierra Leoneans should once more believe in themselves and in their ability to get their country back on its feet. They should know that the primary responsibility for developing Sierra Leone lies squarely on the shoulders of Sierra Leoneans and that the best outsiders can ever do is to help them achieve this goal and not to do it for them. Our spirit should be one of determination, pride in perseverance and a will to succeed against all odds. We must succeed!!!
With only about ninety days to Presidential and Parliamentary elections, it is incumbent on each and every one of us to ensure that peace prevails before, during and after the elections and that we will accept the outcome.
In wishing you all a pleasant independence anniversary celebration, let me paraphrase a well-known peace song by saying: "Let there be peace in Sierra Leone, and let it begin with each of us".
Thank you for your attention.
-End-