Sunday November 20, 2016

- The beasts in human form, the RUF/AFRC gang of infamy clamps down on free expression in Sierra Leone as protests on social media banned.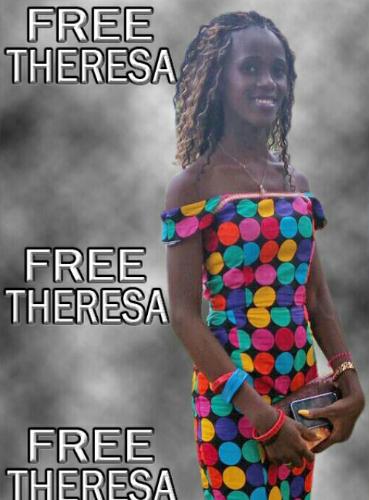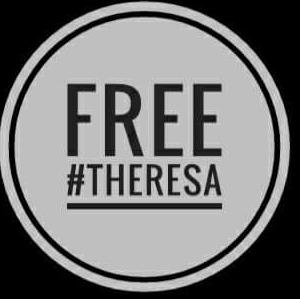 The authorities in Sierra Leone have arrested and detained a number of people thought to be behind plans to organise a massive nation-wide protest against living conditions in the country in the wake of recent steep hikes in the price of fuel. The government has ordered all internet and social media providers to monitor and block, where possible, all messages on WhatsApp and other social media platforms in a move that is been seen as a sign that the rat and his gang are becoming increasingly paranoid about free speech and expression in Sierra Leone especially when critical of the government.
The latest news from the empire of the rat is that one student from Fourah Bay College, Theresa Mboma who was arrested by the authorities for what they called sharing messages relating to a planned protest march against unwholesome and degrading conditions in the country has been charged with "incitement".
The fate of others arrested by operatives of the oppressive regime is yet to be revealed creating the same atmosphere that existed during the days of the AFRC/RUF coalition of evil, otherwise known as the beasts.
One news outlet, Concord Times stated - "Deputy Minister of Internal Affairs, Rtd. Major Sengu Koroma has disclosed to newsmen at the weekly Ministry of Information and Communication press briefing that two people have been arrested and detained by the police for allegedly inciting the public on social media platforms. The Deputy Minister, who refused to disclose names of those arrested said the duo posted on social media that there was going to be a demonstration and that people should stay at home."
"Major Koroma, however, noted that all rumours making the rounds on social media platforms that people should stay at home as a result of planned demonstration on the street were baseless and unjustifiable. He further stated that all rumours that were on social media were being created by some unscrupulous and unreasonable Sierra Leoneans that wanted to create chaos in the country.
"Investigations are ongoing and if those people are found guilty of the said crime, they would be prosecuted and punished according to the law," he said.
A rights group in Sierra Leone, the Campaign for Human Rights and Development International (CHRDI) is reported to have slammed the attitude and behaviour of the Sierra Leone Police force towards citizens, who raised dissenting views with regards to the hike in fuel price.
"Last Friday (November 11), the government through the Petroleum Regulatory Agency and oil marketers, announced an astronomical increase in the prices of petroleum products from Le3, 750 per littre for petrol, diesel and kerosene to Le6,000 per littre. The announcement attracted lots of criticisms from civil society organizations and members of the public, who were of the opinion that the timing was wrong. The Sierra Leone police prevented people from staging a peaceful protest on the issue and threatened to arrest those who might have wanted to force their way to protest.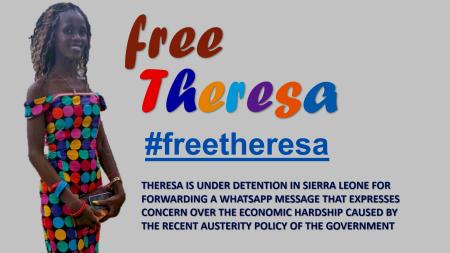 CHRDI's Chief Executive, Abdul M. Fatoma stated that the reaction from the Police towards dissenting voices was tantamount to denying citizens the right to protest peacefully across Freetown.
According to him, peaceful protest was a fundamental civil liberty and that it behoves the Police, who are enforcers of the law to recognize that right and ensure they provide the enabling environment for citizens to exercise it.
"We want to state very emphatically that the Sierra Leone Police has no right to deny a fundamental freedom in this way. Their duty is to uphold citizen's rights, not to conspire against them. Police officers within the force should always guarantee the security of the people and not generate insecurity," he said.
Mr. Fatoma called on the SLP to stop what he referred to as their "sneaky subversion" of rights of assembly with immediate effect and allow citizens to enjoy their full constitutional and democratic rights to protest and make their voices heard.
He also urged the government to take urgent measures to stop the intimidation and harassment of innocent citizens in the country and create an enabling environment for the aggrieved to address challenging issues that hinge on national development and cohesion.
"The right of assembly in a public place is truly one of the cornerstones of citizens' freedom. It represents the exercise of the right to bear witness and bring peaceful pressure to bear on rulers who have acted against their interest," he added.
We got this from social media, the outlet that the anti democratic forces in Sierra Leone passing for a government of, by and for the people wants to prevent people from using to exercise their freedom of expression and thought.
"After making her first appearance in magistrate Court #1 before Magistrate Binneh Kamara for the first time for alleged posting on Social media relating to the present increase on petroleum products in Sierra Leone, 20 year old Theresa Mbomaya has been refused bail today November 18th 2016 and sent to the Pademba Road Female Correctional Service Center.
According to Magistrate Kamara, he will pass ruling on the application by defence lawyers on behalf of Theresa headed by Barrister Francis Ben Kaifala on Monday November 21st 2016. Theresa was arrested on Tuesday 16th November 2016 while coming from evening service at her St. Edwards Church, Kingtom in Freetown. She further spent two days at State CID gaol (16th and 17th November respectively)...While we observe restraint on the entire issue, we further are of the belief that free speech is a constitutional right and therefore shouldn't be suppressed. We continue to stand with Theresa and we hope that justice will be served"
The National Union of Sierra Leone Students has issued this statement on social media -
"The attention of the National Union of Sierra Leone Students (NUSS) has been drawn to an arrest done by the Sierra Leone Police of Theresa M'Boma, a student of Fourah Bay College for allegedly sharing inciting posts on the social media.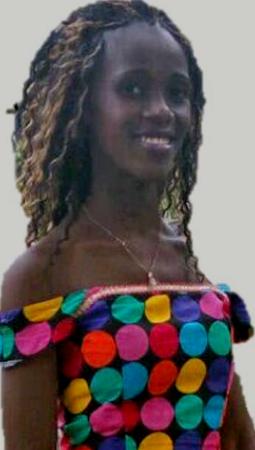 The confirmation by Ministry of Information and Communications officials saying that she is one of two people arrested for sharing posts on the social media is one that we feel lacks the merit to hold her in detention and that we think its not substantial enough for a student to be detained and not being released at least on bail.
This is a news that has met us with utmost dissatisfaction. We view this as a violation of her human rights and disrespect for her right to education considering the fact that she is currently fulfilling other academic requirements. Thus, the arrest could negatively impact her quest to acquire quality education. We consider this as an infringement of her human rights (educational right in particular).
The union is therefore, calling on the Sierra Leone Police to release Theresa M'Boma, a Student of Fourah Bay College within 3 working days whilst the investigations continue. It is our position that Theresa M'Boma be released in a time not more than 72 hrs from the time of arrest as provided for and guaranteed by Chapter III; Section 17, sub-section 3 (b) of the 1991 constitution, Act. No. 6.
It should be noted that NUSS is not in anyway against the police's duty as law enforcement agency including investigation of matters concerning state security, but detaining a student beyond the constitutional provision is ultra vires and since the constitution is supreme, we're asking that like every other citizen, Theresa's fundamental human rights be respected. The executive of NUSS wishes to guarantee the general studentship of the country that it stands by them and that Theresa's case shall not be an exception. We are poised to protecting the rights and maximize the welfare of every students in this country. Long Live Students Unionism! Long Live Sierra Leone!
Let us take you back to the horrors of the AFRC/RUF of 1997/98 and how Sierra Leone became one huge concentration camp for those who did not support the excesses of the human rights violators calling itself the government of one Johnny Paul Koroma.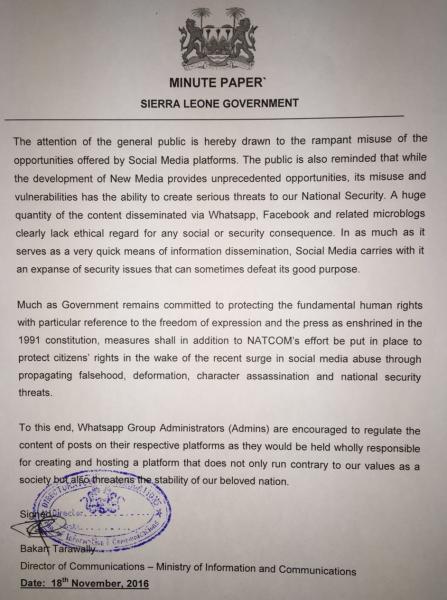 "Many students, who have been vocal in their opposition to the AFRC, have been arbitrarily arrested and detained. In the days immediately following the coup, a student at Milton Margai College of Education, Abdulai Musa, was arrested after being heard to say that the AFRC would be in power only for a matter of days. He was taken to Pademba Road prison where he remained for almost a month. According to reports, he had recently undergone an operation and was denied access to a doctor while in detention.
In early June 1997 Ansu Bockarie, a member of the executive committee of the National Union of Sierra Leone Students, was reported to have been severely ill-treated by a prominent member of the AFRC when he was found to be in possession of his student union card. More than 120 people, mostly students, were arrested on 18 and 19 August 1997 following attempts by students to stage a demonstration - a march for democracy - protesting against the AFRC.
The demonstration had been prohibited by the authorities; however, students and others, including trade unionists and market women, defied the ban. Those attempting to demonstrate were forced to disperse by the security forces who fired shots and tear-gas. At least six students were killed and many others seriously injured as a result of ill-treatment.

Among those reported to be have been arrested on 18 August 1997 were Brima Ali, Miranda Hanciles, a student at Milton Margai College of Education, Sahr Kortequee, a medical student, Mohamed Mansaray, a student at Fourah Bay College, Albert Massaquoi, a student at Njala University College, Imran Mohamed Silla, a student, James Tucker, a student at Fourah Bay College, Lewis Tucker, a student at Njala University College, and Sheik Turay, a teacher. Eighty-six students, including nine women, were taken to Pademba Road prison, another 35 to Cockerill military headquarters and an unknown number to the CID headquarters in Freetown.
Those held at Pademba Road prison were held for 12 days before being released. Some students were reported to be still held by October 1997 at other places of detention, including Cockerill military headquarters. The exact numbers of those held was impossible to determine; reports referred to at least 37. Many students were reported to remain missing, their families frightened to make inquiries to the authorities about their whereabouts; they include a woman, Juliet Jones.
Since the events of 18 August 1997 students, and their families, have continued to be intimidated and threatened. They have been warned against approaching the media or non-governmental human rights organizations.
This was the atmosphere created by the human rights abusers then and creeping up on the forces of democracy in Sierra Leone. Those who have watched the goings-on of government operatives manipulated by the puppet master at State House know only too well that AFRC MK2 is really now showing its true colours as they did in 1997 when any excuse could be used to arrest, torture or kill any perceived opponent.
They refer to the various appointments in key positions of government as proof as quite a good number who were also active operatives of the AFRC/RUF including his appointed and unelected crony, the so-called Vice President Victor Bockarie Foh, the embodiment of corruption and repression.