Sunday December 15, 2013

- The funeral ceremonies for the icon of liberty, tolerance and democracy - the one and only Madiba - Nelson Mandela is on today in the village of Qunu where he grew up as a child.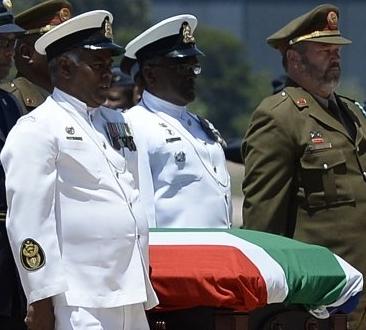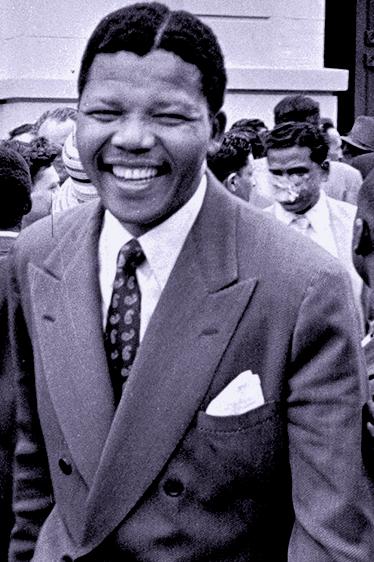 Saturday saw his body being flown in a South African air force transport C-130 plane, escorted, according to the BBC in a report headlined - "Nelson Mandela: Coffin arrives in Qunu for burial" by fighter jets. The correspondent adds:
"Nelson Mandela's coffin has arrived in his childhood home in Qunu in the Eastern Cape region of South Africa, the final leg of its journey. Large numbers of people lined the roads in the rural region to pay their respects as the cortege passed by. A state funeral will be held on Sunday for Mr Mandela, who died on 5 December. At least 100,000 people saw the former South African president's body lying in state in Pretoria over the last three days, but some had to be turned away. The coffin was flown from Waterkloof airbase in Pretoria on a C130 military aircraft, escorted by two fighter jets. In line with tribal custom, Nelson Mandela's grandson Mandla accompanied him on the journey, speaking to his coffin to tell him he was on his way home to rest. It arrived in Mthatha, 700 km (450 miles) away, shortly before 14:00 local time (12:00 GMT). To solemn music, the coffin draped in a South African flag was moved by a military guard of honour and placed in a hearse to begin the 32km journey to Qunu, where Mr Mandela had wanted to spend his final days and where he will be buried. People waving flags and cheering and singing - in places 10 to 12 deep - lined the route taken by the cortege through Mthatha town to pay their last respects. Tears as well as smiles could be seen on the faces of onlookers."
Another international news outlet Al Jazeera has a special niche titled Mandela's World in which a well-known international photographer records events in the lives of the anti-apartheid fighter, democrat, freedom fighter and a man who was willing to forgive those who had punished him while fighting for the freedom of all South Africans - black, white and in-betweens of whatever hue. Al Jazeera adds in an article titled - Saying Goodbye -
"Since his death at his Johannesburg home, South Africans have turned out in pouring rain and blistering sunshine to say goodbye to the man they viewed as a liberator. Tens of thousands packed a soaked stadium in Soweto for a memorial service on Tuesday, which was attended by more than 70 world leaders. Up to 100,000 people filed past Mandela's open-casket for the three days it was displayed at the Union Buildings in Pretoria, the seat of government where he was inaugurated two decades earlier. Mandela was jailed for 27 years on Robben Island by the white-minority racist regime which he opposed, emerging from prison in 1990 and becoming president after the country's first multi-racial elections in 1994. A year before he was elected president, he won the Nobel Peace Prize, along with FW de Clerk, South Africa's last apartheid-era president who helped negotiate the end of racial segregation with Mandela. Around 3,000 members of the media have already descended on Qunu where a special stage and marquee have been erected for the invited guests, who include Britain's Prince Charles. Archbishop Desmond Tutu, a long-time friend of Mandela's...The funeral will be held according to traditional Xhosa rites overseen by male members of Mandela's clan. The slaughtering of an animal - a ritual performed at various milestones of a person's life - will form a crucial part of the event. During the ceremony, Mandela will be referred to as Dalibhunga, the name given to him at the age of 16 as he entered adulthood. Although Mandela never publicly declared his religious denomination, his family comes from a Methodist background."
---
Sunday December 8, 2013

- A Day of Reflection as South Africa and the world prepare for the funeral arrangements and ceremonies in honour of the one and only Madiba who has gone to the great beyond at the ripe old age of 95. We join South Africa and the world in mourning the passing away and celebrating the life of a true and caring statesman.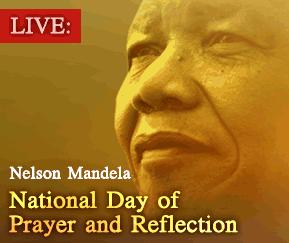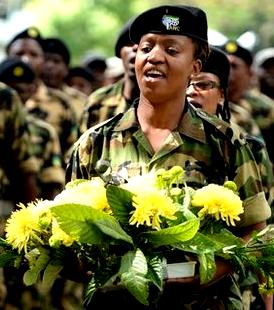 South Africans and people of the world are taking part in a day of prayer and reflection for the great freedom fighter, the one and only Madiba whose passing away was announced by President Zuma on Thursday night, South African time. That announcement put to rest speculations about the health of a man who had been reported to be receiving and responding to treatment after he was removed from hospital, taken to his home from where he was receiving round the clock attention. We all knew, as were members of the family and close friends who visited him, that Madiba was going and all that remained was to prepare the minds of family members, close associates, South Africa, Africa and the world for the loss of such an icon. Indeed one close friend after a visit, came out in tears and begged not to be allowed to visit what he called "the shadow of the man I knew - a man who was a fitness freak, a man who in his younger days was a boxing addict now reduced to this state" - that said it all. That the great Madiba was taking his final journey on Planet Earth to live with the ancestors in the bosom of the Great One above. On the BBC website is another report as well as a link to details of state funeral arrangements for Madiba.
"People in South Africa are taking part in a day of prayer and reflection for Nelson Mandela, who died on Thursday. President Jacob Zuma is attending a service in a Methodist church in Johannesburg, with other multi-faith services planned throughout the day. At the Regina Mundi Catholic Church in Soweto, priest Sebastian Roussouw said the late president had been "a light in the darkness". A national memorial service is due to be held on Tuesday. Mr Mandela will be given a state funeral on 15 December. South Africans have been holding vigils since Mr Mandela died at home the age of 95, after several months of ill health. President Jacob Zuma had urged South Africans to go to stadiums, halls, churches, and other places of worship on Sunday to remember their former leader. "We should, while mourning, also sing at the top of our voices, dance and do whatever we want to do, to celebrate the life of this outstanding revolutionary who kept the spirit of freedom alive and led us to a new society. Let us sing for Madiba," he said, using Mr Mandela's clan name.
The government has also given further details of the state funeral arrangements.
Tuesday, 10 December is the day for South Africa's official memorial service at the FNB Stadium on the outskirts of Johannesburg, which will attract world leaders as well as ordinary South Africans
Between 11-13 December, "selected international visitors and guests" will be able to view Mr Mandela's remains at the Union Buildings in Pretoria
His body will be transported on Saturday, 14 December, from Waterkloof Air Force Base in Pretoria to the Eastern Cape, with a procession from the airport at Mthatha to his home village of Qunu where a traditional ceremony will be held.
A funeral service will take place at Qunu - where Mr Mandela grew up and later retired to - on Sunday, 15 December.

---
Thursday December 5, 2013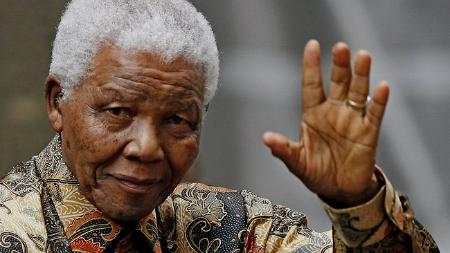 The great Madiba is no more. Nelson Rolihlahla Mandela is no more. He has gone to the land beyond. Soweto has lost a great son, father, grand father and great grand father. South Africa mourns. Africa mourns. The world mourns the passing away of one of the world's greatest humanitarian, politician and selfless man of the people. And tributes keep flowing in as the 95 year old Madiba finally succumbs to illhealth and bids farewell to the world. The following have been poached from a number of online.
President Barack Obama led the world in mourning the passing of Nelson Mandela last night, calling the South African leader "a man who took history in his hands and bent the arc of the moral universe towards justice". Speaking less than an hour after Mr Mandela's death was announced, Mr Obama said the 95-year-old's life had inspired his own historic path to the White House. "And like so many around the globe, I cannot fully imagine my own life without the example that Nelson Mandela set," Mr Obama said. "And so long as I live, I will do what I can to learn from him."
Mr Mandela had already been sentenced to life imprisonment by the time Mr Obama was born in 1964 but the two men will be linked in history as the first black leaders of nations with histories scarred by racism. "Through his fierce dignity and unbending will to sacrifice his own freedom for the freedom of others, Madiba transformed South Africa and moved all of us," Mr Obama said. "His journey from a prisoner to a president embodied the promise that human beings and countries can change for the better."
The UK Prime Minister David Cameron said -
A great light has gone out in the world. Nelson Mandela was a towering figure in our time; a legend in life and now in death - a true global hero. Across the country he loved they will be mourning a man who was the embodiment of grace. Meeting him was one of the great honours of my life. My heart goes out to his family - and to all in South Africa and around the world whose lives were changed through his courage.
While rest of the world noted
We join the rest of humanity in expressing sorrow at the loss of a great hero and statesman even as we celebrate his life. A man who was jailed for nearly 30 years fighting for the freedom of his people and yet when he became the country's first black President in 1994 did not take the route of many a selfish African leader. He served only one term and for him that was enough as he left the Presidential stage of South Africa for Thabo Mbeki to take over. Here was a man who could have been in power until death had he wished, but who turned his back on the trappings of State power and became the philanthropist and caring human he'd always would be.
Rest Madiba. Rest in peace and may the Good Lord in His mercy grant you the peace only He can give.
AMEN
---