Saturday October 10, 2015

- Just when we thought we were on top of things, the vicious and human tissue-devouring Ebola Virus Disease shows another side - the tendency to remain in the body as UK nurse Pauline Cafferkey is re-admitted in an isolation ward. Condition stated to be very serious. Let us pray for her and our people who recovered.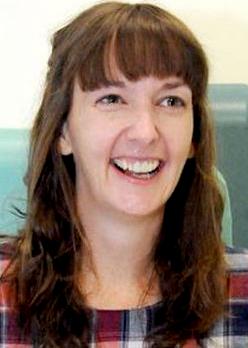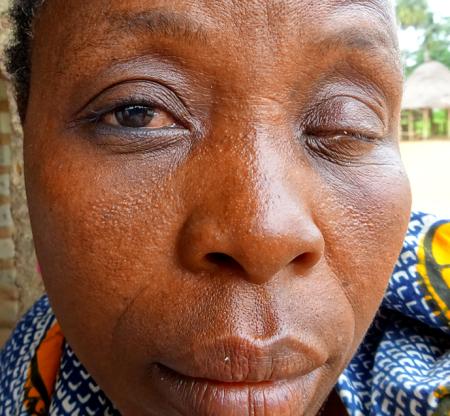 We are worried, very worried that the Ebola Virus Disease has again told the world of health specialists that it is an infection that is not that easy to beat even if it fails to kill its victim. That it is so difficult to get rid of - that if you do not see it in the blood of the recovered, its long arms of destruction is busy spreading out into other tissues and organs to create difficulties for those who survived.
This is the BBC's story that broke many hearts -
"A Scottish nurse who contracted Ebola in Sierra Leone last year is in a "serious condition" after being readmitted to an isolation unit in London. NHS Greater Glasgow and Clyde confirmed that the virus is still present in Pauline Cafferkey's body after being left over from the original infection. She is not thought to be contagious."
As we pray for the full return to health of this brave nurse, we cannot help but remind ourselves of the challenges that we face in own country Sierra Leone and the fate of thousands who had survived the ravages of the disease. We would again want to remind health delivery personnel - nurses, doctors, porters, drivers and the desk people at the Ministry of Health and the Ebola Response setup of what needs to be done to protect and care for the survivors who still remain abandoned and uncared for in Sierra Leone.
Let us again remind you of what the rat is reported to have promised survivors in this piece from the State House website (excerpts) headlined As Ebola Clocks 1 Year…President Pledges To Support Survivors - "Prior to the Ebola outbreak, President Koroma said his government had meant well for the country when it introduced the free health care initiative. He reminded that whosoever holds a certificate of Ebola survival will equally benefit from the free health care services and will be treated with whatever illness he or she may suffer from gratis."
Update: Good news - The Lord has answered our prayers as Pauline Cafferkey is on her way to full recovery...but it's a long process that will need all the care and support of professionals. Are survivors in Sierra Leone receiving the necessary support from a government that thinks nothing of stealing funds meant for the combat of the disease?
---
Saturday September 26, 2015

- Events in Burkina Faso. Why the rat is sad that the pro-Blaise Compaore coup failed. People power wins the day as the Presidential Guards are sent packing, RPG's and all.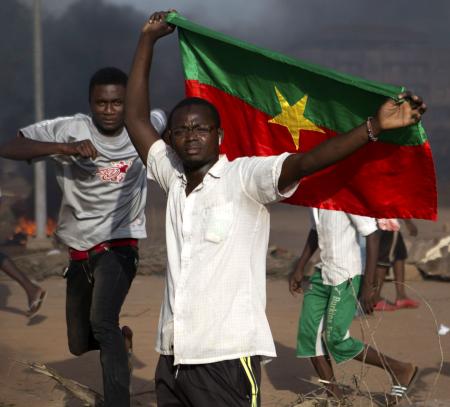 The elite Presidential Guard of Burkina Faso is no more having burnt its fingers in an attempted coup that eventually should have seen the ousted and disgraced former President Blaise Compaore re-installed in office had it got its way in a country where the main army is as professional as it should be.
And there are interesting comparisons that Sierra Leone watchers would be keen to point out. The Presidential Guard coup was not popular and had no support among the people. In desperation members of the group got a group of people together to stage what they termed a demonstration of support after the regional body ECOWAS and other international bodies including the UN made it clear it was not in favour of a band of soldiers seizing power during a transitional period leading to elections.
In Sierra Leone, on May 25, 1997 a band of soldiers wearing green camouflage tunics on the outside and sporting red vests underneath launched an unexpected move against the democratically-elected government of President Ahmad Tejan Kabbah barely a year after elections in 1996 that saw the military, the NPRC of Valentine Strasser and Julius Maada Bio leaving power after a four-year stint. It was the most unpopular coup in Sierra Leone's political history with a large majority of civilians refusing to recognise the Johnny Paul-led AFRC. Had the AFRC handed over power peacefully, the country would have been spared further bloodshed and misery but because die-hard core APC operatives were the chief advisers it went on a campaign of murder, arson and rape prolonging the agony of the people for nine months.
---
Tuesday September 22, 2015

- President of the Nigerian Senate, the third in line in Nigeria's political hierarchy appears before Code of Conduct Tribunal to answer to a 13-count charge relating to his conduct in office. Takes a plea and is to appear again next month. This is how the Rule of Law operates in law-abiding and God-fearing societies unlike the jungle justice system of Sierra Leone.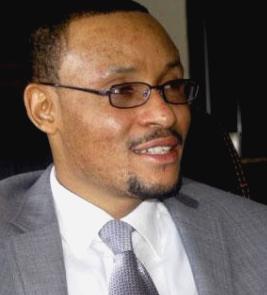 Dr Olubukola Abubakar Saraki is President of the Senate, the third most powerful political figure after the President and the Vice President. His occupation of this office could have given him a sense of being above the law and so when he was ordered to appear before the Code of Conduct Tribunal, he could well have brushed such a summon aside as he was cocksure that his lawyers would block any such order. It would seem his lawyers tried their best to delay the arrest warrant issued for him and when he failed to appear before the Tribunal as ordered on Friday last week, the head of the Tribunal would have none of it. His lawyers gave assurances that come yesterday Monday, they would produce him at the Tribunal but alas, he again failed.
The Nigeria-based online outlet Premium Times has this bit - "The President of the Senate, Bukola Saraki, has arrived the courtroom of the Code of Conduct Tribunal in Abuja to face trial over a 13-count charge of corruption levelled against him by the Code of Conduct Bureau. Mr. Saraki arrived the tribunal premises at 9:32 a.m., accompanied by "about 50 senators and some members of the House of Representatives", his spokesperson, Yusuph Olaniyonu, told PREMIUM TIMES.
The UK-based Daily Mail has also been following the unfolding drama. "The tribunal, a special court that tries asset declaration misdemeanors, charged Saraki last week and issued a warrant for his arrest on Friday after he failed to appear before the court. "I will not keep him (Saraki) here. I will let him go," said tribunal chairman Danladi Umar, releasing the senate president on bail and adjourning the hearing until October 21. The 13 charges mostly relate to the ownership of land held by his company Carlisle Properties Ltd between 2003 and 2011. Other charges relate to his transfer of $3.4 million to an account outside Nigeria while he was governor of Kwara state, and sending 1.5 million pounds sterling to a European account to cover a mortgage for a London property.
---
Monday September 21, 2015

- "The only thing that separates women of colour from anyone else is opportunity" The words of Emmy Awards winner Viola Davis as for the first time a black actress wins the coveted Outstanding Actress in a Drama award. And there's a message in her brief but poignant acceptance speech.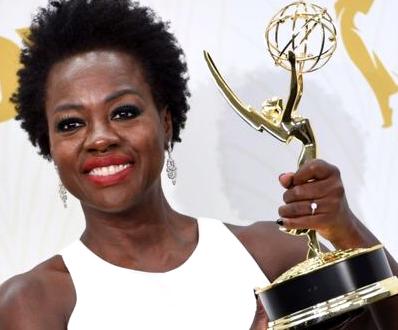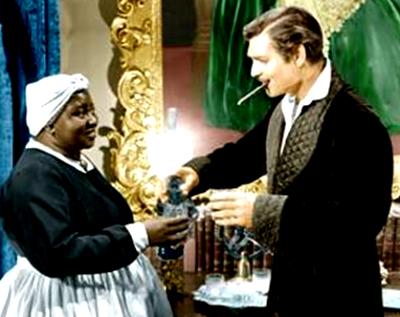 Sunday night 20th September was the night many a TV drama watcher must have made a date with for last night the 67th Emmy Awards were held and according to the organiser's website - "The Television Academy tonight awarded the 67th Emmy® Awards, recognizing excellence in primetime programming and individual achievement for the 2014-2015 television season.
Viola Davis as Annalise Keating in "How To Get Away With Murder" was thrilled at winning the coveted award and this is what she is reported to have said as found on the BBC website - Actress Viola Davis received a standing ovation for her acceptance speech at the Emmy Awards, where she became the first black woman to win outstanding actress in a drama. The actress plays Annalise Keating - a brilliant but conflicted criminal defence professor who, with five of her students, becomes entwined in a murder plot - in How to Get Away With Murder. Her win came after two other black women took home Emmy awards - Regina King for American Crime, and Uzo Aduba for Orange Is the New Black.
It has been a long, hard road for Viola. One report says "After accepting her Emmy, Davis told reporters backstage she was feeling "really good. And if you knew me, you'd know how rare that was." The actress went on: "I've been in this business 25 years. I've been eking out a living doing Broadway, off-Broadway... I'm just excited to be a part of the conversation. I've seen the unemployment line a lot, man." Now you know.
---
Friday September 11, 2015

- The United States and the world remember this day as 14 years ago, terror from the most unexpected quarter hit the United States. The true figures of death and injury still not that certain. President Obama makes a Declaration. September 9 would now be observed in the US as Patriot Day and National Day of Service and Remembrance.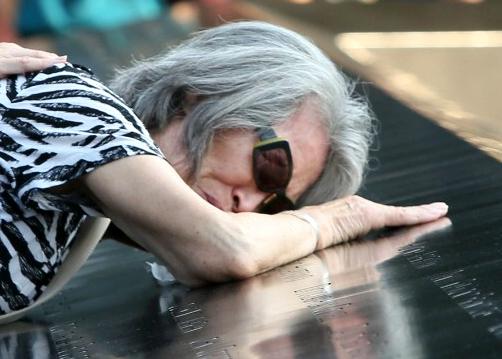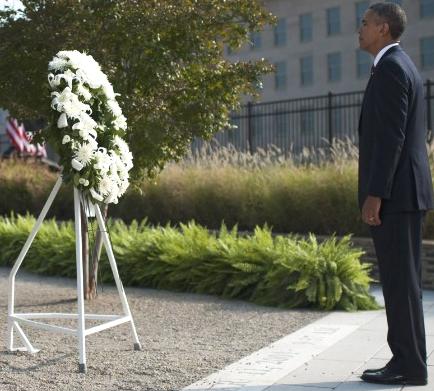 US President Barack Obama has today made a declaration that honours the memory of all those who perished and those still living with the trauma of either having lost a loved one or have to live with the resultant trauma of that Tuesday attack 14 years ago. In making the Declaration the US President stated, among other things -
"On September 11, 2001, America experienced the worst terrorist attack in her history when nearly 3,000 men, women, and children were taken from us, leaving their families and our Nation with a void that can never be filled. But those who brought hate to our shores and smoke to our skies did not expect our country to emerge stronger, and our beacons of hope and freedom to shine brighter as a result. In the years since, we have stood strong as one people ‑‑ determined to further embolden our country's character with acts of endurance and strength; rebuilding and resilience; renewal and progress.
In remembrance of the innocent victims who lost their lives and in honor of the families they left behind, let us continue to answer these heinous acts by serving our communities, lifting the lives of our fellow citizens, and spreading the hope that others tried to dim that day.
---
Sunday August 9, 2015

- The longest court martial in Sierra Leone's history finally ends. All thirteen accused set free as prosecution fails, miserably, to buttress charges. Accusations that it was just another act by the smoke and mirrors rat of a President at State House.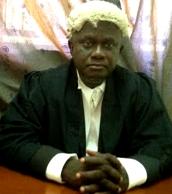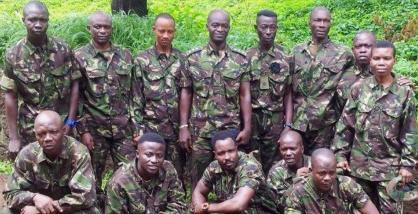 ...and finally the truth is out. All thirteen soldiers arrested and held for more than two years have been declared free by a Court Martial sitting in the capital Freetown. This is a part of the story as reported when the saga started -
"A Sierra Leone military court has charged a captain and 13 soldiers with mutiny and denied them bail, a judge said. The charge was coming eight months after they were arrested for planning a protest against the president. The men, who all pleaded not guilty, were arrested last August in the northern town of Makeni for planning a protest during a visit by President Ernest Bai Koroma to his hometown.
The Judge, Otto During, said the soldiers had intended to kidnap the president and murder the defence minister during the visit, which was later cancelled. He said the account has not been independently verified and details of the event leading to the soldiers' arrests were not addressed in court on Monday. He added that "bail was refused the suspects in the interest of public safety and the safety of the accused persons themselves. "Also, there is the risk of flight on the part of the suspects." If found guilty, the men could face a range of punishments from demotion in rank to death by firing squad."
Their chief target would have been Rtd Brigadier Maada Bio, John Benjamin of the SLPP and others they had long wanted to charge with treason ever since that attack on the SLPP headquarters in Freetown when at a meeting of the APC inner circle one of them cried out - "This is not the APC I know. These people should be charged with attempts to overthrow the government..." We now await developments on the remedial action including compensation for the victims of this state-sponsored outrage. We salute the defence team of the soldiers who refused to be intimidated or coerced but stood their ground when the state prosecutors tried to browbeat them into submission.
We also salute all the Civil Society groups including CARL and the Human Rights Commission of Sierra Leone for standing up for the rights of all Sierra Leoneans - this time the rights of the soldiers and members of their family.
---
Tuesday July 7, 2015

- Ten years ago on this day evil walked the streets of London as suicide bombers targeted unarmed, unsuspecting and peaceful people in the capital. Their crime? Living in one of the bastions of democracy in the world.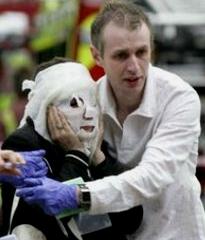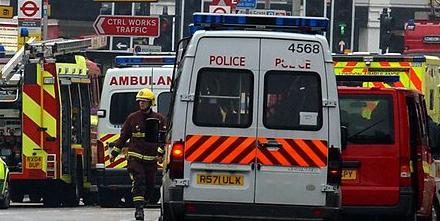 Ten years ago today suicide bombers targeted the transport system of London, the UK capital detonating bombs in crowded trains and a bus during rush hours in a busy capital. When the smoke cleared, the screams silent and the wailing still in the air, it was discovered that fifty two innocent and unarmed civilians were dead, many wounded and a still to be accounted for number traumatised as they battle to come to terms with what happened on that fateful day ten years ago.
The BBC has a page dedicated to the 52 victims and their stories. The write-up is a true overall picture of the random nature of the attackers whose intention, it would seem, was to kill as many people as they could taking worthy lives in their campaign of sheer terror. A service will take place at St Paul's Cathedral later to mark the 10th anniversary of the terrorist attacks that killed 52 people in London. According to the BBC - "The families of those who died in the bombings of three Tube trains and a bus will attend, along with some of those injured on 7 July 2005. A minute's silence will be held during the service and on London's transport network at 11:30 BST. Prince William will also attend a service at Hyde Park's 7 July Memorial. The attack by four suicide bombers linked to al-Qaeda and carrying rucksacks of explosives was the worst single terrorist atrocity on British soil.

Just after 08:50 on 7 July 2005 three explosions took place on the Underground - 26 died in a bombing at Russell Square on the Piccadilly line; while on the Circle Line six died in an explosion at Edgware Road, and seven lost their lives at Aldgate.
Almost an hour later a fourth device was set off on a number 30 double-decker bus in Tavistock Square, killing 13 people.
The names of the 52 victims will be read out at the national service of commemoration at St Paul's Cathedral, which begins at 11:00 BST.
We join all good people in remembering all those who died, those who survived but were left with injuries, some life-changing and those still traumatised by those terrible events of ten years ago.
Update: As the 10th Anniversary Remembrance events happened - BBC pages
Also - 'Everywhere I looked there were body parts' - Daily Mail
---
Monday December 22, 2014

- The audit report for 2013 is out and its the same old rot. The rampant thieving of the people's money, the lack of accountability, a determination to flout all financial rules and regulations and through it all - the thieving hands of the rat and his gang of looters of state coffers.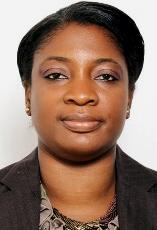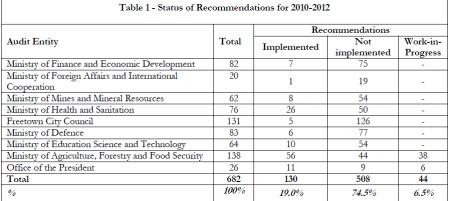 The 2013 audit report into the accounts of the Sierra Leone government as well as associated institutions is now out and it does not make good reading for all those wishing the country well as instances of massive financial irregularities are laid bare by the Auditor-General Mrs Lara Taylor-Pearce. One would have believed that given the various recommendations made in previous audit reports, those controlling the purse strings of the peoples' resources would have mended their ways and would have done the right thing as required by the country's financial regulations, orders as well as the Constitution.
This audit report has a special focus on the country's procurement methods - rules of procurement as against what obtains on the ground with these provisions aimed at giving true stewardship of how the peoples' resources are managed/mismanaged thrown to the winds. Indeed in the introduction to this year's report which has been given a qualified "except for" opinion, the Auditor-General has stated -
"It must be noted that the various issues giving rise to my qualified 'except for' opinion are very serious in terms of their effect on the accounts, and need to be dealt with urgently. Unfortunately, they serve to further confirm the government's widely held reputation of being unable to decisively deal with poor public financial management. Our public servants could and should do better. As I have said before, with a stronger commitment and willingness to address public financial management reform and strong enforcement of existing well-established laws and regulations, the matters could be put right quickly as other countries have done. That is the responsibility of the government and all public officials. Parliamentarians, Ministers and public sector managers at all levels need to provide leadership in not accepting petty and grand corruption as normative. Those in position to do so should follow the money when things go wrong. As citizens, none of us should ever accept fiduciary irresponsibility from those charged with holding the strings of the public purse. To do so is morally corrosive, erodes our civic rights and damages our hard-won young democracy."
---
Wednesday October 12, 2011

- The truth is finally out. Now we know why the high priest at the altar of falsehood, profanities and indecency dedicated to the smoke and mirrors President expunged those articles from his web site reaffirming once more that for a few dollars more he would be willing to lie on oath in order to earn his supper. And this from a so-called man of the cloth who has been caught out more often than not - lying to his face and feeling good about it.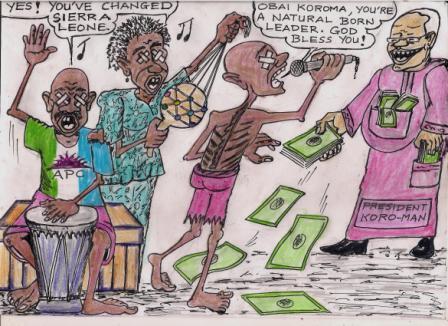 We now know why those articles were expunged from the web site of the high priest who thinks nothing of lying through his teeth to please his masters at State House in Freetown. Remember what he wrote about the Bo incident in which one man was reported killed by the police, some structures belonging to the APC ruling party torched and the flag bearer of the main opposition SLPP Brigadier (Rtd) Julius Maada Bio got hurt? The pro-APC, pro_Ernest Bai Koroma publications had a field day with each tabloid trying to outdo the other in presenting a feel-good article that would be pleasing to their paymaster/s at State House. It was a time to write articles pleasing to their handlers at State House. And please recall too that when the President ordered an investigation, we pleaded that no comment be made that would somehow appear to blame anyone? This piece of advice given in good faith was ignored and just to please his master, his mammon at State House the high priest at the altar of lies, falsehood and profanities dedicated to his god ernest bai koroma published articles blaming people left, right and centre as well as here, there and everywhere and even going as far as to suggest that there was no one at the APC party office in Bo on that day? Well we now have a copy of that report and we can state here that the reason why those articles were expunged was because the report showed that what had been published, as usual was a big and deliberate lie aimed at keeping his master happy. And pleasing his master we doubt very much because we know that there are good and honest people at State House, real professional journalists and civil servants who would always frown on anyone who on one hand gloats about a diplomatic appointment while on the other becoming the chief fabricator and purveyor of lies, more lies and damned lies.
Below are some of the headlines, the articles of which were expunged and for which action we demanded an explanation. None was forthcoming, none was expected. That is what happens when you, as we say "broke congosah" on the gossiping liar's head.
Reports : SLPP rally in Bo was unlawful and unauthorized and was recipe for chaos orchestrated by Maada Bio, John Benjamin and Abbass Bundu
Journalist says the chaos in Bo was well-planned by the SLPP
Where is the blood ? The biggest hoax since 'Janet Bundle' ?
Exclusive : How Maada Bio got hurt in Bo
EXCLUSIVE : More ringleaders of the Bo disturbances named, as SLPP forms clandestine organization to drive out all APC supporters
Among the key findings of the report after investigating the Bo incident was
1. The SLPP thank you rally was legal.
2. That Rtd Brigadier Julius Maada Bio was indeed wounded during the attack.
3. That the APC Office was occupied by APC supporters on the day of the attack and that even before then preparations had been made to attack the Maada Bio march in Bo with instructions given to women allied to the APC to collect stones.
4. Stoning was started by APC supporters from their party office.
5. The SLPP supporters attacked and torched structures of the APC.
6. One bike rider was shot and killed by a named policeman who still remains free.
We will now bring you most of the expunged articles so that you can see further proof of the devious methods of a compulsive liar and we daresay the typical "kongosah bench" carrier.
---