Thursday April 11, 2013

- "Preventing Sexual Violence in Conflict" - that was one of the main items on the menu of the G-8 ministers meeting in London where other issues like the conflict in Syria and the madness spewing forth from North Korea were discussed. And there to make a point, asking that the international community do more were two key women.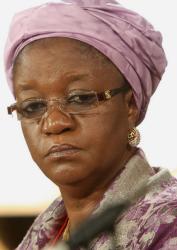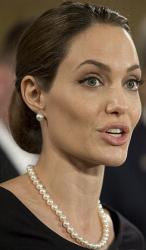 Our very own Zainab Hawa Bangura, the UN Special Representative on Sexual Violence in Conflict was in London together with US film star and Special Envoy for the UN Human Rights Council Angelina Jolie and host UK Foreign Secretary William Hague. The Commonwealth and Foreign Office noted that - all Foreign Ministers endorsed the Declaration on Preventing Sexual Violence in Conflict. They called for urgent action to address comprehensively the culture of impunity and to hold perpetrators to account for acts of sexual violence committed in armed conflict. Ministers emphasised the need to promote justice and accountability for sexual violence in armed conflict by strengthening the existing framework for prosecution, and to provide more long-term support to prevent and respond to sexual violence in armed conflict, as part of broader development and humanitarian efforts.
In her appeal to the G-8 ministers and the international community to do more Angelina Jolie noted
"...hundreds of thousands of women and children have been sexually assaulted, tortured, or forced into sexual slavery in the wars of our generation. Time and again the world has failed to prevent this abuse, or to hold attackers accountable. Rape has been treated as something that simply happens in war; perpetrators have learnt that they can get away with it; and victims have been denied justice. But wartime rape is not inevitable. This violence can be prevented, and it must be confronted. There is no choice between peace and justice: peace requires justice. So I welcome the pledge by the G8 to regard rape and sexual violence in armed conflict as grave breaches of the Geneva Conventions; and to give no amnesty to those who commit these crimes. And I fully support the work that will now begin on an International Protocol on the Investigation and Documentation of Sexual Violence in Conflict, and look forward to its adoption. I pay tribute to Zainab Bangura for her courageous and wonderful work; And I want to thank William Hague for his leadership: Rape is not a women's issue, or a humanitarian issue, it is a global issue and it belongs here at the top table of international decision-making where he has put it."
Today's historic agreement will see money being pledged to fight the crimes that lead to sexual assault. The agreement will result in money pledged to fight the crimes. Britain is providing £10million from the budgets of the Foreign Office and Department for International Development.
The issue of sexual violence should be of even more greater concern to Zainab Bangura who hails from Sierra Leone. She has seen victims, heard their stories and knows only too well the horrors that were unleashed on vulnerable groups during the conflict in Sierra Leone and as a member of the Ernest Bai Koroma government she knows only too well that commitments on paper, words uttered at meetings become meaningless if governments refuse to address those issues in post-conflict situations as is to be found in Sierra Leone. This BBC story of rape in the DRC is a stark reminder to all that evil still stalks and reigns when people of goodwill refuse to act as evidenced by the failure of the Ernest Bai Koroma government to act on reports and recommendations of violence and abuses perpetrated by his party members as well as the armed wing of his ruling APC parading as the OSD of the Police.
Update: The UK's Daily Mail has this report headlined - 'I've raped 53 women, some as young as five': Terrifying confession of soldier, 22, who went on rampage through town after losing battle with rebels. Those who were on the ground in Sierra Leone during the occupation of the AFRC/RUF coalition of evil know only too well what civilians were subjected to after ECOMOG forces decimated their numbers in the junta's attempts to take the international airport at Lungi. Some of the key figures who gave orders and encouraged their troops to engage in acts of torture, rape, abduction and murder of defenceless civilians are now holding key positions in Ernest Bai Koroma's pack.


---