Wednesday May 8, 2013

- Sir Alex Fergusson, the captain at the wheel of a football battleship called Manchester United Football Club announces that he will be leaving at the end of this season. At 71 and with some 26 years at the helm, getting a successor will be the next great task as players and team management as well as the billions of fans of the club come to grips with today's announcement.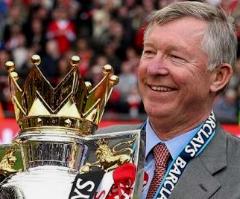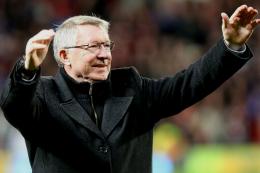 The speculations are now over.
Sir Alex Fergusson the hard, uncompromising and always ready for challenges Manchester United team manager is going into retirement after twenty six (26) years at the helm. Sir Alex is leaving on a high never mind the fact that this season they could not make it to the finals of European competitions but he would take heart in the fact that this season he has won the country's top football league, the Premiership, well ahead of the end of the season.
Many will miss his face on TV screens as he takes his wrath to any referee whom he believes could have misinterpreted the rules against his beloved Manchester United and no matter how many times he is sent packing to the stands because of this, he would always remonstrate, most forcefully using appropriate and some would say inappropriate verbal missiles to make known his feelings when he is allowed back along those hallowed lines reserved for team managers on the edge of the pitch.
The next big task is getting a successor to man the affairs on and out of the field of play and that is not going to be easy. Pundits talk of the special one Jose Mourinho as being in the frame, while others pick the Everton manager David Moyes as the most likely but are also quick to warn that when it comes to managing a team like Manchester United you need to have the authority and respect that goes with the job. Respect and authority that will make you as a manager being in charge and deciding that David Beckham has to go and that other players who believe they could get away with acts Sir Alex considers disrespectful soon find themselves in other clubs either on transfers, loans or just sold away.
BBC Sport has this on its online pages
Sir Alex Ferguson will step down as Manchester United manager at the end of the season after 26 years in charge. The Scot, 71, has won 38 trophies for the club and will now become a director and ambassador. His haul includes 13 league titles, two Champions League crowns, five FA Cups and four League Cups. "The decision to retire is one that I have thought a great deal about. It is the right time," Ferguson said. Jose Mourinho has been installed as favourite to take over from Ferguson by bookmakers, with Everton's David Moyes and Borussia Dortmund's Jurgen Klopp also in the running. Ferguson is confident his successor will take over a club in good health after winning their 20th top-flight title 17 days ago. "It was important to me to leave an organisation in the strongest possible shape and I believe I have done so," he said. "The quality of this league winning squad, and the balance of ages within it, bodes well for continued success at the highest level whilst the structure of the youth set-up will ensure that the long-term future of the club remains a bright one."
Sir Alex Ferguson has left when the cheers were loudest and a fitting time too. He did not wait for the drums and cymbals of shame to usher him out. That's what principles and integrity are all about. We wish Sir Alex well in his active retirement.
---