Monday April 15, 2013

- Kelvin Lewis, Editor of AWOKO newspaper is the new President of the Sierra Leone Association of Journalists, SLAJ.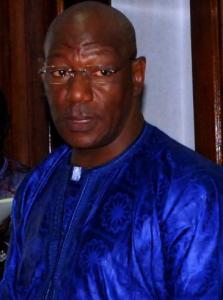 Kelvin Lewis, the Editor of one of the few credible and independent news outlets of Sierra Leone has been elected the new President of the Sierra Leone Association of Journalists during elections held by the body over the weekend. According to a report carried on the online edition of the newspaper today Kelvin harvested one hundred and twenty seven (127) votes as against the next highest score of seventy (70) garnered by Williete James. Other positions vied for included that of the Secretary General as well as the Financial Secretary. Kelvin now takes the chair in the wake of another professional and principled journalist, the one and only Umaru Fofanah.
It is worth noting part of the contents of what others would refer to as a victory speech, but if we know Kelvin well, he would rather call it a call on all to give their backing to the strength and advancement of SLAJ as well as a speech of appreciation as he extended a hand of friendship and reconciliation to all those who found themselves in polarised camps as preparations were made for Saturday's votes. Just as we pleaded with another colleague Philip Neville to co-operate with the winner Umaru in their contest for the Presidency, so do we appeal to everyone to work with the elected officials to raise the SLAJ flag even higher. Part of that AWOKO report states
"I commend Williette James and Mustapha Sesay for their courage and fortitude throughout the election process." He went on, "despite what was said during the height of the campaign that nearly brought acrimony between us, I don't hold that against you. I take it, that it was politics and you simply wanted to score points", stressing that "I still hope that your desire to serve SLAJ will not wane. I extend my hand in friendship and peace and to say that SLAJ is bigger than all of us, so let us work together for the good of the association." To the general membership, he said, "I profoundly thank you my colleagues for voting me in as your President. I am humbled by your massive show of trust and confidence in my ability to lead you."...to the outgoing executive, you have served us well, he said, stressing that "Umaru Fofanah, outgoing President, we are indebted to you for the visionary leadership that you provided our association over the past four years, I assure you I will build on the solid foundation you have laid for the association." Colleagues, the elections are over. It is now time to start the task of unifying our membership, providing specialized training and addressing the welfare issues of colleagues, which have plagued our profession over the years, he emphasized; noting that "this I cannot do alone. I will need the support and active participation of each and every member. I count on you all to stand by me."
The outgoing President of the Sierra Leone Association of Journalists Umaru Fofana gave what could only be described as a down-to-earth, deep-from-the-heart brief on some of the problems that had been bedevilling the organisation - from accusing him as a card-carrying member of the opposition to other invented accusations all aimed at giving the hard working man a bad name and had they had the opportunity would have hanged, quartered and drawn him. But thank God - evil never triumphs where good men/women refuse to be silenced. Here's a taste of that speech which can be found on the pages of AWOKO.
"Madam Chair, fellow delegates, I am delighted to stand before you this day, to deliver the State-of-the-Association Report at this the 19th Biennial Congress, and to deliver my Farewell Speech as President of the Sierra Leone Association of Journalists. What I am going to do is more of the latter than the former. My handing-over note which I will make available to the next president in the coming days will deal more with the former. But suffice it to say that if I drop dead after this speech, I drop dead a satisfied man. A satisfied man because of what my Executive and I have achieved for our noble association. It does not take rocket science to see what we have collectively accomplished. It only takes conscience; it only requires honesty; and it only entails love for SLAJ to see, feel and agree that the last four years have been like none other in the history of our noble association. SLAJ, like I said some two years ago, will never be the same, again!
As I stand here, it is more of a humbling opportunity than a proud moment for me. I am very proud of what my executive, with your support and contributions, has been able to achieve. On that note, I wish to therefore state from the start that the success of my tenure belongs to all those who served with me in the executive, while the setbacks we faced are entirely mine and for which I take full responsibility. I therefore take responsibility for all what happened between me and Mr Mustapha Sesay and later with Mr Ismael Koroma. I consider these developments as the biggest setbacks of my tenure. God is my witness that I did not do anything wrong. If I did I would have said so. And at no point in time did I have any interest besides SLAJ's interest. That was why I held back and did not respond even when they took the matter to the general public. Be that as it may I hereby ask for their forgiveness for all the misunderstanding we had, and I hereby forgive them for all the negative perceptions they created about me and SLAJ out there."

We wish Kelvin Lewis and the new Executive members as well as all well-meaning members of SLAJ all the best.
Floreat SLAJ.
---