Sunday September 1, 2013 - The world loses a great broadcaster, a great journalist and a great guru in the art of getting what he wants from his interviewees. Sir David Frost is no more as at age 74 he joins the ancestors in the great beyond.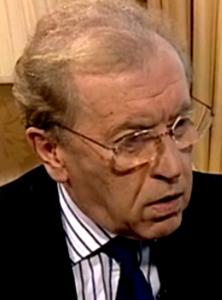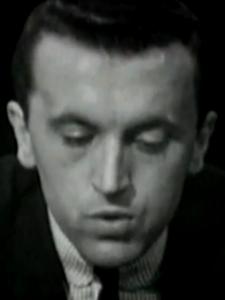 Sir David Paradine Frost - described and seen by many as the cream of the pack in the sphere of journalism both electronic and otherwise is no more. Reports say he passed away on Saturday while on a cruise liner. The BBC today carried a special programme on one of its TV channels and the broadcaster's online pages had this -
"Veteran broadcaster Sir David Frost has died at the age of 74 after a heart attack while on board a cruise ship. A family statement said he was aboard the Queen Elizabeth on Saturday night where he was to give a speech. Sir David's career spanned journalism, comedy writing and daytime television presenting, including The Frost Report. Internationally, he will be remembered for his revealing interviews with former US President Richard Nixon. A statement said: "His family are devastated and ask for privacy at this difficult time. A family funeral will be held in the near future and details of a memorial service will be announced in due course." The BBC's Barney Jones edited his Breakfast with Frost programme on the BBC for more than 10 years. Of his friend and colleague, he said: "David loved broadcasting, did it brilliantly for more than 50 years and was eagerly looking forward to a host of projects - including interviewing the prime minister next week - before his sudden and tragic death. We will all miss him enormously."
Al Anstey, the Managing Director of the international TV channel Al Jazeera says this of Sir David Frost - "With his characteristic incisive, engaging, and unique interviewing style his shows hosted some of the most important and interesting names in recent history. His conversations with his guests elicited both news lines, and a unique insight into their lives. Sir David's own place in history will be marked through his extraordinary work: his journalism, his questions, and his conversations through the last five decades. His professionalism, his charm, and his great sense of humour will be very missed. Our thoughts are with Sir David's family at this sad time". The UK-based Daily Mail had these head and sub heads - Veteran broadcaster Sir David Frost dies at 74 after suffering heart attack on board cruise liner Queen Elizabeth. Sir David Frost has died from a heart attack at the age of age of 74...Forced President Nixon to admit involvement in Watergate Scandal...Has been described a 'fearsome interviewer' by David Cameron. We join the many paying tribute to a great professional who used his interviewing and other skills to demonstrate that with the right sense of purpose and direction nothing is impossible in whatever venture he dares. May the Good Lord in His mercy grant him the perfect rest only He can.
R I P
---
Thursday August 29, 2013

- The drums of war getting louder as the hawks in both the United States, France and the United Kingdom press for military action against the Assad regime over the alleged use of chemical weapons even as the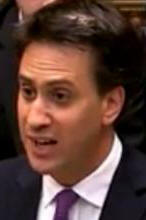 UK Parliament turns the volume a notch or two.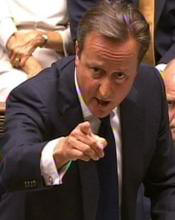 The drums of war have been beating loudly, ever so stridently if stories being peddled about on the media are to be believed. Earlier in the week, statements attributed to US President Barack Obama seemed to indicate that missiles should have now been hitting selected targets in Syria as British and French forces join another allied campaign against a supposedly rogue regime headed by one Bashar Hafez al-Assad. UK Prime Minister hurriedly convened Parliament from recess today, initially for the House of Commons to vote on the government's decision to authorise war. But this vote has been set aside for another session of Parliament after a watered-down paper was presented that was far from a vote on a declaration of war. This climb down in rhetoric from the Prime Minister came in the wake of statements by the Leader of the main Labour Opposition that it would not be in a position to give what it's leader Ed Miliband a blank cheque to the government to declare war on Syria. He asked, among other items, that the government publishes documents it had in its possession and distributed to all MPs for an informed judgement. He also asked that compelling evidence be produced that would implicate the Assad government in the use of chemical weapons against his own people. Mr Miliband also requested that the government awaits the report of UN inspectors who are currently in Damascus visiting areas where the chemicals weapons were allegedly used and that this could help convince Britons and the international community of the need for a military intervention in Syria. Ed Miliband did not rule out support for the Prime Minister in today's debate - "I do not rule out supporting the Prime Minister but I believe he has to make a better case than he did today on this question and frankly he cannot say to the House and to the country this does not change our stance on Syria, this does not change our involvement in the Syrian conflict, because frankly it would and we all have a duty to assess it. The BBC reports that overshadowing the passionate debate in the UK House of Commons are previous UK interventions in the Middle East especially Iraq where, according to one MP, intelligence sources were not as reliable as paraded by the Blair government then and even more importantly is the kind of reaction that is being received from constituents indicating they do not support the proposed intervention in Syria. The Cameron government, probably aware of the aftermath of the UK going to war in Iraq has also published a report from the Joint Intelligence Committee which reveals that the Assad regime had used lethal chemical weapons on 14 occasions from 2012.
Meanwhile President Obama has been coming under increasing pressure to have a debate and a vote as is happening in the British House of Commons as polls show that there's scepticism over the US proposed decision to attack Syria. Tonight, there's expected to a classified briefing to members of Congress with reports that very soon the President would be releasing documents that make a case for military intervention in Syria. It is to be recalled that President Obama has spoken on television that he had not yet made a decision. While he ponders his action, the world awaits.
Update: circa 9.15pm gmt - The Ed Milliband amendment has just been defeated by 220 votes to 332. 9.32pm - The government motion on Syria and the use of chemical weapons is defeated by 272 to 285.Prime Minister David Cameron has accepted that the people of the UK represented in Parliament do not want the country to be involved in war just now and has promised to reflect this in any future government action.
---
Thursday July 18, 2013

- The one and only great statesman of Africa par excellence, Nelson Mandela is 95 today. He many still be in hospital where he's reported to be very ill but the world joins him in celebrating his ninety-fifth birthday. Congratulations Madiba. Congratulations and may the Good Lord be with you always.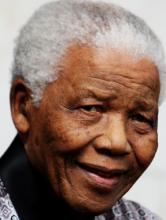 He spent 27 years in prison fighting for the liberation of his people and country, fighting for the freedom of the people in a land internationally known as South Africa and yet when he was released and became the first black African President of an independent South Africa, he did not manipulate things so he becomes President for Life. He need not have manipulated things as it was the wish of every good South African and indeed the world that he stays in office as long as he wishes. But this great man refused to be drawn into the world of Africa's notorious leaders who would do any and everything to stay as Head of State. This great leader, in his great wisdom thought it fit and proper to serve for just a single term and then leave the State House stage for others.
The BBC states - "Nelson Mandela is spending his 95th birthday in hospital in Pretoria, as events take place around the world and in South Africa in his honour. South Africans are being urged to mark the former president and anti-apartheid leader's 67 years of public service with 67 minutes of charitable acts. Mr Mandela, who is in critical but stable condition with a recurring lung infection, entered hospital on 8 June. President Jacob Zuma said his health was "steadily improving". We are proud to call this international icon our own as South Africans and wish him good health," said Mr Zuma in a statement. "We thank all our people for supporting Madiba throughout the hospitalisation with undying love and compassion," he said, referring to Mr Mandela by his clan name."
The USA-based National Public Radio, NPR has this - "The Nelson Mandela Center of Memory asked South Africans and people around the world to spend 67 minutes Thursday volunteering in their communities in tribute to the ailing former president. The 67 minutes represents the 67 years Mandela gave in public service fighting against the apartheid system of segregation and later as a statesman. Ever since he was hospitalized more than a month ago, small shrines to Mandela have popped up all across the country. His picture hangs in shop windows. The newspapers and TV stations give daily updates on Madiba, his clan name that many use when referring to him. Brenda Motseari, a teacher in the township of Soweto, says Mandela remains a huge figure in South African life. "Nelson Mandela is a father, a mentor, a motivator, a director. He's everything to South Africans," she says."
---
Friday July 12, 2013

- History is made. On her 16th birthday today Friday July 12, 2013 Malala Yousafzai, the Pakistani girl shot by the Taliban has told the UN that books and pens scare extremists, as she urged education for all.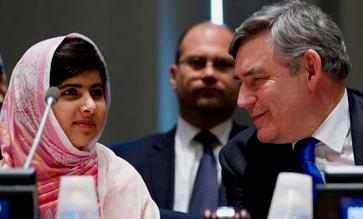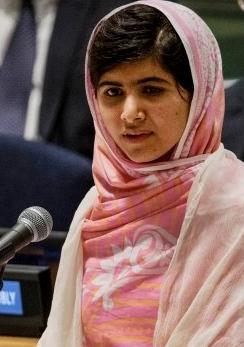 One BBC report on the epoch-making event has noted - "There were huge cheers when Malala Yousefzai took to the podium. A few months ago, such a moment might have seemed unimaginable. Her speech, to more than 500 young people aged 12-25 from around the world, was delivered with grace and compassion. Malala may be the focus and inspiration behind today's events, but she hopes her message will highlight the challenges millions of her contemporaries face. Many here say she's their inspiration. Amid several standing ovations, Malala told the UN on Friday that the Taliban's attack had only made her more resolute.
"The terrorists thought that they would change my aims and stop my ambitions," she said, "but nothing changed in my life, except this: weakness, fear and hopelessness died. Strength, power and courage was born." She continued: "I want education for the sons and daughters of the Taliban and all the terrorists and extremists."
The UK Guardian has this as a part of it's report - "Malala may have been several thousand miles away in New York, but at the Southbank Centre in London it was as if she were in the room. Tears were brushed away and spontaneous applause rippled through the room as she continued her historic speech. In the moments after it finished, as the applause died away, a group of pupils from the Sarah Bonnell girls' school in Stratford reacted as if they had had an audience with a rock star. "She is just my idol, I look up to her so much," said 13-year-old Arlina Hysenaj. "It's like she doesn't even know what revenge is, she just believes right can win." Malala - who is considered a contender for the Nobel Peace Prize - said she was fighting for the rights of women because "they are the ones who suffer the most". "The extremists were, and they are, afraid of books and pens," added Malala, who was wearing a pink shawl that belonged to assassinated Pakistan leader Benazir Bhutto. "They are afraid of women." She called on politicians to take urgent action to ensure every child has the right to go to school.
Al-Jazeera reminds us - that today July 12 is UN Malala Day. We wish her well and may she succeed in her endeavours to make governments put the education of the girl child on top of the agenda.
---
Tuesday July 9, 2013

- An Angolan murdered - Inquest into the death of Angolan man, Jimmy Mubenga, being deported by UK authorities concludes by a jury of nine to one majority verdict that he was unlawfully killed by guards hired by the UK Home Office.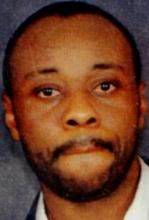 The BBC reported today's verdict thus - "Jimmy Mubenga, 46, died after becoming ill as the aircraft prepared to leave Heathrow Airport in October 2010. The father-of-five had been restrained by G4S security guards, an inquest jury at Isleworth Crown Court heard. The Crown Prosecution Service said it would reconsider its decision not to bring charges over Mr Mubenga's death."
Jimmy Mubenga was ordered deported by the UK authorites after he'd served a 2-year term for assault occasioning actual bodily harm and was scheduled to be on a British Airways flight headed for his home country Angola in October 2010. He never got there alive, nor did he live to tell the tale of his ordeal as he suffered what has now proved to be a fatal restraint at the hands of GS4 guards - a controversial and sometimes clearly racist private company contracted by the UK authorities to enforce deportations. In the case of Jimmy Mubenga, it emerged that " two of the guards – Hughes and Tribelnig – had a string of racist "jokes" on their phone. Hughes's phone had 65 texts containing what the coroner Karon Monaghan QC said contained "very racially offensive material".
The UK-based Guardian newspaper has done quite a lot of work on immigration issues including UK laws and how they affect those seeking the protection of the United Kingdom. A story headlined "Jimmy Mubenga's unlawful killing was a death waiting to happen" gives an insight into the deportation industry.
According to reports emerging today after the verdict of the inquest, three G4S guards – Colin Kaler, Terence Hughes and Stuart Tribelnig – said the 46-year-old needed to be restrained after he became violent on board the plane. Other passengers on the British Airways flight soon heard the father of five cry for help, saying he was unable to breathe. One of the guards allegedly dismissed Mr Mubenga's pleas, saying 'yes, you can'. The Angolan subsequently died in hospital from cardio-respiratory collapse, which causes the heart to stop beating. A G4S spokeswoman said: 'We believe that at all times we acted appropriately and in full compliance with the terms of our contract with UKBA and it should be noted that the Crown Prosecution Service found no basis on which to bring criminal charges against G4S in this case. 'It would not be appropriate for us to comment on behalf of our former employees who were separately represented throughout these proceedings.'
---
Thursday July 4, 2013

- As world leaders ponder, hesitate not wanting to get it wrong in condemning another military coup in Egypt, an interim leader Adly Mahmud Mansour is sworn in promising to uphold democratic principles in an all-inclusive administration. His administration is expected to prepare the country for real democracy that caters for and unites all shades of Egyptian opinion including the Muslim Brotherhood.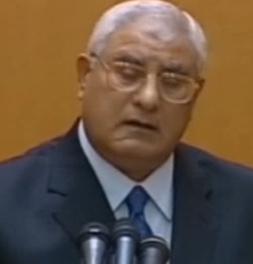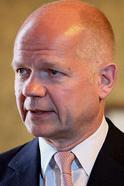 The top judge of Egypt's Constitutional Court, Adly Mahmud Mansour is now the de facto President of Egypt after yesterday's dramatic ouster of President Mohammed Morsi in what is being seen as a popular move by protesters who had been asking for the resignation of Morsi, barely a year in office. The BBC reports that the new man at the helm, a non-military man would be an interim leader charged with the responsibility of bringing all Egyptians together in an all-inclusive administration and then getting ready for elections that would see all shades of Egyptian political colours involved in getting a truly democratic government in place. "Mr Mansour said fresh elections were "the only way" forward, but gave no indication of when they would be held. Mr Morsi, Egypt's first freely elected leader, is under house arrest after what he says was a military coup. The army said he had "failed to meet the demands of the people". The upheaval comes after days of mass rallies against Mr Morsi and the Islamist Muslim Brotherhood movement he comes from. Protesters accused them of pursuing an Islamist agenda and of failing to tackle Egypt's economic problems.
Al-Jazeera on its online front page has garnered the reactions from a number of countries including the United States - "US President Barack Obama released a statement saying he was deeply concerned by the decision by Egyptian military to depose Morsi, and called for a swift return to civilian government. "No transition to democracy comes without difficulty, but in the end it must stay true to the will of the people. An honest, capable and representative government is what ordinary Egyptians seek and what they deserve," Obama said. However, the US also stopped short of calling the military intervention a coup.
and in the United Kingdom - "The UK urged for calm in Egypt, but stopped short of calling the military intervention a coup. "The situation is clearly dangerous and we call on all sides to show restraint and avoid violence," said Foreign Secretary William Hague. "The United Kingdom does not support military intervention as a way to resolve disputes in a democratic system." The UK called on all parties to move forward and "show the leadership and vision needed to restore and renew Egypt's democratic transition".
The African Union noted on its website - "The Chairperson of the Commission of the African Union (AU), Dr. Nkosazana Dlamini Zuma, is closely monitoring the developments in Egypt. She is particularly concerned about the tension prevailing in the country and the risks that this situation poses to stability and security in Egypt as well as to the consolidation of its democratic process. The Chairperson of the Commission, recalling the AU principled position on unconstitutional changes of government, underlines the need for all Egyptian stakeholders to work towards a resolution of the current crisis through dialogue, in order to find an appropriate response to the popular aspirations within the framework of legality and Egyptian institutions.
---