Thursday August 21, 2014

- The "crimes" of being a journalist is violently thrust into our faces again as US journalist is beheaded by masked murderer believed to have a "British" accent. US reveals that attempts to rescue hostages held by the extremely violent and cruel band of killers failed.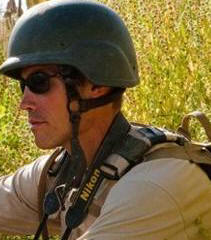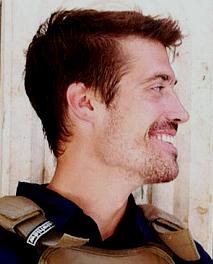 The world's TV screens and other media outlets, social media especially have been full of the disgusting and gut-wrenching picture - the beheading of US journalist James Foley whose only crime, it would seem, was to be around recording events around him and reporting on them - as a true journalist.
He was a non-combatant, unarmed and his only "weapons" were the instruments of a journalist, of his trade, wanting to show the world the true face of the war that he had gone to report on so that viewers can make their own decisions based on what they could have seen in James Foley's reports as well as other outlets. This is the basis of true journalism but not so for his killers.
James was targeted because he was seen as a soft touch, a hostage that could be killed like any farm animal when it suited his captors and what is so cruel about it all is that his killers, including the beast who allowed himself to be on video, even though masked, was there to tell the world that more such executions would follow if the United States military continued the military operation, mainly air strikes, in Iraq against "Islamic State" forces.
The video of the execution of Mark Foley went viral on social media for a while before a decision was taken that it would serve no purpose for the common, save to give the oxygen of publicity to the murderer, and decided to take it off. It was shocking and mind-boggling coming at a time when many had thought that such horrific acts of brutality against journalists were a thing of the past.
It got leaders in Washington and London to take a closer look at the video and in the end, experts confirmed that the video was authentic and that journalist James Foley was no more, murdered in a video that was carefully produced and edited by his killers to send a message that their threats should be taken seriously, never mind the fact that their victim was a non-combatant and carrying all the paraphernalia of a journalist on the frontline, doing his job, as any other journalist would do.
International broadcaster the BBC has this -
"A grim-looking Mr Obama said IS militants had "no place in the 21st Century". "No just god would stand for what they did yesterday or what they do every single day," he added. He said the future would be won by those such as James Foley, who "built rather than destroyed". In the IS video, titled A Message to America, a man identified as James Foley is dressed in an orange jumpsuit, kneeling in desert-like terrain beside an armed man dressed in black.
He gives a message to his family and links his imminent death to the US government's bombing campaign of IS targets in Iraq. UK Prime Minister David Cameron has condemned the killing as "deeply shocking" but said it was "not a time for a knee-jerk reaction".
UN Secretary-General Ban Ki-moon called it "an abominable crime that underscores the campaign of terror". Earlier, French President Francois Hollande told Le Monde: "I think we are in the most serious international situation since 2001" - the year of the 11 September attacks in the US.
The UK Prime Minister David Cameron had to cut short his holiday for a special meeting on what to do in the aftermath of the video showing the deliberate and horrific beheading of a non-combatant and journalist by a coward, a nasty coward who had his victim bound and helpless. The British Prime Minister was particularly appalled that the voice of the murderer had what it called "a British accent". Even before this, he had warned that the UK should not sit idly by as ISIS, the "Islamic State" organisation went on a killing rampage in Iraq and parts of Syria. No doubt at the back of his mind was the daylight murder of UK soldier Lee Rigby in London.
The BBC's Mark Doyle knows the risks involved in trying to tell the world the stories of a conflict -
"The murder of James Foley by Islamist militants after his kidnap in Syria in 2012 has focused attention on the dangers of reporting from the country. It has been the most dangerous place in the world for journalists for more than two years, according to the Committee to Protect Journalists (CPJ), a New York-based press freedom lobby group. At least 69 journalists have been killed as a direct result of covering the Syrian conflict since it began in 2011, the CPJ says; most were killed in crossfire or as a result of explosions, but at least six were confirmed to have been deliberately murdered.
The murders show that it is not just the widespread violence in Syria that is so dangerous for broadcasters and reporters; it is also the nature of the conflict itself, with its shifting alliances and ideologies. Indeed, Syria is a very dramatic example of the way that war, and conflict journalism, have changed over the years in many parts of the world."
In the wake of the murder of journalist James Foley US officials have now revealed that a rescue attempt was made to free hostages held by ISIS, but that when the assigned forces landed in an area where they believed the hostages, including James Foley were held, they drew a blank - they were not there. In the process, the US force had to engage ISIS forces before they were extracted with one member of the insertion force reportedly receiving injury. The US-based international broadcaster CNN noted -
"U.S. special operations units were sent into Syria this summer to rescue American journalist James Foley and other hostages held by Islamic militants, a U.S. official told CNN. Several dozen of the most elite U.S. commandos from units like Delta Force and Navy SEAL Team flew in aboard helicopters but couldn't find the hostages, including Foley, whose grisly execution was captured on video and released this week by ISIS, the terror group that refers to itself as the Islamic State. "Unfortunately, the mission was not successful because the hostages were not present at the targeted location," Pentagon spokesman Rear Adm. John Kirby said on Wednesday. Several ISIS operatives were killed in the special operation earlier this summer that tried to rescue Foley and others, the U.S. official said. No U.S. personnel were killed, but one was slightly wounded. Fighters jets and surveillance aircraft provided overhead protection to the troops."
US President Obama had this as part of his message on the White House website -
"Today, the entire world is appalled by the brutal murder of Jim Foley by the terrorist group, ISIL. Jim was a journalist, a son, a brother, and a friend. He reported from difficult and dangerous places, bearing witness to the lives of people a world away. He was taken hostage nearly two years ago in Syria, and he was courageously reporting at the time on the conflict there. Jim was taken from us in an act of violence that shocks the conscience of the entire world. He was 40 years old -- one of five siblings, the son of a mom and dad who worked tirelessly for his release. Let's be clear about ISIL. They have rampaged across cities and villages -- killing innocent, unarmed civilians in cowardly acts of violence. They abduct women and children, and subject them to torture and rape and slavery. They have murdered Muslims -- both Sunni and Shia -- by the thousands.
They target Christians and religious minorities, driving them from their homes, murdering them when they can for no other reason than they practice a different religion. They declared their ambition to commit genocide against an ancient people. So ISIL speaks for no religion. Their victims are overwhelmingly Muslim, and no faith teaches people to massacre innocents.
No just God would stand for what they did yesterday, and for what they do every single day. ISIL has no ideology of any value to human beings. Their ideology is bankrupt. They may claim out of expediency that they are at war with the United States or the West, but the fact is they terrorize their neighbors and offer them nothing but an endless slavery to their empty vision, and the collapse of any definition of civilized behavior."
This brutal murder takes us back to our troubles in our very own Sierra Leone where rampaging AFRC and RUF forces singly or combined wreaked havoc on the unarmed and unprotected civilian population using murder, torture, rape, amputations, slavery and arson as their calling card as they terrorised all those who stood in their way.
Journalists were also targeted as was so vividly depicted when both forces overthrew the democratically-elected Tejan Kabbah government in May 1997. We witnessed journalists using their newspapers and other outlets to give the oxygen of publicity that the AFRC/RUF beasts of no nation craved for - splashing looted cash, cars, fuel and other items on journalists that had become a part of their campaign for international recognition.
To add salt to the wounds of an afflicted people, the government of the rat, the smoke and mirrors occupant of State House, without blinking an eyelid freed RUF British-accented spokesman Omrie Golley who had been busy defending "the leader" Foday Sankoh and his band of RUF rapists and murderers and was awaiting the completion of his trial in Freetown.
The then-Attorney-General Serry Kamal ordered his release from prison and all charges dropped, claiming that it was all a politically-motivated trial. Serry Kamal and his boss claimed that Sierra Leone had no business having political prisoners and that their "new APC" would not persecute people because of their political colour.
The falsehood of this statement is all there now for Sierra Leoneans and friends of Sierra Leone to see.
Next we had the self-same Omrie Golley appointed by the rat, the vicious gronpig to represent us as our country's ambassador to South Korea, never mind the fact that reports had alleged that he was wooing South Korean investors in business deals that have so far remained hidden from public view. And to crown the peppeh in the eyes of our people, Omrie Golley is reported by the rat's media outlets that he had received money from the South Korean government for the nation's fight against the deadly Ebola disease!!!!!
Our thoughts and prayers are with the parents and relations of James Foley and other journalists that are in the grip of the vicious murderers of ISIS and other similarly-minded beasts. We pray for the soul of James Foley.
We pray that the Good Lord will grant him the peace only He can give.
AMEN