Sunday August 10, 2014

- As the sensitisation campaign intensifies with the key districts of Kenema and Kailahun in lockdown, we pay tribute to all those who gave and continue to make selfless contributions in the battle against the deadly Ebola. We look at the work of the United Methodist Church in Sierra Leone as well as the broader community...and we ask - what is being done to contain the disease in the massively overpopulated slum called Freetown?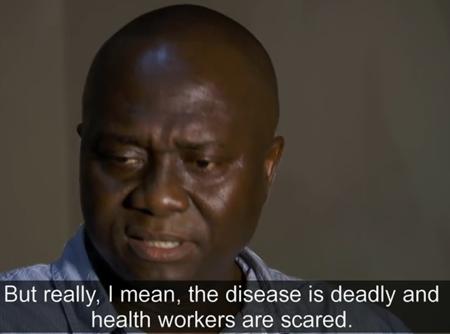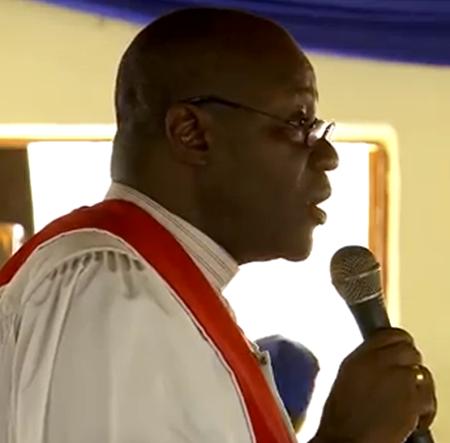 We have so far, quite rightly we believe, paid tribute to those healthcare workers - doctors, nurses, porters, cleaners etc who, despite knowing now about the threats to their lives in the battle against the ogre called Ebola, continue to give of their best to those afflicted as well as to the community. Many news outlets have reported on the number of these brave health delivery officials who have died but what has remained lacking, is to try and put a face to the statistics as well as others who died battling similar deadly infections.
Take the case of one Dr Aniru Conteh - "In 1979, Dr. Aniru Conteh, a Sierra Leonean physician, joined the CDC team. Dr. Conteh dedicated his life to treating patients with Lassa Fever and became known as the world's leading specialist on the disease.
Once war broke out in the early 90s, the CDC shut down its activities in Sierra Leone and moved its research to neighboring Guinea. Despite insecurity and lack of resources, Dr. Conteh and the rest of the Sierra Leonean Lassa Fever Program staff continued their work, moving their operations to Kenema Government Hospital. Through ten years of war, thousands of patients including United Nations peacekeepers and rebel fighters were treated at KGH. The Lassa Isolation Ward remained open despite instability and it is perhaps the notoriety of the killer disease that ensured its safety.
In March 2004, Dr. Conteh sustained a needlestick injury while treating a patient and became infected with the Lassa virus. Tragically, he died 18 days later from the disease he had dedicated his life to eradicate."
Now here's another story that is as sad as it is intriguing.
It is the story of two women Mballu Fonnie and Veronica Koroma who have been involved in providing much-needed care for Ebola patients. Both have had experience working with people contracting Lassa fever and both had contracted Lassa fever, but as the Good Lord would have it, both survived and continued their work, the very vital work of providing the much-needed support for Lassa fever patients.
The older of the two women, Mballu Fonnie specialized in the delivery of babies whose mothers are Lassa fever positive. And so for them it was but natural, given their dedication and experience that when Ebola reared its ugly head, they were there to help a people who knew nothing about Ebola fever and the ravage it can inflict on families, communities, villages and towns.
In an article on the website of the United Methodist Church, one reporter paints this picture -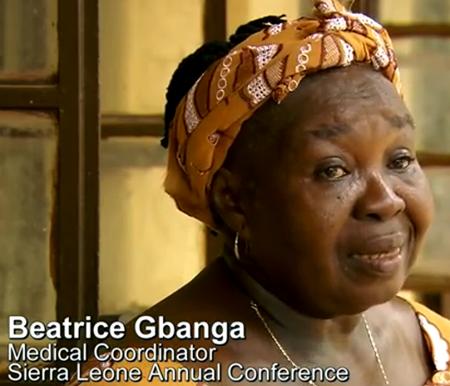 "Mbalu Fonnie and Veronica Karoma, sweat beading on their faces, squinted into the hot afternoon sun on June 8 and talked about the panic they were feeling as nurses treating the first confirmed cases of Ebola in Sierra Leone at Kenema Government Hospital. Both Fonnie and Koroma had moved past their panic and were determined to save lives, agreeing that they were called to be at the bedsides of those suffering.
"As we work, we talk Ebola; as we go to our homes, we talk Ebola; as we go into the market, we talk Ebola, but some even educated people don't want to face facts," Koroma told United Methodist News Service at the time.
Fonnie had been the head nurse at the small rural hospital for more than 25 years. Standing in her crisp white uniform that day, she presented herself as a solid barrier between the patients under her care and the world. She spoke of the hospital's first Ebola patient, a pregnant woman. "She lost her baby but she is much, much improved. She wants to move about, restricting her is our main problem at the moment," Fonnie said, putting into practical terms what nurses do.
As she talked, colleagues behind her dressed in rubber boots, masks and medical scrubs were spraying the area with a bleach solution and scrubbing down doorways. Both Fonnie and Koroma recalled surviving Lassa fever—another deadly viral hemorrhagic fever. "We are Lassa survivors, me and my boss," Koroma said, smiling and looking over at Fonnie. "We know what it means to be infected with viral hemorrhagic fever. Our fight really is to get a lot of survivors. They will help us tell the story and sensitize the rest of the community."
Soon after that June interview, both women also became Ebola patients.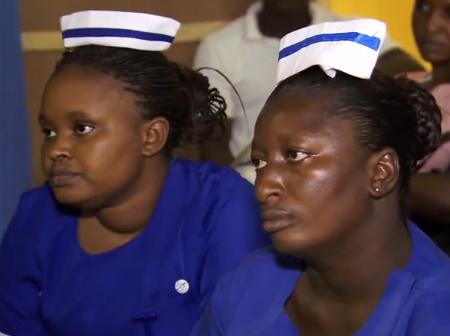 Fonnie died. Karoma is surviving.
Since the outbreak which started in late May, about 16 nurses at the Kenema hospital have died, including all of the nurses at the Ebola epicenter. The title of the article - "Nurses, doctors save lives but lose their own" (We have taken the liberty of correcting nurse Veronica Koroma's name, not Karoma as in the article)
On the website of the United Methodist Church Committee on Relief, UMCOR, we found this -
...the work of others involved in the fight against Ebola - "Beatrice Gbanga, a Global Ministries missionary and health board coordinator in Sierra Leone, used a recent bed net distribution to get the word out about Ebola prevention. She stresses the importance of using protective equipment. "Nurses have died of Ebola," she said. "I am a nurse. I can see the risk. We must be prepared."
The health and safety of doctors and nurses is one of UMCOR's priorities. Thousands of face masks, gloves, and other protective equipment is on its way to West Africa right now. UMCOR is also sending saline, disposable needles and syringes because the main treatment for Ebola patients in IV fluids.
Bishop John K. Yambasu of Sierra Leone sees the church's role as not only a healthcare provider, but a loudspeaker. "As religious leaders," he writes, "our followers listen to us more than they do politicians, especially on matters relating to faith and health."
An inter-religious task force on Ebola, which he chairs, has called for three days of prayer and fasting, August 6-8. "Our goal is to… work with the government and other nongovernmental organizations to give hope to those communities and persons who are going through pain, fear and denial," writes Bishop Yambasu. "Ebola is real. In spite of the threat it poses to life, all is not lost. There is hope for intervention if people seek early medical help."
To say that health workers are without fear of Ebola would be the understatement of the century given the fact that a large percentage of them on the frontline have died in the battle against the scourge.
Indeed the deaths of Dr Khan, all the lead nurses at the Kenema Government hospital as well as the devastating toll on those affected paint a grim picture, could well send a message - do so at your peril.
A June 9 article from UMCOR states - "Ebola has been reported in Bo district, and health and government officials are scrambling to quarantine villages and get patients into medical facilities. On the frontline is United Methodist Mercy Hospital, which is close to the outbreak. The first reported case, at the end of May, was in neighboring Guinea. Sierra Leone has had 24 confirmed Ebola cases in three chiefdoms since that outbreak, Dr. Amara Jambai, director of disease prevention and control in the country, told United Methodist News Service."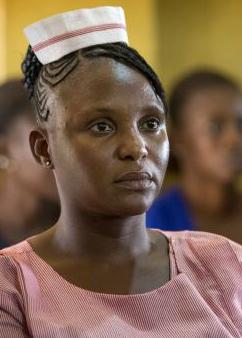 That was then but now we know differently with the Government of the rat's decision to declare a state of emergency as well as quarantining the two districts at the epicentre of the outbreak - Kailahun and Kenema.
Even as these two districts are targeted, we have asked pertinent questions relating to the deployment of the security forces for fear that they behave rabidly as they did during our troubles when they acted and actually believed they were an occupation force from another planet.
The mere presence of a road block to enforce these measures hearkens back to those dark days when these road blacks became major bribery sites as well as places where those not liked by them were subjected to any form of mental and physical torture as well as human rights abuses. We would not be surprised to hear of searches made on persons and their belongings who had been allowed through to Kenema and Kailahun.
Many theories have been put forward as to how Sierra Leone got invaded by the killer Ebola disease.
The New York Times thinks the source could be found in a 2-year old boy who succumbed to and died of Ebola and that those who came into contact with him, not knowing the nature of the affliction unknowingly spread the disease.
Dr Amara Jambai the director of disease prevention and control for Sierra Leone's Ministry of Health talks of one story that he heard - of how a female herbalist residing in an area that straddles the three countries of Guinea, Liberia and Sierra Leone was offering help to those reportedly suffering from an attack of Ebola.
Having come in contact, close contact with the victims, she, the herbalist was reported to have contracted the disease and died. Of those who handled her body for burial - eleven of the 14 people identified contracted the disease. All eleven died.
It is the hope that now that a sensitisation programme is in place, such costly mistakes would be a thing of the past.
(All pictures are from UMC web pages and video clips)