Thursday September 25, 2014

- Special UN meeting on Ebola hears passionate appeals from the UN, the WHO and US President Barack Obama to help the countries most hit - Sierra Leone, Liberia and Guinea. Uganda President says West African countries reacted too slowly to the outbreak.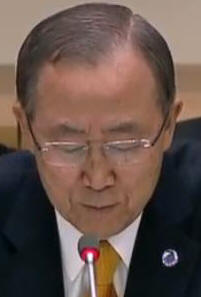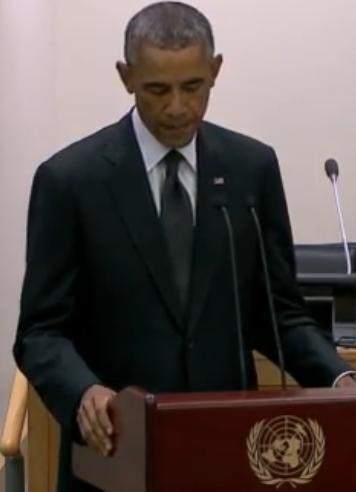 A special session of the United Nations, attended by some twenty four leaders or their representatives heard passionate pleas of help for West African countries hit by the Ebola scourge from UN Secretary General Ban Ki-moon, the World Health Organisation top gun Margaret Chan and US President Barack Obama.
In what sounded like a desperate plea to those who can help, the UN's chief scribe said - "The Presidents of Guinea, Liberia and Sierra Leone have asked for our help. The United Nations has outlined the critical resources that are needed. Dozens of countries and organizations, too many to mention by name, are making life-saving contributions, and I thank all of them for their generous support. But even these are falling significantly short of the twenty-fold surge that is required. There is overwhelming international political momentum for the United Nations to play a leading role in coordinating the response. We will play this role and meet this challenge.
UN staff are eager to help. Within 24 hours of a call for staff to deploy, we received 4,000 applications. Some staff are preparing to depart over the weekend. Working with Governments, communities and the full spectrum of international partners, we are focusing on stopping the outbreak, treating the infected, providing essential services, preserving stability and preventing outbreaks in non-affected countries.
Today it is time for the international community to step up -- and help Guinea, Liberia and Sierra Leone continue on the path of development and stability. This crisis has highlighted the need to strengthen early identification systems and early action. We should consider whether the world needs a standby corps of medical professionals, backed by the expertise of WHO and the logistical capacity of the United Nations. Just as our troops in blue helmets help keep people safe, a corps in white coats could help keep people healthy. Now is the time for a robust and united effort to stop the outbreak. The world can and must stop Ebola -- now."
US President Barack Obama did not mince his word when he told his audience that the fight against the Ebola scourge should not be seen as a US-only effort and asked all countries who can, to chip in and help stop what could become a threat to global security -
"As we gather here today, the people of Liberia and Sierra Leone and Guinea are in crisis. As Secretary-General Ban and Dr. Chan have already indicated, the Ebola virus is spreading at alarming speed. Thousands of men, women and children have died. Thousands more are infected. If unchecked, this epidemic could kill hundreds of thousands of people in the coming months. Hundreds of thousands. Ebola is a horrific disease. It's wiping out entire families. It has turned simple acts of love and comfort and kindness -- like holding a sick friend's hand, or embracing a dying child -- into potentially fatal acts.
If ever there were a public health emergency deserving an urgent, strong and coordinated international response, this is it. But this is also more than a health crisis. This is a growing threat to regional and global security.
In Liberia, in Guinea, in Sierra Leone, public health systems have collapsed. Economic growth is slowing dramatically. If this epidemic is not stopped, this disease could cause a humanitarian catastrophe across the region. And in an era where regional crises can quickly become global threats, stopping Ebola is in the interest of all of us.
The courageous men and women fighting on the front lines of this disease have told us what they need. They need more beds, they need more supplies, they need more health workers, and they need all of this as fast as possible. Right now, patients are being left to die in the streets because there's nowhere to put them and there's nobody to help them. One health worker in Sierra Leone compared fighting this outbreak to "fighting a forest fire with spray bottles." But with our help, they can put out the blaze. We are not moving fast enough. We are not doing enough. Right now, everybody has the best of intentions, but people are not putting in the kinds of resources that are necessary to put a stop to this epidemic.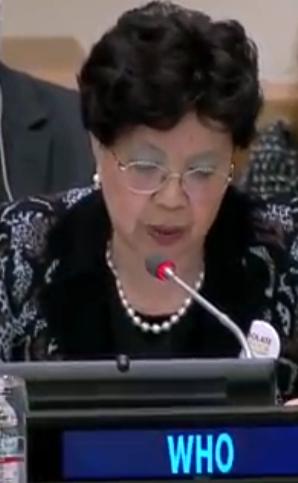 There is still a significant gap between where we are and where we need to be. International organizations have to move faster, and cut through red tape and mobilize partners on the ground as only they can. More nations need to contribute critical assets and capabilities -- whether it is air transport, or medical evacuation, or health care workers, or equipment, or treatment. More foundations can tap into the networks of support that they have, to raise funds and awareness.
More businesses, especially those who already have a presence in the region, can quickly provide their own expertise and resources, from access to critical supply chains to telecommunications. And if we move fast, even if imperfectly, then that could mean the difference between 10,000, 20,000, 30,000 deaths versus hundreds of thousands or even a million deaths. So this is not one where there should be a lot of wrangling and people waiting to see who else is doing what.
Everybody has got to move fast in order for us to make a difference. And if we do, we'll save hundreds of thousands of lives. Stopping Ebola is a priority for the United States. I've said that this is as important a national security priority for my team as anything else that's out there. We'll do our part. We will continue to lead, but this has to be a priority for everybody else.
We cannot do this alone. We don't have the capacity to do all of this by ourselves. We don't have enough health workers by ourselves. We can build the infrastructure and the architecture to get help in, but we're going to need others to contribute. To my fellow leaders from Liberia, Sierra Leone and Guinea, to the people of West Africa, to the heroic health workers who are on the ground as we speak, in some cases, putting themselves at risk -- I want you to know that you are not alone. We're working urgently to get you the help you need. And we will not stop, we will not relent until we halt this epidemic once and for all."
One of Liberia's news outlet, the Daily Observer in an editorial on the new UN body specifically set up to fight the Ebola threat, UNMEER has the headline - UNMEER - A Welcome New UN Agency to Fight Ebola - But Why So Late? and goes on -
"We believe that UNMEER's establishment is great news, even though it may seem to have come almost too late. That was the same assessment which American journalist Laurie Garrett gave the United States' intervention, through which it is sending in 3000 troops to fight the deadly Ebola virus in the three most affected West African countries—Guinea, Liberia and Sierra Leone.
Yes, we do not know why it took the world so long to respond to this catastrophe. People are now comparing this belated response to President George W. Bush and the United States government's slow response to Hurricane Katrina that devastated New Orleans and killed hundreds. Some blamed it on racism, since New Orleans is predominantly black. The WHO Director General, Dr. Margaret Chan, has herself called the Ebola outbreak ". . . not just a public health crisis.
This is a social crisis, a humanitarian crisis, an economic crisis and a threat to national security well beyond the outbreak zones." Dr. Chan is not new to this massive health crisis. While serving as Director of Health in her native Hong Kong in 1997, she confronted the first human outbreak of H5N1 avian influenza. She also successfully defeated the spate of severe acute respiratory syndrome (SARS) in Hong Kong in 2003; and launched new services to prevent disease and promote better health.
Yet it has taken the WHO, under her leadership, a full six months to respond in a serious way to this Ebola crisis. The world, in particular the people of West Africa, need to know what happened. We are not here criticizing Dr. Chan or her organization, WHO. However, people need to know why it took them so long to give a speedy and decisive response to this terrible health crisis that beginning day one last March caused people to start dropping dead first in Guinea, then in Liberia and Sierra Leone. Now, by the time everyone is rushing in to "help," a staggering 2500 lives have been lost."
It was this question that was on the mind of one Al Jazeera reporter when he spoke with Ugandan President Yoweri Museveni whose country was among the first in the 70's to be attacked for the first time by the scourge. He made it clear that though the area hit was not as populated as the areas hit in West Africa, he was of the considered opinion that the affected West African countries' response was too slow and that this gave rise to the rapid spread. He told Al Jazeera that it should not have been a UN problem had it been handled properly and that it was the responsibility of the countries concerned to have used all available national resources in the first instance to help stop the spread before it got out of hand as it has done in Guinea, Liberia and Sierra Leone.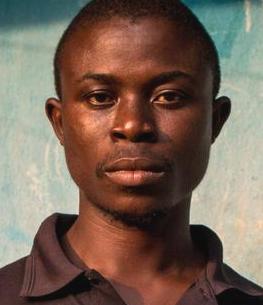 It is worth noting the growing and glowing tributes now being paid to health workers who put their lives on the line - something we had called for when asking the authorities in Sierra Leone to ensure that proper provisions are made for those affected more so the relations of the departed.
We would have expected the proper mechanism to be set up like bulk payments and pensions for survivors. We were expecting such proposals to have come from the government pension group NASSIT not half-baked announcements and media self-gratification of them handing over pensioners money to "fight Ebola".
We have also noted the problems facing survivors of the disease, not only in terms of stigmatisation, but victims left out of pocket as possessions are incinerated/ravaged by medical teams ever so eager to wipe out traces of the disease - never mind what this would means to those affected. Al Jazeera has a special piece on them titled - In Pictures: Sierra Leone's Ebola survivors.
It is also gratifying to note the various efforts now in place by various countries to help Liberia, Sierra Leone and Guinea but we fear that though welcomed, such piecemeal efforts if not properly coordinated would present another problem as we often see in NGO's operating in various African countries - doing the same job but with different mandates as we welcome the German army's intervention in Liberia too.
Meanwhile in Sierra Leone the rat is reported by the BBC to have declared a new and wider quarantine area of the country that would affect about a million people - this coming after a three-day nation-wide lockdown that ended on Sunday Sunday 21st September.
"The northern districts of Port Loko and Bombali, and Moyamba in the south, will in effect be sealed off immediately. Nearly 600 people have died of the virus in Sierra Leone where two eastern districts are already blockaded. The World Bank has added $170m (£104m) to the $230m it had already pledged to fight Ebola. Bank chief Jim Yong Kim said "a response unlike anything the world has ever seen" was needed "to prevent the potential meltdown of the continent".
Two eastern districts have been isolated since the beginning of August and the extension of the indefinite quarantine means more than a third of Sierra Leone's 6.1 million population now finds itself unable to move freely. During Sierra Leone's three-day curfew, more than a million households were surveyed and 130 new cases discovered, the authorities say.
President Koroma said the move had been a success but had exposed "areas of greater challenges", which was why other areas were being quarantined. Only people delivering essential services can enter and circulate within areas under quarantine. The BBC's Umaru Fofana in Freetown says Port Loko is where two of the country's major iron ore mining companies operate and the restrictions are likely to hamper business.
The Guardian news outlet notes - "Sierra Leone's government has quarantined more than a million people in an attempt to bring an end to the spread of the deadly Ebola virus. Areas in the east of the country on the border of Guinea have been under quarantine for months but travel is now restricted in three more areas where an estimated 1.5 million people live.
Nearly a third of the country's population across 14 districts is now under curfew. In addition to announcing the new isolation districts, the government is establishing corridors for travel between non-quarantined districts, with a curfew on all travel outside the hours of 9am and 5pm. Koroma said the isolation would "definitely pose great difficulties for our people in these districts".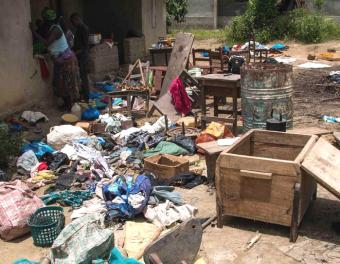 The British charity Street Child said there had been no warning given of the latest lockdown and said it was concerned that this would lead to mass starvation. "We were not prepare for the quarantine overnight. The areas being quarantined are really poor communities, most people live on 50p a day," its country director, Kelfa Kargbo, told the Guardian. "We need more help from the World Food Programme, but more than that we need a distribution network to be built to make sure the food gets in and gets in regularly to the starving people. I am expecting starvation to show in three or four weeks unless this is addressed." The northern districts of Port Loko and Bombali have been closed off indefinitely along with the southern district of Moyamba, effectively sealing in around 1.2 million people."
We continue to state that on the cuff and knee-jerk responses create more problems for people in quarantined areas. If these areas must be so restricted and movements limited, then there should be in place the outlets that make lives of people less miserable. Outlets for dealing with non-Ebola cases must be in place.
Isolation units have to be in place as would be treatment and testing centres that provide immediate results. We have received reports that test results take some three days to four days if not more because the quarantined areas do not have in place the necessary testing facilities for Ebola. Things done in halves are never done right. Remember the lines - "...All that you do, do with your might. Things done by halves are never done right".
We wish everyone all success in this fight against this terrifying, vicious and malicious menace facing our people and hope that the right leadership would be in place to direct affairs for we fear that after we succeed in getting this behind us, the resultant reservoir of the virus would be there and hence a call for our health delivery system to be up and running and properly administered.