Friday October 10, 2014

- Pakistani child education campaigner, the one and only Malala Yousafzai is now a Nobel Peace Prize winner and at age 17 is the youngest ever to win the coveted prize. We say congratulations to her and joint winner Kailash Satyarthi. The world still has something to be joyful about. Congratulations.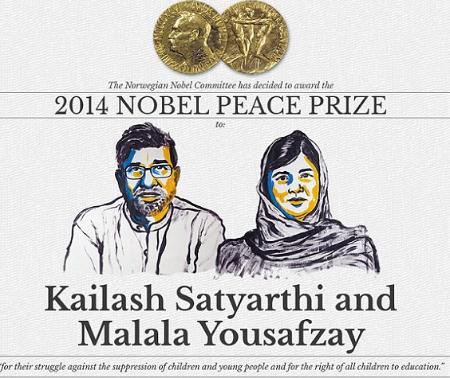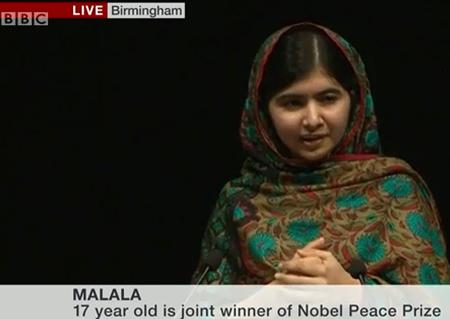 It is with a deep sense of appreciation that we have to join the rest of the world in celebrating the work of child education activists Malala Yousafzai of Pakistan and Kailash Satyarthi an Indian child rights campaigner who were both recognised for the struggle against the suppression of children and young people.
International news outlet the BBC had this -
"The teenager was shot in the head by Taliban gunmen in October 2012 for campaigning for girls' education. She now lives in Birmingham in the UK. The Nobel committee praised the pair's "struggle against the suppression of children and young people".
Mr Satyarthi has maintained the tradition of Mahatma Gandhi and headed various forms of peaceful protests, "focusing on the grave exploitation of children for financial gain," the committee said at the Nobel Institute in Oslo. The 60-year-old founded Bachpan Bachao Andolan, or the Save the Childhood Movement, which campaigns for child rights and an end to human trafficking. Reacting to the news, Mr Satyarthi told the BBC: "It's a great honour for all the Indians, it's an honour for all those children who have been still living in slavery despite of all the advancement in technology, market and economy. "And I dedicate this award to all those children in the world."
At a later press conference broadcast LIVE by the BBC Malala revealed that even though one of her teachers had congratulated her on her great achievement, she did not skip classes for the rest of the day to celebrate, but continued her school lessons in Physics, Chemistry, English and other subjects - an indication of her determination not to allow any distraction to come her way in achieving her educational goals.
She dedicated her award to the many children all over the world who are denied their rights to basic education, freedom and all that is needed for the growth of a healthy child while paying tribute to her parents who refused "to clip her wings" and gave her the freedom to go to school - something the Taliban in Pakistan frowned upon and for which she was shot in the head.
Malala revealed at the press conference that she had received a call from her co-winner of the Nobel Peace Prize Kailash Satyarthi and both pledged to work together in raising awareness about the plight of millions of children still suffering repressions of one form or another. They were both unhappy about recent reports of violence involving India and Pakistan in which a number of people, mainly civilians had died stressing that both countries should live in peace as neighbours sharing many common human traits.
Both pledged to invite leaders of both countries to attend a formal ceremony at which they would be receiving their medals.
A press statement from the Nobel Committee gave reasons why these two had been winners -
"The Norwegian Nobel Committee has decided that the Nobel Peace Prize for 2014 is to be awarded to Kailash Satyarthi and Malala Yousafzay for their struggle against the suppression of children and young people and for the right of all children to education.
Children must go to school and not be financially exploited. In the poor countries of the world, 60% of the present population is under 25 years of age. It is a prerequisite for peaceful global development that the rights of children and young people be respected. In conflict-ridden areas in particular, the violation of children leads to the continuation of violence from generation to generation. Showing great personal courage, Kailash Satyarthi, maintaining Gandhi's tradition, has headed various forms of protests and demonstrations, all peaceful, focusing on the grave exploitation of children for financial gain.
He has also contributed to the development of important international conventions on children's rights.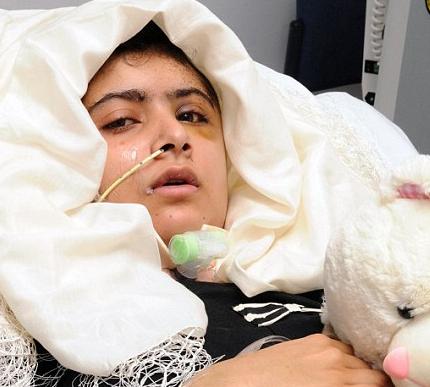 Despite her youth, Malala Yousafzay has already fought for several years for the right of girls to education, and has shown by example that children and young people, too, can contribute to improving their own situations. This she has done under the most dangerous circumstances. Through her heroic struggle she has become a leading spokesperson for girls' rights to education.
The Nobel Committee regards it as an important point for a Hindu and a Muslim, an Indian and a Pakistani, to join in a common struggle for education and against extremism. Many other individuals and institutions in the international community have also contributed. It has been calculated that there are 168 million child labourers around the world today.
In 2000 the figure was 78 million higher. The world has come closer to the goal of eliminating child labour. The struggle against suppression and for the rights of children and adolescents contributes to the realization of the "fraternity between nations" that Alfred Nobel mentions in his will as one of the criteria for the Nobel Peace Prize.
Today's announcement by the Nobel Committee in Sweden not only brought the spotlight on Malala but on Kailash whose work in freeing India's children from slave labour is a testimony to his concern for the plight of the underprivileged in the world's largest democracy as we found on this profile blog.
"Kailash Satyarthi Kailash Satyarthi is internationally acclaimed child rights' activist and pioneer in the fight against child slavery. He is renowned for inclusion of child labour to global social and political agenda. In 1980, he gave up a lucrative career as an electrical engineer to initiate a movement to end child labour and exploitation.
Kailash Satyarthi is the architect one of the largest civil society movements Global March Against Child Labor (which is a worldwide coalition of NGOs, Teachers' Union and Trade Unions). He also founded the Global Campaign for Education that works to end the global education crisis. In his country India, Kailash Satyarthi founded the grassroots movement Bachpan Bachao Andolan (Save Childhood Movement) and has steered the rescue of over 80,000 children from the scourge of bondage, trafficking and exploitative labour for over three decades. He successfully spearheaded a countrywide movement to make education a Constitutional Provision which subsequently paved way for the Right of Children to Free and Compulsory Education Act, 2009 in India."
Meanwhile in Pakistan news of the announcement in Malala's home in the Swat area sparked off scenes of jubilation as reported in this ABC news report -
"The news set off celebrations on the streets of Mingora, the main town in Pakistan's volatile Swat valley, with residents greeting each other and distributing sweets. At the town's Khushal Public School, which is owned by Malala's father, students danced in celebration Friday, jumping up and down. When she was a student there, Malala was shot in the head by a Taliban gunman two years ago for insisting that girls as well as boys have the right to an education.
Surviving several operations with the help of British medical care, she continued both her activism and her studies. Appropriately, Malala was at school in the central English city of Birmingham at the time of the Nobel announcement and was expected to make a statement later Friday.
Satyarthi, 60, has been at the forefront of a global movement to end child slavery and exploitative child labor since 1980, when he gave up his career as an electrical engineer. The grassroots activist has led the rescue of tens of thousands of child slaves and developed a successful model for their education and rehabilitation. He has also survived several attempts on his life. "Child slavery is a crime against humanity. Humanity itself is at stake here. A lot of work still remains but I will see the end of child labor in my lifetime," Satyarthi told The Associated Press at his office in New Delhi.
"If any child is a child slave in any part of the world, it is a blot on humanity. It is a disgrace."
Malala's father, Ziauddin Yousufzai, said the decision will further the rights of girls. "(The Nobel will) boost the courage of Malala and enhance her capability to work for the cause of girls' education," he told the AP. Pakistani Interior Minister Chaudhry Nisar Ali Khan congratulated the nation, Malala and her family, noting she was the first minor to win a Nobel Prize.
"(This) has given pride to the whole of Pakistan," he said.
Congratulatory messages have been flowing in from all corners of the world. US President Barack Obama stated this on the White House website -

"On behalf of Michelle, myself and all Americans, I want to congratulate Malala Yousafzai and Kailash Satyarthi on winning the Nobel Peace Prize. Today's announcement is a victory for all who strive to uphold the dignity of every human being. In recognizing Malala and Kailash, the Nobel Committee reminds us of the urgency of their work to protect the rights and freedoms of all our young people and to ensure they have the chance to fulfill their God-given potential, regardless of their background, or gender, or station in life.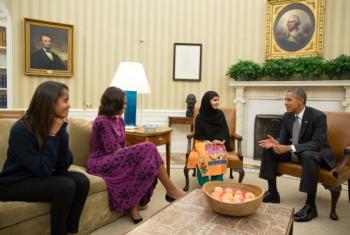 At just 17 years old, Malala Yousafzai has inspired people around the world with her passion and determination to make sure girls everywhere can get an education. When the Taliban tried to silence her, Malala answered their brutality with strength and resolve. Michelle and I were proud to welcome this remarkable young woman to the Oval Office last year. We were awe-struck by her courage and filled with hope knowing this is only the beginning of her extraordinary efforts to make the world a better place.

Kailash Satyarthi has dedicated his life to ending child labor and wiping the stain of slavery from our world. The true measure of Kailash's efforts is not a single prize he has been awarded, but the tens of thousands of people who today live with freedom and dignity thanks to his efforts. Through his advocacy, Kailash reminds us of our shared responsibility to end the exploitation of others, especially the most vulnerable among us.

Malala and Kailash have faced down threats and intimidation, risking their own lives to save others and build a better world for future generations. They come from different countries, religious backgrounds, and generations—a Muslim and a Hindu, a Pakistani and an Indian – but they share an unyielding commitment to justice and an unshakeable belief in the basic dignity of every girl and boy. Even as we celebrate their achievements, we must recommit ourselves to the world that they seek – one in which our daughters have the right and opportunity to get an education; and in which all children are treated equally.
Today, we honor Malala and Kailash's achievements, and reaffirm that the United States will always stand with those who defend our universal human rights.
Former UK Prime Minister Gordon Brown who knows both winners has this on his website -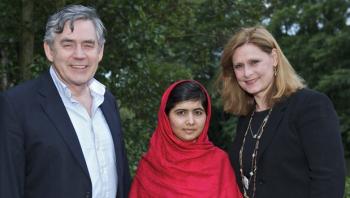 "Malala Yousafzai and Kailash Satyarthi are the world's greatest children's champions. They are two of my best friends and two of the greatest global campaigners who deserve the Nobel Peace Prize for their courage, determination and for their vision that no child should ever be left behind and that every child should have the best of chances.

"Kailash's life-long work in India fighting child labour – which I have had the privilege to see at first hand complements Malala's work standing up for girls' rights to education from Pakistan to the rest of the world.

"Both are members of the emergency coalition for global education that Graca Machel, Nelson Mandela's widow and I have the honour of chairing and their deep-seated commitment to children's rights will ensure that no injustice can last forever."
And Director-General of UNESCO Irina Bokova had this -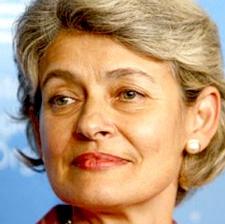 "Kailash Satyarthi is a close friend of UNESCO and has been at the forefront of the global movement to end child slavery and exploitative child labour since the 1980s. As founding president of the Global March Against Child Labour and one of the leaders of the Global Campaign for Education, he has worked with passion and courage to fulfill every child's right to education. After being shot and struggling for her life for speaking out about the right to attend school, Malala became known worldwide for her courage and commitment. She stands with us in the struggle for universal education, especially for girls.

We are proud that these two champions have been honoured with the Prize. At a time when the world is confronting multiple challenges, from the Ebola crisis to "cultural cleansing" in Iraq and Syria, this award stands as a beacon of hope for the future. Their message – that education is vital for peace and development – will now ring out louder than ever. "We are proud that these two champions have been honoured with the Prize. This prize is a clear recognition of the fact that peace depends on quality education, and particularly on the education of girls. This basic right is under attack nowadays, schools are targeted and in many parts of the world students are prevented from going to school. We must fight with all we have to protect schools and make them safe havens of development and tolerance.

"This prize is particularly significant for UNESCO. It is the Nobel Prize for education for peace. It is the Nobel of girls' right to education. It is the Nobel Prize of all the women and men around the world who are dedicated to ensuring that the basic human right to quality education becomes a reality. Women nowadays represent two-thirds of the world's illiterate population. Thirty-one millions young girls still do not have access to primary education and and an equal number of them are deprived of secondary education. Educating these girls is a world priority, a lever of social change and development, the condition for lasting peace. The Nobel Prize comes as an encouragement for us to redouble our efforts to ensure that no child is deprived of education,".