Monday November 17, 2014

- Hold the front page...we are again sad, very sad to report that the treacherous and vicious Ebola scourge has claimed the life of another Sierra Leonean doctor. The sixth. Dr Martin Salia is no more. He succumbed to the ravages of the virus early this morning in the United States. Lord please have mercy upon us.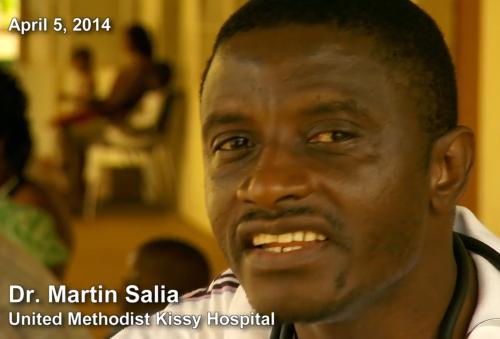 The news we had dreaded all along has now hit us - yet again. Despite the prayers of many, the Good Lord has thought it fit to call a hardworking true Sierra Leonean doctor to eternal rest - free from the ravages of the deadly virus that had been attacking all his body's defence mechanisms causing him untold and unimaginable pain and suffering.
We got this from the website of the United Methodist Church news outlet -
"

Dr. Martin Salia died Nov. 17 from advanced Ebola, said doctors at the Nebraska Medical Center. Salia was airlifted there from Sierra Leone on Nov. 15. "It is with extremely heavy heart that we share this news," said Dr. Phil Smith, medical director of the Biocontainment Unit at Nebraska Medical Center. "Dr. Salia was extremely critical when he arrived here, and unfortunately, despite our best efforts, we weren't able to save him."
Doctors said Salia was suffering from kidney and respiratory failure when he arrived and was placed on dialysis, a ventilator and multiple medications including a dose of ZMapp.
"We're very grateful for the efforts of the team led by Dr. Smith," said Isatu Salia, his wife, in a statement released by the medical center. "In the short time we spent here, it was apparent how caring and compassionate everyone was. We are so appreciative of the opportunity for my husband to be treated here and believe he was in the best place possible."
Dr. Martin Salia died just after 4 a.m. on Nov. 17.
The doctor was transported to the U.S. facility on Nov. 15 after being diagnosed with Ebola. At the time of his illness, he was chief medical officer and surgeon at United Methodist Kissy Hospital in Freetown, Sierra Leone, and also was serving other health facilities.
The private plane carrying Salia arrived at Eppley Airfield at 2:44 p.m. local time (3:44 p.m. ET) Saturday. As snow fell, people dressed in bright yellow protective clothing loaded Salia onto an isolation pad and then into the back of an ambulance. The Omaha hospital said the medical crew transporting Salia, 44, determined that his condition was stable enough for him to make the lengthy flight to Omaha.
However, the hospital also reported that information from the team caring for him in Sierra Leone indicated that he is critically ill and "possibly sicker than the first patients successfully treated in the United States" for Ebola.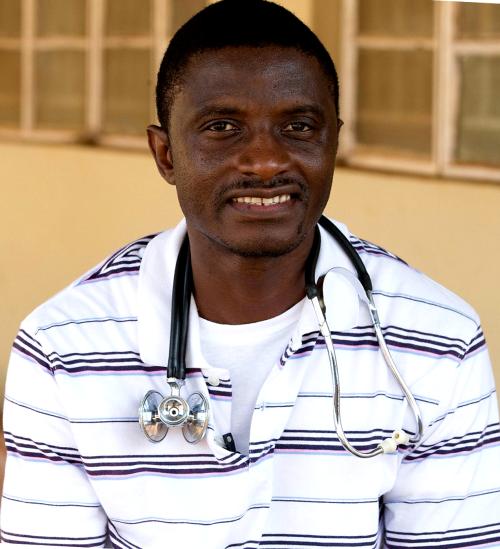 This page carried excerpts from an interview conducted with the good doctor on why, he, though a US resident chose to be in Sierra Leone -
"I knew it wasn't going to be rosy, but why did I decide to choose this job? I firmly believe God wanted me to do it. And I knew deep within myself. There was just something inside of me that the people of this part of Freetown needed help. I see it as God's own desired framework for me. I took this job not because I want to, but I firmly believe that it was a calling and that God wanted me to.
That's why I strongly believe that God that has brought me here will fix whatever comes to my door, (my) way. And I'm pretty sure, I'm confident that I just need to lean on him, trust him, for whatever comes in, because he sent me here. And that's my passion."
One US-based news outlet, USA Today has this account -
"A surgeon who had tested negative for the deadly Ebola virus in Sierra Leone before testing positive days later died Monday in Omaha, Nebraska Medical Center announced.
Martin Salia, whose family lives in Maryland, was flown to Omaha from Sierra Leone on Saturday and rushed to the medical center's specialized biocontainment unit.
"We are extremely sorry to announce that the third patient we've cared for with the Ebola virus, Dr. Martin Salia, has passed away as a result of the advanced symptoms of the disease," the hospital said on its Facebook page.
"It is with an extremely heavy heart that we share this news," Phil Smith, medical director of the Biocontainment Unit at the hospital said in the statement. "Dr. Salia was extremely critical when he arrived here, and unfortunately, despite our best efforts, we weren't able to save him."
Tim Shenk, spokesman for Doctors Without Borders, said "false negative" test results are possible in the first days of symptoms when the viral load is relatively low. Salia was retested Nov. 10; that test was positive.
Smith said Salia was suffering from advanced symptoms of Ebola when he arrived in Nebraska, including kidney and respiratory failure. He was placed on dialysis, required a ventilator and received plasma, Smith said. Multiple medications included experimental ZMapp therapy, a new drug that has shown promise in fighting the disease."
On the Facebook page of the hospital we found this -
"Dr. Salia arrived at the Biocontainment Unit on day 13 of his disease. (Other Ebola patients got here on days 6 and 8.) Dr. Salia was unresponsive, had no kidney function and was working hard to breathe. He went into cardiac arrest Monday morning and passed away around 4:00 a.m.
"We gave it everything we could," said Dr. Johnson, Division Chief of Critical Care Anesthesiology. "Our staff worked around the clock to save him. He was given a dose of convalescent plasma and ZMapp therapy.
We also tried dialysis and respiratory support." Our staff is deeply saddened and grieving this loss, but they are still dedicated to treating Ebola patients. "I want to thank our local heroes who took care of a global hero," said Morris.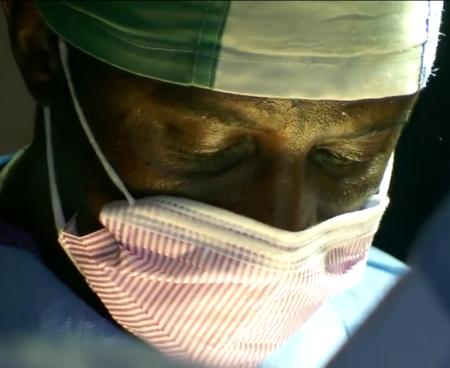 "Their work was second to none."
The death of Dr Martin Salia once more throws into the spotlight questions about how the first outward signs of infection are treated.
Are we getting it right? Are we too slow in reacting quite forgetting that once the Ebola beast of a virus gets into the human system, it gets to work immediately, multiplying and attacking all the body's defensive system?
The unit that took up Dr Salia's case says that he arrived on day 13 of his disease and that other Ebola patients they treated got to the hospital on days 6 and 8 meaning that the time gap - those vital days, hours, minutes and seconds are quite important - that they should not be lost. And this again buttresses our fears that we are leaving things too late for any intervention to work for the good of the afflicted. This is where delay costs lives.
We have now lost six doctors and in this latest case of Dr Martin Salia we hear of initial tests that proved negative only for a further test some days later to prove that he was indeed positive for the virus.
Is there something wrong with the testing lab or should there be a more robust testing sequence that should deliver results within hours - even then too long a period for such a vicious and malevolent beast.
Even as we mourn the passing away of another fallen hero in the fight against the Ebola scourge, let us not lose hope. Let us learn from our mistakes to save more lives as indeed latest figures from Sierra Leone show that we do not only have more unreported deaths, but that those in charge of the Sierra Leone sector in the fight against the virus have still not got their priorities right.
We offer our condolences to the bereaved immediate family - partner Isatu, the children and the wider family members. May the Good Lord in His mercy, grant Dr Martin Salia the peace that only He can give.
AMEN
Rest In Peace