Wednesday December 9, 2015

- Today is World Anti Corruption Day and this year's theme is - "Break the Corruption Chain" - a call for all to put a stop to this crime against the people. In Sierra Leone, not a whimper from the burrow of the rat and his accomplices of nation wreckers and unrepentant thieves.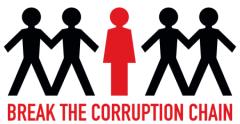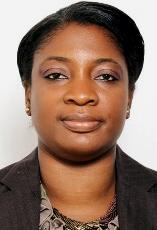 Today December 9, 2015 is being observed globally as a day to renew and invigorate the ongoing battle against what has been described as a corrosive and criminal activity that undermines the rule of law and the integrity of the state. In his message on this day, UN Secretary-General Ban Ki-moon reminds the world - "Corruption has disastrous impacts on development when funds that should be devoted to schools, health clinics and other vital public services are instead diverted into the hands of criminals or dishonest officials.
Corruption exacerbates violence and insecurity. It can lead to dissatisfaction with public institutions, disillusion with government in general, and spirals of anger and unrest. The United Nations Convention against Corruption provides a comprehensive platform for governments, non-governmental organizations, civil society, and individual citizens. Through prevention, criminalization, international cooperation and assets recovery, the Convention advances global progress toward ending corruption.
On International Anti-Corruption Day, I call for united efforts to deliver a clear message around the world that firmly rejects corruption and embraces instead the principles of transparency, accountability and good governance. This will benefit communities and countries, helping to usher in a better future for all."
The UN notes the need for countries to tackle this criminal boa that is squeezing the life out of the poor.
"Corruption is a complex social, political and economic phenomenon that affects all countries. Corruption undermines democratic institutions, slows economic development and contributes to governmental instability. Corruption attacks the foundation of democratic institutions by distorting electoral processes, perverting the rule of law and creating bureaucratic quagmires whose only reason for existing is the soliciting of bribes.
Economic development is stunted because foreign direct investment is discouraged and small businesses within the country often find it impossible to overcome the "start-up costs" required because of corruption."
The US Secretary of State, John Kerry, has this as a part of his message -
"I call on partner countries, civil society groups, and business leaders to strengthen our common efforts to combat corruption. Simply put, bad governance is one of the biggest challenges globally. The cost of corruption is beyond debate: it fuels instability and robs innocent people of their due and their possibilities. And yet, as deeply rooted as corruption can be in some countries, it is not inevitable.
hat is why the United States is committed to using every tool at our disposal to fight corruption. We have joined with 177 other nations to adopt the UN Convention against Corruption. Together with the G-20, we adopted new principles that will raise standards for integrity and transparency in public procurement and in opening government data to the public. And for the first time, the UN Sustainable Development Goals now include access to justice, accountable institutions, and the reduction of illicit financial flows as essential building blocks for lasting progress.
In 2016, the international community can -- and must -- build on this positive momentum. But the truth is that governments cannot fight the scourge of corruption alone. Civil society and the private sector are indispensable to this effort. The United States remains steadfast in its commitment to advance democratic accountability and transparency, and to root out corruption wherever it lies."

In Sierra Leone where a new wave of unbridled corruption has left the people wondering whether the heartless officials creating and exploring all channels of illicit financial gains are really Sierra Leoneans who pledged to develop the country, a rather hapless, dysfunctional and not fit for purpose Anti Corruption Commission has proudly announced that it would be observing this year's theme with a number of activities. Among them - a lecture by Transparency International Co-founder, Peter Conze, who according to the AWOKO newspaper in Freetown has said that one of the key elements of fighting corruption is a free press that is allowed to disseminate information.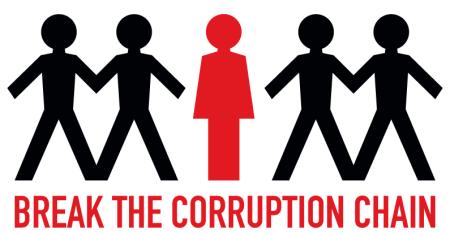 Peter Conze is a renowned lawyer and highly acclaimed Transparency International senior advisor who has worked in Africa and is highly familiar with issues regarding corruption in Sub-Saharan Africa. He said the major issues challenging the fight against corruption is non-implementation of government policies and conventions in convicting criminal acts and most importantly, is the lack of political will in the drive against corruption.
He described corruption as a dangerous impediment that hinders the growth of any developing nations by infringing on the effective and efficient performance of governance, noting that with corruption a country is liable to experience economic downfall.
Commissioner of ACC, Joseph Fitzgerald Kamara said the ACC is working on new strategies to identify bench marks to help tackle corruption within government MDAs as the commission has set up Integrity Management Committees in all Government MDAs to monitor procurement procedures. He said their main focus now is procurement as it has come to the notice of the commission that corruption takes place in procurement processes within the government.
"We want to protect government resources by closing the gaps that loops during procurement procedures that allow people to be involved in bribery for signing government contracts. Impunity is another major challenge we faced at the commission in the fight against corruption in Sierra Leone".
Commissioner Kamara further explained that the issue of impunity is that when the commission investigates and charges perpetrators to court, he noted the delay of the proceedings and the granting of bail to these perpetrators has posed a major challenge to the commission; he however maintained that they will continue to strive and will not relent in their pursuit of corruption."
Head of the ACC, the one and only JFK, Joseph Fitzgerald Kamara knows only too well that people perceive him as being a part and parcel of the grand corruption that exists in the country and his admission that procurement rules are being flouted with impunity and yet ready to absolve the new don of the corruption mafia, the Aviation and Transport minister Logus Koroma of any wrongdoing in the procurement of the so-called 100-buses deal shows that he has really lost his way - floundering from one jetty of corruption to another as he desperately tries to protect his benefactors.
JFK has truly demonstrated to the world and the people of Sierra Leone that despite his past as a legal expert, we would dare say luminary, he is now a mere shadow of his former self and should have done the right thing ages ago. This is a man who knows all about the provisions of the 2008 Anti Corruption law and yet allows minions like the ruling party head, one RASS-in Bundu to browbeat him into inaction over the stolen funds that should have been used in the fight against the Ebola Virus Disease.
The ACC under JFK appears to have lost all credibility as it is now clear to all those who had put their trust in him as a fighter against corruption that he too benefits from the ravages of corruption and would be reluctant to take the king rat at State House to task. He only has to take a look at the number of cases that were thrown out of court, his boasts that he would appeal and nothing happens after that - end of matter.
There's an interesting article in the Concord Times with the headline - CORRUPTION STILL THRIVES: THE ACC NEEDS SOUL SEARCHING and goes on -
"Corruption is still the way of life in our society despite some desperate public relations gimmick by both officials at the Anti-Corruption Corruption (ACC) and within government. The current government is always quick to beat its chest that it had given the commission more powers to prosecute alleged corrupt persons, unlike pre-2007 when the Attorney General's Office had to give the fiat.
That is the fact. But what they do not tell the public is that there numerous cases of corruption which are not being prosecuted or have stalled in court, for inexplicable reasons. The fiftieth anniversary celebration is one among the lot.
And, if the dictum of the former Kenyan anti-corruption czar, Professor PLO Lumumba, is anything to go by, merely having tough laws to fight corruption will not defeat the menace or take the corrupt out of business. What is needed is the political will and a strong determination by the ACC to go after the corrupt, especially the 'tigers'.
From how things are shaping up, it pretty looks like business as usual, almost seven years since Sierra Leoneans thought a new dawn had come. During the Ebola outbreak, even as hundreds were dying each day, the shylocks and hyenas were busy plundering our resources, donations from good citizens and well-wishers. They could not help but to chop 'blood money'. The disease itself may not have spread across the country if corruption was not our stock in trade.
Hospitals lacked basic supplies like gloves, ambulances and protective equipment, despite annual allocations to the health ministry quantified in billions of Leones, and assurances by the political class that the situation was under control. The auditor general published a real time audit report covering three months (May to July 2014) of the outbreak and the findings were damning.
The magnitude of graft unearthed was palpably breathtaking!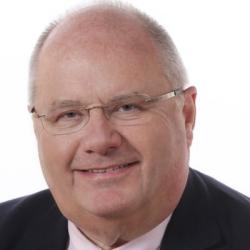 Unsurprisingly, nothing has come out of the scandal, despite the outcry by the public. Business as usual: Parliament, whose primary constitutional duty is to enact laws, took it upon themselves to investigate the scandal, browbeating the anti-corruption boss, after a brief standoff between the latter and the majority party leader. A report was subsequently release, but your guess will be good as mine whether the recommendations have been complied with. To date, nothing has been heard of the Ebolagate scandal, not from the anti-corruption commission, which promised to 'robustly investigate' any allegations pointing at corruption in the management of Ebola funds. The question they should answer is whether cherry picking who to indict – going after more low level targets instead of the big boys – is the best way out of instilling fear in the minds of the corrupt."
Eric Pickles is the Conservative MP for Brentwood & Ongar and is the UK Government Anti-Corruption Champion - "Today is International Anti-Corruption Day, a day to highlight the cancer that blights our global prosperity and security. It is also an opportunity for me to underline my determination to drive forward the work that we are doing at home and overseas to address it.
The recent Commonwealth Heads of Government Meeting in Malta saw growing determination to take collective action against corruption from the Caribbean to the Pacific, from Southern to West Africa. Countries large and small from all over the world, both developed and developing, all united in their resolve to confront the scourge of corruption. As the Prime Minister has said, corruption threatens global growth, development, security, and the environment.
We can't afford not to take action: the stakes are so high and the consequences so plain to see. Billions of pounds stolen and laundered in jurisdictions that trade on secrecy, dysfunctional governments, stagnant economies, increased mortality rates, under-resourced schools, major sports events that are rigged, and armies unable to cope with insurgents.

We know that oppressive and corrupt governments can drive people into the hands of extremists.
Tackling corruption is one the most under-stated but important elements of a rules-based world order. It goes hand-in-hand with good governance, strong institutions and the rule of law.
Our strategies for dealing with these complex issues need to be focused and aligned, something the recent Strategic Defence and Security Review makes clear.
Transparency is crucial to both deterring and detecting corruption - by driving out the grey areas that make it easier to hide suspicious activity behind otherwise legitimate institutions. This is vital in tackling money laundering - but transparency can also help to clean up international sports organisations like Fifa, extractives industries, and electoral systems. Transparency doesn't work on its own however - individual citizens, businesses and local authorities need to use the data too.

We know that offshore companies can be used to hide corrupt funds through highly complex and opaque structures. So it is very important for the Overseas Territories and Crown Dependencies take steps to ensure the offshore companies they register cannot be used to hide the proceeds of corruption from law enforcement agencies.
This should not be seen as a competition issue - it is a simple question of good administration and preventing abuse. It may not be a perfect solution either, but we have to start somewhere if we are eventually to clean up the whole system.
In May 2016 the UK will host a major anti-corruption summit in London. Governments, international organisations, civil society and businesses have worked hard over the past twenty year to stop corruption, but it is still a huge problem.
We must press on together and build on the growing momentum - through concerted, international efforts and strong political leadership - to expose and confront corruption wherever it occurs."
We would urge the UK government and the international community to take a closer look at the ramifications of corruption in Sierra Leone where the three arms of governance - the Executive, Parliament and the Judiciary are perceived to be engaged in massive corruption on an industrial scale - a corruption empire that has seen a rogue, a knave and thief dumped on the people as the nation's so-called Vice President.
The silence from those outlets sucking deep from the proceeds of corruption is ear-shattering. Not a whimper from the many outlets praising the rat for a living.