Thursday June 16, 2016

- This is the 40th anniversary of the Soweto Uprising that gave us the Day of the African Child. This year's theme - "Conflict and Crisis in Africa: Protecting all Children's Rights."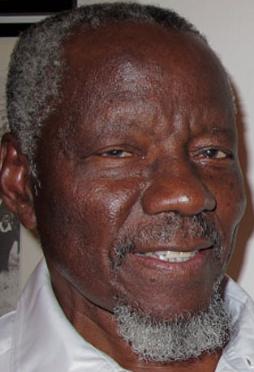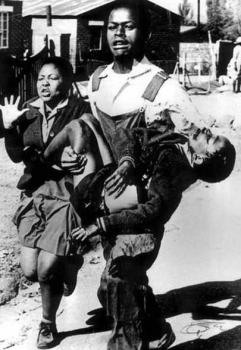 Today is the day the world remembers events in Soweto, South Africa forty years ago when school children decided to take head-on in a non-violent protest the draconian rule of the apartheid regime of the country.
Vatican radio reminds us on its pages - "The African continent today commemorates the Day of the African Child under the theme, "Conflict and Crisis in Africa:
Protecting all Children's Rights. "Through the African Committee of Experts on the Rights and Welfare of the Child (ACERWC), the African Union (AU) commissioned a continental study on the impact of armed conflict on children in Africa as part of efforts to elevate the child protection agenda in conflict situations.
As a result, the AU has chosen this year's theme as a means to promote the preservation of life and well-being of the African children.
In all conflicts, children are the most vulnerable segment of the civilian population and are negatively affected in various ways.
Commemorating the Day of the African Child focuses the spotlight on children's rights and reminds the continent's governments that this is an area that needs attention. The background to 16 June as the Day of the African Child lies in the 1976 Soweto Uprising and Massacre. On this day, a protest by students in South Africa against apartheid–inspired education resulted in the public shooting of unarmed young protesters by the apartheid police in South Africa.
This year the AU is encouraging African countries to ratify and domesticate international human rights instruments for the protection of children's rights and to establish national monitoring and reporting systems that will oversee the enforcement of state laws and military codes of justice. This is particularly the case concerning children who are victims of the Six Grave Violations.
Killing and maiming of children;
Recruitment or use of children as soldiers;
Sexual violence against children;
Attacks against schools or hospitals;
Denial of humanitarian access for children;
The abduction of children.
On a very important day like this when one would expect a statement of commitment from the rat at State House, there's nothing of such that talks about the uncaring AFRC MKII programmes for making life easy for children within the borders of Sierra Leone.
For the children of Sierra Leone, the majority of whom come from poor homes, it has always been a life of toil and turmoil now made worse by recent stories of children having to get up early in the morning to fetch water from suspicious sources making it almost impossible for them to keep rack of their studies.
No statement from the rat at State House and we are not surprised as children with connections to the state looters have it all. They are either enjoying the benefits of democratic institutions in other countries, or if in Sierra Leone do have water-carrying tanks/lorries at their beck and call.
Allow us to remind you again of the suffering of the Sierra Leone child especially girls who are victims of sexual exploitation by those who use ill-gotten wealth to buy them, parents and guardians into silence and submission.
One non-governmental organisation has this -"Over the years especially after the 11 years conflict in Sierra Leone, there has been a miss-position of children. We see a lot of our future leaders in the street begging. Some are used as stooges by their parents or relatives. These children spend their days begging in the streets instead of being in school. Most people blame this on the destitution left behind by the eleven years civil war. This has had a huge effect on the country as a whole. The number of children in the streets is on the increase and this has contributed immensely to the soaring crime rate involving children.
Most of them are used by criminals as acolytes. This is mainly because these children are left in the street to fend for themselves. They make little or no money for the day to up-keep them, hence they get involved in criminal acts such as pick- pocketing and anti-social behaviour such as joining riotous gambling clubs. When they grow older, they become depressed; join bad groups with a wanton urge to disrupt the peace and stability of the communities in which they find themselves. The number of gang violence is on the increase, which has led to the loss of lives of young people, as was the case in the Fourah Bay community in Freetown on 14th September 2013, where two young men belonging to so-called opposing cliques were butchered to death.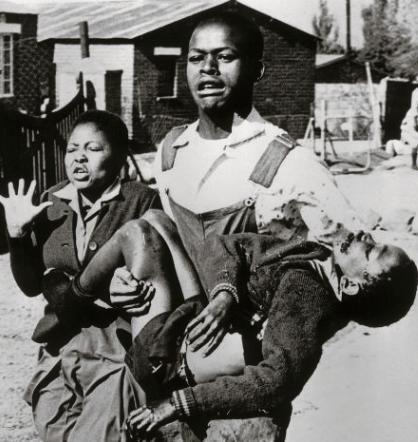 Some of these street children, especially girls, are exposed to sexual abuse. Men try to take advantage of them because of their present condition. As a result of this, cases of sexual penetration are on the increase as most of these street children are under-aged. These men use money to lure deprived children especially girls into having sexual intercourse with them. This exposes children to sexually transmitted infections and even teenage pregnancies, which is the reason you see 'child-mothers' with a child or two. These poor conditions of living are definitely not good for people we call our future leaders of this great nation.
It is clearly stated in the Child Rights Act 2007 that no one shall subject a child to exploitable labour.
The biggest questions are:
what is actually done to stop this?
Why can some people not act according to the dictates of the law?
Is there any effective means to stop this?
The Child Right Act as well as the United Nations Convention on the Rights of the Child states that whatever decision is taken that affects a child's life should be done in such a way that the interests of parents, the community or the state, does not override the best interest of the child.
This principle touches on every aspect of a child's life. Regardless of this, many adults often act towards children in ways that are harmful to the child. There are often many assumptions about what is in children's best interest that are implicit and explicit.
Based on this feedback the assessment of children's best interest must be clearly directed towards the realization of their rights and proper accountability for children's views.
CARL believes that there can be a turning point in the lives of Sierra Leone's children if certain steps are taken. Also in a bid to alleviate the appalling and harrowing conditions of children in the country
CARL recommends that stringent measures be put in place to track child abuse at all levels. This can be achieved by the government instituting effective and persistent monitoring mechanisms for tracking and reporting child abuse .This is in view of the fact that too many child abuse cases go unreported and as such, unpunished. Thus, the higher the level of impunity enjoyed by offenders, the more deplorable and intractable the problem becomes.
We have been asking all those involved to come out with a statement on the fate of a 6-year old girl who was reported to have got married to the rat at a ceremony at State House.
We have expressed our concern about the fate of that girl given rumours that she could well have met a terrible fate after the satanic ceremony at State House.
This was how it was reported by one of those feeding fat on droppings from the rat.
"At State House about midday, January 25, 2012, there was a unique ceremony laden with symbolism that captured the essence and joy of being 'Sierra Leone an', and would be highly promotional of one of the most globally marketable character of our Sierra Leonean-ness – our religious tolerance: over one hundred women clad in pure white long flowing dresses and white headscarves from the Brookfield Central Mosque and the Old Railway Line Mosque in Freetown went through a symbolic 'marriage' to a fervent Christian, H.E. Ernest Bai Koroma, President of the Republic of Sierra Leone.
A calabash and mat, tied with white cloth – traditional symbols of marriage within nearly all the indigenous tribes in Sierra Leone – and a six year old girl (the 'little bride'), also clad from head to toe in Islamic white clothes, were handed over to President Koroma by the APC Women's Congress Leader to 'seal' the 'marriage' between President Koroma, a serious Christian, and the Islamic women, who pleaded with President Koroma to worship in their mosque.
President Koroma promised to worship in their mosque in his speech accepting the 100 'brides'. The still dashingly handsome President at 58 years of age said with a smile: "Leh God put blessing pan di marrade" (Let God bless this marriage between me and the 100 women). There were chants of "Allahakbah" from the women!!"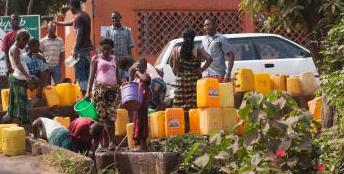 Two years ago as today was commemorated with celebrations and commitments from caring governments that all will be done to ease the pain of children, we published this -
Let's hear the story as found on these pages -
Soweto Student Uprising - On the morning of June 16, 1976, thousands of students from the African township of Soweto, outside Johannesburg, gathered at their schools to participate in a student-organized protest demonstration. Many of them carried signs that read, 'Down with Afrikaans' and 'Bantu Education – to Hell with it;' others sang freedom songs as the unarmed crowd of schoolchildren marched towards Orlando soccer stadium where a peaceful rally had been planned. The crowd swelled to more than 10,000 students.
En route to the stadium, approximately fifty policemen stopped the students and tried to turn them back. At first, the security forces tried unsuccessfully to disperse the students with tear gas and warning shots. Then policemen fired directly into the crowd of demonstrators.
Many students responded by running for shelter, while others retaliated by pelting the police with stones. That day, two students, Hastings Ndlovu and Hector Pieterson, died from police gunfire; hundreds more sustained injuries during the subsequent chaos that engulfed Soweto.
The shootings in Soweto sparked a massive uprising that soon spread to more than 100 urban and rural areas throughout South Africa. And as Africa and indeed the international community commemorates the Day of the African Child, let us all remember the school children in Nigeria still held by their abductors - Boko Haram with prayers that they are safe and well and that they would, very soon, be with their loved ones once more.
As we observe this day, let us remind ourselves of that iconic photo and the man who risked all during apartheid South Africa to tell the world in that picture of the horrors of the apartheid regime - a regime that uses lethal firepower against unarmed school children in uniform. Time magazine reminds us of the bravery of black South African photographer Sam Nzima in an article. "This Photo Galvanized the World Against Apartheid. Here's the Story Behind It"
For a child growing up in Soweto, South Africa, in 1976, apartheid was an abstract concept. White minority rule didn't mean much in a community that was exclusively black. Parents and neighbors complained of denigrating treatment at work and segregated facilities in the nearby city of Johannesburg, but except for the occasional police superintendent or social worker, many children never encountered white people, and rarely experienced the racial divisions of a repugnant social order that treated most of the country's residents like a lesser form of humanity. That all changed when the government decreed that instead of learning in English, as most black children were, they would be taught in Afrikaans.
To 15-year-old Antoinette Sithole, it was a bombshell. Not only was Afrikaans the language of their colonial oppressors—Afrikaans evolved from the Dutch spoken by South Africa's first European settlers—she was already having a hard time understanding much of her subject matter. "Obviously physical science on its own is very difficult," remembers Sithole, now 65. "The very same subject that you are struggling with in English, we are going to do them in Afrikaans? This doesn't make sense."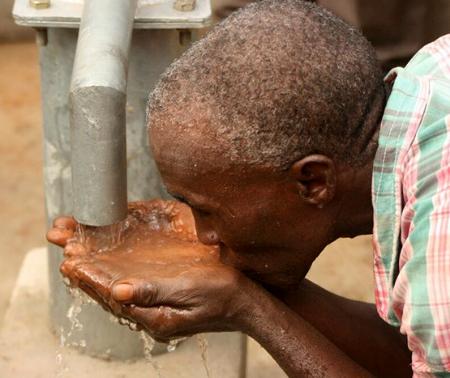 So Sithole and an estimated 20,000 other students from Soweto's high schools decided, in secret, to hold a protest.
For a young woman caught up in the heady excitement of drafting slogans, writing signboards and practicing revolutionary songs, it was an immense rush.
"We were a little bit scared, you know, but we felt free already. It was like, 'Now we are taking the streets of Soweto with a message.'"
The night before the protest, Sithole ironed her school uniform and packed her school bag with placards, while her younger brother, 13-year-old Hector Pieterson, looked on enviously.
Younger students were not supposed to be part of the protest.
June 16, 1976 dawned cold and cloudy. As Sithole made her way towards the pre-planned gathering point, she had no idea that the protest would not only change the course of South African history, but that it would also profoundly impact her own life, and that of three other people who are now indelibly linked to the uprising through a singular image that rocked the world.
Though the protest had been planned secretly, one of the organizers leaked details to the media in order to guarantee coverage. Sam Nzima, a 42-year-old photojournalist with The World newspaper, was sent out to cover it.
Nzima got his start in photography by taking portraits with a second-hand Brownie camera. When he made it to The World in 1968, there was nowhere else for a black photographer in apartheid-era South Africa to go—even the news was segregated. The World was written by blacks, for blacks. Its sister publication, The Star, was for whites. "Black photographers were not allowed to work for The Star," says Nzima. "We were only allowed to interview blacks, and we were not allowed to write about whites." It didn't even occur to Nzima to protest. "The thing about protesting, you go to jail," he remembers.
On that photo we have this -
"No one was prepared for the impact. The World had a relationship with international wire agencies, and by the next day, Nzima's photo was splashed across the front pages of newspapers from New York to Moscow. Suddenly the world could no longer ignore the horror of apartheid. Almost overnight, international opinion hardened against South Africa's apartheid regime.
The U.S. government condemned the shooting, and activists worldwide began lobbying for economic sanctions, which eventually brought the apartheid government to its knees. In South Africa the picture helped launch a civil uprising and emboldened the black liberation movement.
"We never thought that would be the turning point," says Sithole. "The protest was about Afrikaans in school. But it raised eyebrows for other countries that this is not right. How can kids be killed for claiming their rights?" Though the photo's publication would eventually bring about the end of apartheid, in 1994, for Nzima, Sithole and Makhubo the immediate aftermath was horrifying.
Nzima started getting harassed by the police. A few days after the photo's publication he got a call from a friend in the force. "Sam," said the friend, "Choose between your job and your life."
The police had been given new orders: "Wherever you find Sam taking pictures, shoot at him, kill him. Then you come and fill the forms here that it was a stray bullet."