Friday March 11, 2016

- Al Shaabab sympathiser and journalist is sentenced to death by a court in Somalia. Echoes of what happened in Sierra Leone during junta rule in 1997/98.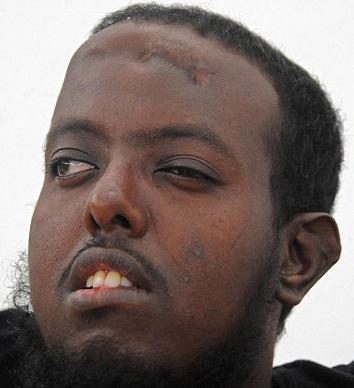 A man who has been described as a respected broadcaster and journalist in Somalia for many years has been sentenced to death by firing squad for his alleged role in supporting the terrorist organisation Al-Shaabab. Hassan Hanafi, it is alleged, used his connection with Al-Shaabab to finger colleague journalists - threatening them with death should they fail to fall in line with the edict of Al-Shaabab.
In a profile of Hassan Hanafi on the BBC website Abdinoor Aden had this -
"Hassan Hanafi was a respected reporter and broadcaster in Somalia for many years. Now, he has been sentenced to death by firing squad for colluding with Islamist militant group al-Shabab in the murder of five fellow journalists between 2007 and 2011.
Hanafi was born in the central Hiran region of Somalia in the early 1980s. When his family moved to Europe in the 1990s, he was the only one who stayed behind. From 2003, he became a household name to many radio listeners in Somalia after joining popular Quran FM station in the capital Mogadishu.
He left in 2006 to become an online reporter for a leading Somali website.

A few years later, signs of his affiliation to al-Shabab emerged as he became the major source of all breaking news or reaction from the militant group.
It would deny the loss of its members and claim victory through interviews with him on its propaganda station Radio Andalus.
He ran a secret bureau, monitoring news and threatening any reporter who spoke out against al-Shabab or portrayed the group in a bad light. He would summon the offending journalists to meet him at his car.
Some were killed on the spot while others wisely declined and went on to flee the country.
Nearly all the murders had a similar pattern. The victims were shot from close range in the streets or at a hotel. Others had explosive devices planted on their cars. Often when a journalist was killed, Hanafi would be among the first to arrive at the scene or to confirm the person's death.

In 2010, the killing of Sheikh Noor Mohamed, a senior journalist at Radio Mogadishu, caused widespread shock. Hanafi admitted that he planned it, saying Mohamed had been killed because he worked for the government.
In 2011, an al-Shabab court found Hanafi guilty of an unspecified crime, and ordered his limbs to be amputated. However, the sentence was never carried out because of the service he had provided to the militants over the years.
In 2014, he was arrested by police in neighbouring Kenya, where he had fled, and was then extradited to Somalia. The death of reporters in Somalia has significantly reduced since his arrest."
The Reuters news agency had this as part of its report on the sentencing of Hassan Hanafi -
"Hasan Ali, chairman of the Somali military court, told reporters that Hassan Hanafi had admitted to killing one reporter and had been found guilty of killing five others. "He will be put to death as soon as possible," Ali said.
Hanafi, 30, has said he joined al Shabaab in 2008 when he was working as a journalist for a local Somali broadcaster. He was arrested in neighboring Kenya last year and then returned to Somalia for trial. He had been promoted to commander in 2009. The following year, he was seriously injured in fighting.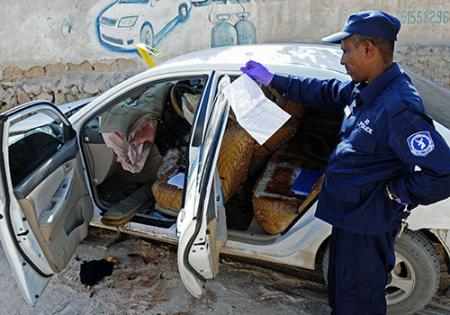 "Al Shabaab killed many journalists but personally I killed only one," Hanafi said after the sentence was announced. "But I am indifferent if you kill me. You will see if killings will stop even after my death."
The London-based Daily Mail noted -
"The 30-year-old showed no emotion as he was led away by soldiers. When the sentence was handed down, he said: 'Al-Shabab killed many journalists but personally I killed only one. The court heard Hanafi was either partly, or directly responsible, for the deaths of journalists Mahad Ahmed Climi, Ali Iimaan Sharmaake, Said Tahliil Ahmed, Muktaar Mohammmed Hiraabe and Sheekh Nuur Abkeey.
His trial attracted significant attention from local journalists, who hope the sentence will send a message to extremists who have made Somalia one of the most dangerous places for journalists to work.
More than 25 reporters have been murdered in the country since 2007, the Committee to Protect Journalists said."
The likes of Hassan Hanafi were also to be found in Sierra Leone during those terrible days of junta occupation led by one Johnny Paul Koroma.
Human rights abuses were the calling card of a junta that used murder, rape, abduction and massive looting sprees not only to make itself comfortable in power, but to cower any and all who dare oppose the rabid band of former soldiers and their allies, the even more murderous Revolutionary United Front, the RUF.
They had been invited to swell the ranks of the May 25 coup makers who feared that, they not having enough support among men in uniform, it would be inevitable that they would soon see them kicked out of power. This was even more aggravated with civilians and some sections of the armed forces and police refusing to work with the junta because of their lawless and murderous tactics.
There were journalists who did not only drink from the bloody cup of the murderous junta but kept their supply of fuel and looted vehicles by fingering journalists perceived to be against the junta. Fuel chits were supplied that ensured that the looted vehicles gifted to them were ready to be used in the service of the junta as one David Tam Baryoh witnessed when he was arrested.
The vehicle in which he was kept while on the way to the custody of the junta was followed by one Ibrahim Seaga Shaw of the Expo Times newspaper, one of a few regarded by all within and outside the country as a mouthpiece and supporter of the murderous junta.
The journalists rights organisation, IFEX, had this as part of its update on events in Sierra Leone during the reign of the beasts.
"On 8 October, freelancer Donald Davis was arrested and detained at Pademba road prison on charges of subversion. That same day, three armed men and a civilian of the Criminal Investigation Division (CID) came to the residence of "Punch" newspaper editor David Tambaryoh to arrest him for aggravated assault of Ibrahim Seaga Shaw, editor of the "Expo Times".
Tambaryoh was charged with subversion. The men claimed that the arrest was ordered by one Lieutenant Jalloh and the President's office, via a Mr. Njauja, head of the CID. Tambaryoh refused to leave his house until they presented an arrest warrant.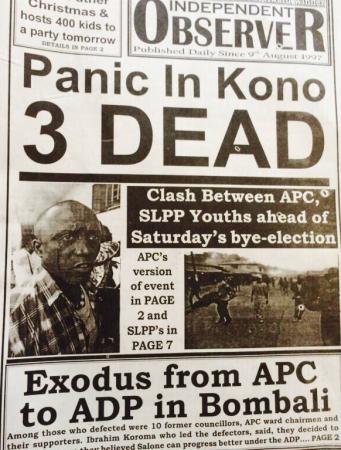 The soldiers left his house and returned in fifteen minutes without a warrant, a truck-load of soldiers and a taxi to escort Tambaryoh to the CID offices. Shaw, who has developed close ties with the military junta, followed the convoy.

At the CID, Tambaryoh was informed that Shaw filed the assault charges and that the subversive activity charges were a result of his alleged communication with ousted President Kabbah, Ambassador to the United Nations James Jonah, and Ambassador John Ernest Leigh in Washington to whom Tambaryoh was accused of forwarding sensitive information.
He denied all charges but was detained for 72 hours on 10 October.
This account from the pages of Amnesty International published in 1997 gives a vivid picture of life under junta rule with journalists close to the murderers and rapists living off the fat of the land as they fed the junta with any and all falsehood the junta operatives would love to hear about the activities of other journalists perceived to be against junta rule.
"As with other critics of the military coup and the AFRC, journalists soon became the targets for threats, ill-treatment, arrest and detention.
On 3 July 1997 the Sierra Leone Association of Journalists (SLAJ) issued a statement saying that it was committed to the restoration of democratic and constitutional rule and the speedy restoration of the elected government of Sierra Leone.
The same month SLAJ condemned the AFRC for its unprecedented harassment and intimidation of journalists. In September 1997 the AFRC announced that newspapers were required to obtain permission before publishing. It also ordered all newspapers to register officially within six days or cease publication, citing the Newspapers Act of 1980. It subsequently allowed those newspapers which had legally registered before 25 May 1997 to continue to publish until the end of the year.

During the week of 9 June 1997, some two weeks after the military coup, Ojukutu Macaulay, editor of The Quill newspaper and also the host of a live radio broadcast, "Good morning, Freetown", was reported to have gone into hiding after being confronted by a group of soldiers.
According to reports, a few hours earlier he had had a conversation with another journalist during which he apparently stated that he did not and would not support the military coup. As he returned home, a group of soldiers confronted him and threatened to kill him if he continued to denounce the military coup. (This gives you a picture of the situation under junta rule where conversations with junta-allied journalists were routinely reported to the beasts.)
Also in early June 1997 journalists working for For di People newspaper were threatened following articles critical of the AFRC.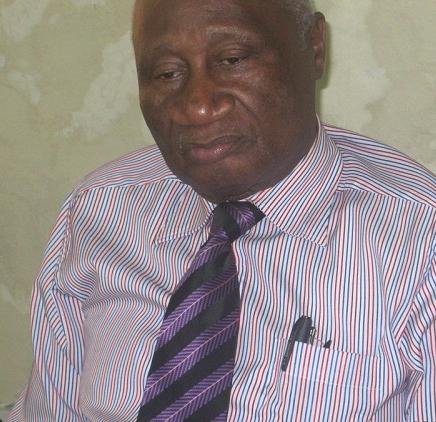 A correspondent for the British Broadcasting Corporation (BBC), Sylvester Rogers, based in Makeni, Northern Province, was also reported to have gone into hiding in June 1997 after soldiers sought to locate him after he filed reports critical of the AFRC.
Several months later, in early October 1997, he was reported to have been arrested and severely beaten and his passport seized.
Four members of staff of the newspaper Unity Now were arrested on 26 July 1997 by soldiers following an article critical of the AFRC.
According to reports, Dominic Lamine, deputy editor, Sahr Mbayoh, news editor, and two women employees were arrested on 26 July 1997. They were held at Cockerill military headquarters where they were denied all visits. The two women and Sahr Mbayoh were released on 30 July 1997 and Dominic Lamine three days later. The newspaper's editor, Frank Kposowa, also president of SLAJ, went into hiding for a brief period."
The junta journalists are still very active now that AFRC Mk II (read APC party) is in power as a political party. They are the brains behind the rat's propaganda machine and they lobby their masters and finger journalists that should be harassed by the government.
Why do you think that despite David Tam Baryoh's pro-government stance when AFRC Mk II emerged in 2007 and was the master mouthpiece for the 2012 campaign re-election bid was seen as the enemy?
The junta journalists have not forgiven him for opposing the murderous junta that seized power in 1997. They had never wanted him in their ruling camp never mind his love and support for Sam Sumana, the elected Vice President of Sierra Leone who was illegally removed by the shameless action of a compromised and up for sale Supreme Court.
Follow how AFRC Mark II (the administration of the rat) treats the Constitution and you would be taken back to the Johnny Paul days when that important document was suspended so that they could get their way on the path of lawlessness and the suppression of the rights of Sierra Leoneans. Being a civilian administration is only in name as all the checks and balances of the Executive that are vested in the Judiciary and Parliament have become compromised with Parliamentarians no longer representing the views of constituents whom they do not bother to consult on important issues.