Friday September 30. 2016 - The earthly remains of a great colleague were interred today in Freetown. Samuel John, Junior as he was fondly called heeded the Lord's call on 12th September 2016.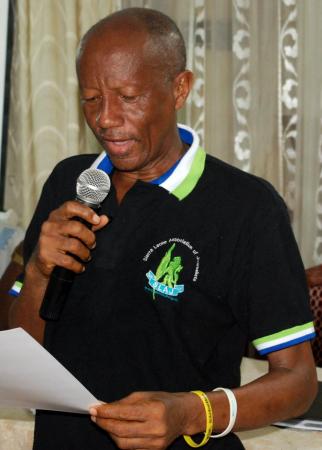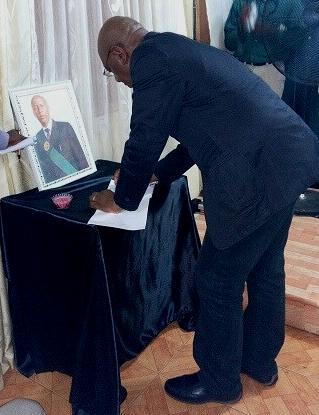 How do you begin to write the sad news of a fallen colleague, brother, family man and someone who would go the ends of the earth to help you out?
How do you begin to write such when you still shake with incredulity when the news was first made public that Samuel John, Mr Junior, Junior John was no more?
It has been difficult, almost impossible as we fought the tears and the shaking body to take in the sad fact that our great brother, father and family man has left us with our earthly suffering, without giving us due notice as to when he would depart. As one stupefied colleague stated - "How can he? And without any warning?"
And so as we mourn the passing away of the great man, let us bring you the many tributes paid to a man who would easily give up an arm if that was needed to make you stay alive.
This reaction on the Facebook page of a colleague and brother sums things up we think. It's from the one and only Babatunde Roland May former top gun at the SLBS - "Finally, I can bring myself to fully accept a fact that I am absolutely powerless to overturn. For the past week I've been saying to myself that it can't be true, willfully ignoring enquiries as to whether I've heard.
Yes Aroun Rashid Deen, yes Kwame Streeter I heard alright. Only I did not want to believe, or better yet accept, that my friend, brother and colleague Samuel Junior John had really passed on. The truth is it's not easy to accept that someone who's been with you in the trenches since school days through adult life can just go away like that, forever.
Since last week, I've been reminiscing, reliving, and fully appreciating the precious and quality moments I had the privilege to share with Junior John...But even as I struggle with the pain of your departure I celebrate the wonderful and fraternal moments we shared, assured by my faith and the Bible that you are now where no pain or sickness will trouble you.
As John Dunne says: "one short sleep past, we wake eternally." So death, be not proud because as painful as Junior John's passing is for some of us, you've actually done him a favour, the same favour you are slavishly obliged to do each and every one of us when our appointed time is up.
My sincere condolences to the wife, family and friends. Kelvin, this is tough my brother! As you said where does one restart after such a momentous loss? But you and I know full well, the Lord will provide! It is well!
Requiescat In Pace, Junior! We will miss you!
Another colleague Joseph Musa, like the rest of us was taken by surprise - "This world is full of surprises; we live with them and of course we die with things slapping you in the face that are the least expected.
Sometimes you begin to wonder what is it about this world that mankind can go the extra mile to harm or even kill his fellow man. Where for heaven sake are we going with all the vices we have lived on earth with?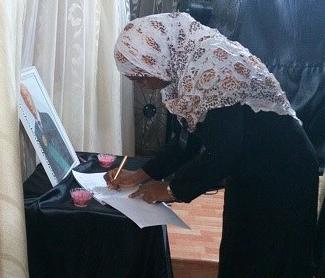 My own personal experience continues to teach me often that good people can hardly live long enough to share in the wretchedness of mother Earth for the simple reason that the world is fast being overcome by all the characteristics of evil in the real sense of the word. This is where I come down to a man who over the years has made a notch in a profession that has earned him the admiration of all senior and junior journalists in this country. Starting from a quiet and an unassuming background in journalism, he rose to become one of the most admired Journalists in this country.
For those of my friends who know Late Samuel John of Awoko Newspaper, it can take you time to find a likable and conscientious gentleman who is always friendly and appeasing to all who come in contact with him.
You want to see a man with a class? It is Samuel John.
You want to do business with a man of integrity?
Go closer to Samuel John. You want to practicalize journalism and come out as a fine product? Samuel John is of course the man to mix with.
You can rate "Lord John" as I fondly call him with the likes of any of the very senior journalists in this country (a protégée of the Late Sam Metzger, an icon in the field of Journalism in Sierra Leone).
Here was a man shortly before his great call on Monday, 12/09/16(Ed – Ul – Adda Holiday) was on Saturday 10/09/16 at his work place putting all stories in order for publication in the Tuesday Edition, 13/09/16 of the Awoko Newspaper.
The following day was Sunday, 11/09/16 a holy day of rest. That Sunday evening "Lord John" was head of the Awoko Staff to a Dinner where they had a jolly good time with friends and colleagues. The man was alive and kicking during the entire dinner up to the time of their departure, not a sign of illness was noticed by any one present.
Then came the bomb the following Monday, "Mr. Samuel John is dead."...My brother John you left an indelible mark of friendship in my heart. Sleep well my brother till we meet again, my condolences to your family and work mates at Awoko, particularly your Managing Editor, Mr. Kelvin Lewis who is still living with a heavy heart over your departure."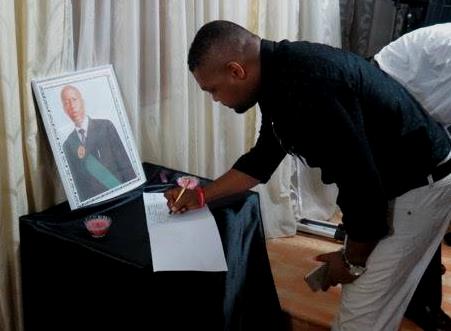 Austin Thomas is a well-known journalist who does not suffer fools lightly and has had quite a lot of experience of what it means to be a colleague of the late man. "Today I cried, I screamed, I shook and a part of me died. I got a call from my colleague telling me that Junior John is dead; Monday 12th September at the Choithrams Hospital where he was rushed to when he had an attack.
I'm just so shook up by the whole incident. Junior and I go back to 1994 when I started reporting sports for Expo Times. We were good colleagues and I was learning from him as he had been in the game longer than me. He's the closest I ever came to having as a mentor and a brother before I met Durosimi Thomas. In a way, I admired him and his friends, the late John Rock and Conrad Roy.
They had their sports paper and I was a fan as I like talking sports. He could accomplish anything he wanted to. He was one of the best in the business I ever knew. He was smart. Mr John would go the extra mile to assist you, or call one of his many friends or brothers to do the same if he can't, just to make sure that you are comfortable. We never heard him talk about other people. He believed in fairness. When there was a conflict he had to deal with, he used to say, "wan an bangle nor dae shake", or "you all are big people, try and work it out".
Strife was not part of his life. He loved talking about his Lodge and always want to be amongst people that will give him peace and tranquil. Some of the oldies music was his favourite. He brought fun and joy to us and others. He loved to share. Someone once said "Time is perhaps our most precious commodity, and once it passes, it is lost forever"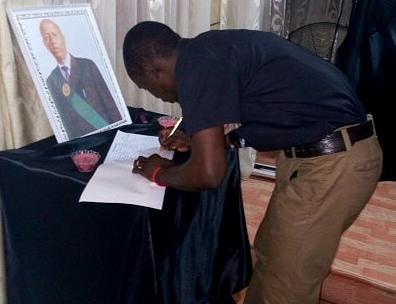 Mr Samuel John, there was indeed a time we hung out, ate, talked, gossiped and emailed but all of that is gone now and all that is left now are the memories. Junior, as I loved to call you; you were born a star, remained so and even died a gold star. You touched many lives in many ways.
I admired you; I loved you and adored you greatly. A call from you always brought a smile to our face. Oh, I wish to see your caller ID on my phone now. Life is too short. Too short to accomplish everything that you could want to do, to go everywhere you could want to go, and to spend enough time with everyone you love. Now that is the painful truth we all have to live with.
Today is Samuel John; nobody knows when he or she will depart the stage. Those who knew Junior, even just through the journalistic circles or through other means genuinely adored him. His inimitable wit, playful charm, and positive attitude made him a friend and, to those of us lucky enough to know him "in real life," a cherished friend.
Here's another veteran journalist Sayoh Kamara - "I came to know Samuel John in late 1999 the days when his energy, vitality and cautious exuberance as a journalist were at its peak and would report all sporting disciplines. He was among the knowledgeable and experienced senior journalists selected by the Sierra Leone Association of Journalists (SLAJ) to train us selected amateur journalists or Cub Reporters.
It was coordinated by another veteran, P. Assadi also of blessed memory. It was that training that cut my teeth into journalism and one that placed me in good stead to rise through the editorial ranks to become an Editor even before darkening the wall of the Mass Communications Department at Fourah Bay College. Samuel John was there coaching us how to write sports and its varied disciplines. That training, the most efficient ever organized by SLAJ was the melting point for the 17 years of warm fraternal relationship between us.
His charm is beyond imagination for he was too down to earth and treats everyone around him as his equal. He was old enough to be my uncle but when I started calling him Uncle John, he insisted that I call him 'John' because according to him at that moment, we were colleagues and journalists do not address each other officially as 'Mr.' I learnt that from him, but because of my upbringing, I have always found it difficult to call him by his name direct.
Then I had to work for Awoko Newspaper, after I had had talks with Proprietor and Managing Editor, Kelvin Lewis. He wanted to know whether I have "good rapport" with Mr. John and my instant reply was, "na me bra," which summed up my warm relationship and respect for him.
He is always an adviser. Despite my First Class Honors Degree in Mass Communications, I will always refer my articles and news items to him for perusal and most times, his magic touches on structure, sequence and flow of ideas have turned many of my articles published in the Awoko Newspaper in masterpieces. The same role he played as Editor for all who wrote for publication in the Awoko Newspaper. I remember him advising me against publishing a certain article I had drafted. "It's not that I am afraid to join you at the CID cells and subsequently at the Pademba Road prisons; my only fear is that you are very young and I am older, if anything was to happen to us inside, you will be the greater loser."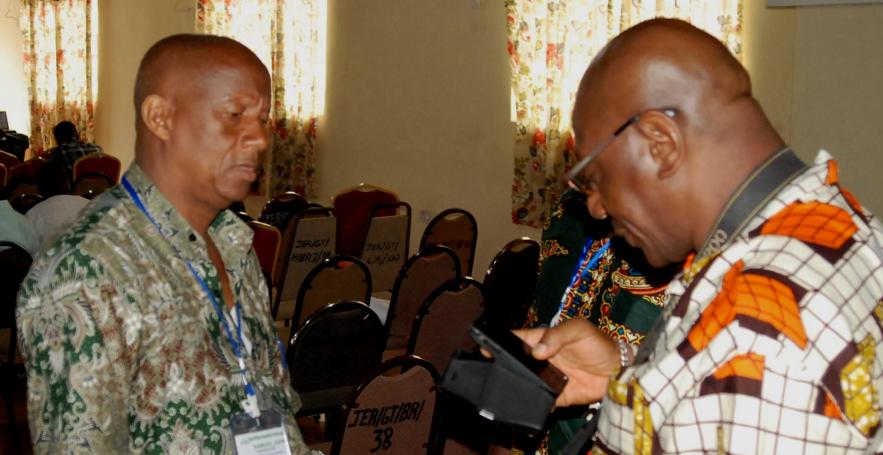 That was how he summarized his dislike of the article because of its strong words and offending journalese. He was a working encyclopedia of journalism and sports journalism in particular.
He may have gone to his permanent resting a financially poor man, but he went rich in moral and ethical uprightness. Unlike some of our colleagues of his age and sojourn in the practice of journalism, Samuel John's name is one you can call anywhere and to anybody and you would not be embarrassed.
He made friends; he built alliances and provided professional advice to his juniors. I will miss his high sense of humor and his fatherly advice. Like it is said, good things don't last long. Samuel John was a human asset that was explored by those who came closer to him. My being closer to him these end days reinforced some traits in me and these include tolerance, perseverance, humility and respect for all.
Thank you, Mr. John. Sixty-three years is long, but not long for a life of yours which you spent with such finesse and gentility. Your memories will always linger in me. Adieu my teacher. Adieu my editor. Adieu my Bra. Take your rest until we meet on that beautiful terrace of heaven.
In a headline titled "No opportunity to reset the time Mr John" Silas Gbandia brings us to the reality of the situation - "On Friday we will be following Mr. John on the last leg of his journey on earth. He will not see us though so close. We will be in his motorcade. He will be in the farewell service hosted in his honour but not in the pew.
The tolling bell will not wake him up to have one last look at the world, his family, friends, and acquaintances. It will be completely different from being in the same car as we headed to Bo for the Sierra Leone Association of Journalists elective triennial conference last June. It will certainly not be the victory songs we sang after the announcement of the election results.
Nothing similar to the cheers, the fun we had at the dinner or even on birthday celebrations in the office. It will be sombre, tear-flowing moment accepting that you are going to a place where we will not receive phone calls and emails from you. You will not be in the office on Fridays to chat about mundane things. No, no opportunity to reset your time.
I knew you for years as editor of Awoko Newspaper but had a much closer relationship with you less than a year ago when I joined the newspaper as a business reporter. I wished you stayed longer so that I can milk from your reservoir of experience and knowledge about humanity.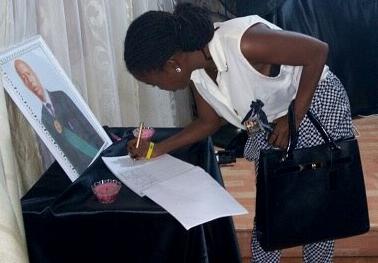 Friday mornings were the best of times we chatted about issues, not just story ideas but how you moved on in life. How the media landscape has changed. He was a workaholic, always wanting to be behind his desk with his glasses on and fingers on the keyboard of the laptop in front of him. He is most often in the office before 9 am and would stay on after 6pm. This was his routine from Monday to Saturday.
He was involved in a fatal road accident along Lumley beach few months ago and he survived it together with his driver. During that moment the doctor demanded that he should rest for some time. He went home for few days but there he was again, behind his desk looking at the materials submitted. At one stage the managing editor Mr. Kelvin Lewis asked the entire staff to stop him from working for a while. He left the office but few days after, as he kept saying during that period, he was in the office to help Victor the manager to handle some pressing issues relating to adverts.
As you always said, you have seen it all from Australia to London, from continental USA to China and from Athens to Ethiopia. Your maker could not reset your time though you wanted it. You were hoping to have a 10 day rest period in South Africa. It never happened. Your clock was ticking fast to mark the end of your earthly journey. I love you, we love you, and Awoko newspaper misses you. You are no longer with us but still lives in our memories. Your dreams and worries are over. Adieu Mr. Samuel John and rest in peace. We shall meet again where we will live to part no more."
We wish to express, from the bottom of the heart our heartfelt condolences to the family, the grieving wife and children and the staff of the newspaper he so dearly loved - AWOKO whose editor Kelvin Lewis still remains stunned, still unbelieving that his great buddy and colleague is no more.
Rest in Peace Junior. You have done that which the Good Lord wanted you to do. You have accomplished His mission and has therefore called you to rest. We shall mourn you brother and remember you for although you are no longer to be seen hitting the streets and paths of Freetown, Bo, Mattru Jong, Kono and other places in Sierra Leone that you covered so well, your presence will forever remain and be remembered.
(All pictures and some excerpts from FB pages of SLAJ, Kelvin Lewis, Sportswriters Association and special thanks to Kerifallah Janneh)