Monday April 11, 2016

- Al Shaabab sympathiser and journalist is executed after court finds him guilty of the murder of at least one journalist. Implicated in the deaths of five others.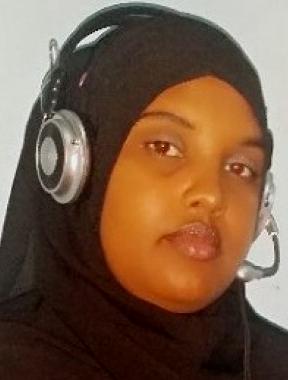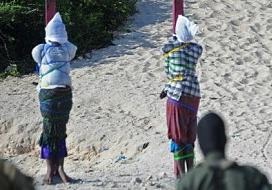 A man who has been described as a respected broadcaster and journalist in Somalia for many years has been executed by a firing squad in the Somali capital, Mogadishu.
The execution was carried out after he was sentenced to death for his alleged role in supporting the terrorist organisation Al-Shaabab.
Hassan Hanafi is alleged to have used his affinity to and connections with Al-Shaabab to finger colleague journalists - threatening them with death should they fail to fall in line with the edict of Al-Shaabab. Kindly recall that - in a profile of Hassan Hanafi on the BBC website Abdinoor Aden had this -
"Hassan Hanafi was a respected reporter and broadcaster in Somalia for many years. Now, he has been sentenced to death by firing squad for colluding with Islamist militant group al-Shabab in the murder of five fellow journalists between 2007 and 2011.
Hanafi was born in the central Hiran region of Somalia in the early 1980s. When his family moved to Europe in the 1990s, he was the only one who stayed behind. From 2003, he became a household name to many radio listeners in Somalia after joining popular Quran FM station in the capital Mogadishu.
He left in 2006 to become an online reporter for a leading Somali website. A few years later, signs of his affiliation to al-Shabab emerged as he became the major source of all breaking news or reaction from the militant group."
The Voice of America, reporting on the execution stated -
"Somalia's government on Monday executed a former journalist accused of helping al-Shabab militants kill at least five other journalists in Mogadishu between 2007 and 2011.
Officials and witnesses say a firing squad executed Hassan Hanafi Haji at a police academy in Mogadishu. Haji was extradited from Kenya last year at the request of the Somali government.
Abdulahi Hussein Mohamed, deputy judge of the military court, talked to the media after the execution and said the former journalist had a fair trial and finally faced justice.
"He has been going under court process since earlier 2015. So, now with all the evidences and his confession the justice had been done," Mohamed said.

Haji acted as al-Shabab's liaison officer to the media and pressured journalists to report according to the group's media rules, which included avoiding stories related to military setbacks. He was known to threaten journalists and radio stations if they did not comply.
He later worked for Radio Andalus, al-Shabab's official media outlet. "He tasted the pain he inflicted [on] our colleagues. Justice should not only be done but it must be seen to be done," said a prominent local journalist, speaking on condition of anonymity for fear of reprisals."
The BBC had this -
"A Somali journalist who helped al-Shabab kill five fellow reporters has been executed by firing squad. Hassan Hanafi, once a respected broadcaster, was sentenced to death last month by a military court in the capital, Mogadishu.
He assisted the Islamist militant group by identifying possible targets amongst journalists between 2007 and 2011. He joined its armed wing after working for Radio Andalus, al-Shabab's mouthpiece in Somalia"

The UK-based Daily Mail had these headlines -
"Trussed to a post then shot by firing squad: Terrorist who murdered five journalists is executed in Somalia.
Hassan Hanafi, a former media officer for the Somali Islamist group al Shabaab, was sentenced to death last month. The 30-year-old was tied to a wooden post before a Somali firing squad opened fire in the capital Mogadishu.
Hanafi was widely known for arranging news conferences in the years when al Shabaab militants controlled the city."
This news outlet also reported that a few days before Hassan Hanafi's execution, two other Al-Shaabab operatives were also shot by a firing squad after they were found guilty of the murder of Somalia female journalist Hindiyo Haji Mohamed by a car bomb.
She never stood a chance as she succumbed to the horrendous wounds inflicted by the assassins' bomb.
Reported the Daily Mail -
"Two al-Shabaab members have been executed by firing squad today for the murder of a journalist killed by a car bomb last year in Somalia. Abdirisak Mohamed Barow et Hassan Nur Ali, who admitted being al-Shabaab members during their trial, were tied to posts and shot dead in Mogadishu.
'Both of them were found guilty of murdering journalist Hindiyo Haji Mohamed whose car was blown with explosive device,' Abdulahi Hussein Mohamed, deputy judge of the supreme military court said.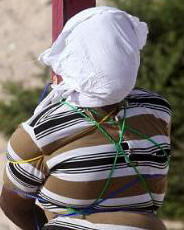 The International Federation of Journalists, IFJ, and the National Union of Somali Journalists, NUSOJ, condemned the murder of the journalist, Hindiyo Haji Mohamed whose only crime was to be perceived as not following the dictates of Al-Shaabab in carrying out her work.
"The union called for an investigation into the journalist's murder to identify and punish her killers.
"We all mourn this disastrous assassination of Hindiyo Haji Mohamed which is another reminder of the risks Somali journalists continue to face regularly.
This was targeted killing, deliberately meant to eliminate Hindiyo.
Those who deliberately seek to harm unsuspecting members of the public, including journalists, need to be condemned and hunted down to answer for their actions," said Omar Faruk Osman, NUSOJ Secretary General.
The IFJ backs NUSOJ's call and sent its condolences to the friends and family of the reporter, the first female journalist killed in Somalia in the past five years and the fourth journalist murdered in the country in 2015, according to statistics.

"We are appalled by this outrageous targeting and killing of Hindiyo Haji Mohamed who had herself lost a journalist husband to mindless violence," said the IFJ President Jim Boumelha, adding that "Our thoughts go to her family, especially the seven children who have now lost both of their parents.
We wholeheartedly back NUSOJ's call for a thorough investigation so that her murderers can face the full force of the law. In the meanwhile, the IFJ will continue to its own work to promote the personal safety of all Somalian journalists so they can safely do their job of reporting the truth on the ground".

National television journalist Hindiyo Haji Mohamed was killed in December when her car blew up as she returned home from a university class in Mogadishu.
Ms Mohamed's late husband also worked as a journalist with the same television station and was tragically killed in a suicide attack on a Mogadishu restaurant in 2012. 'Hindiyo died at the hospital of the serious injuries she sustained, we are very sorry about her death,' Abdirahin Ise Ado, director of Radio Mogadishu, said at the time. The military court recently rejected an appeal by the men - and increased their sentence from life imprisonment to execution.
The likes of Hassan Hanafi were also to be found in Sierra Leone during those terrible days of junta occupation led by one Johnny Paul Koroma.
There were journalists who did not only drink from the bloody cup of the murderous junta but kept their supply of fuel and looted vehicles by fingering journalists perceived to be against the junta.
Fuel chits were supplied that ensured that the looted vehicles gifted to them were ready to be used in the service of the junta as one David Tam Baryoh witnessed when he was arrested.
It is worth noting and observing just how some of the hard core supporters of the murderous junta using their professional badge as journalists have now found a new haven in what passes for a civilian administration in Sierra Leone - a set-up that bears all the traits of the AFRC/RUF in all but name.
It is so simple to discern just how they operate with articles syndicated among their members using neo-Nazi style propaganda as they heap the usual fawning garlands on the chief nation wrecker at State House - the rat.